ISO China manufacturer natural 75%Polyphenols apple extract
1. Product Description:
Apple polyphenols are a group of naturally occurring plant nutrients in apples, and they hold numerous health benefits. The polyphenol content differs according to maturity rate. Young apple has 10 times content comparing with mature apple. Therefore, it is better to use young apple to get the apple polyphenols. Crude apple polyphenols contain chlorogenic acid, catechins, apple condensed tannins, phloridzin, phloretin, anthocyanin and etc.
Product Name: Apple extract
Botanical source: Malus Pumila Mill.
CAS No.: 85251-63-4
EINECS: 286-475-7
Specification: Apple Polyphenols 75%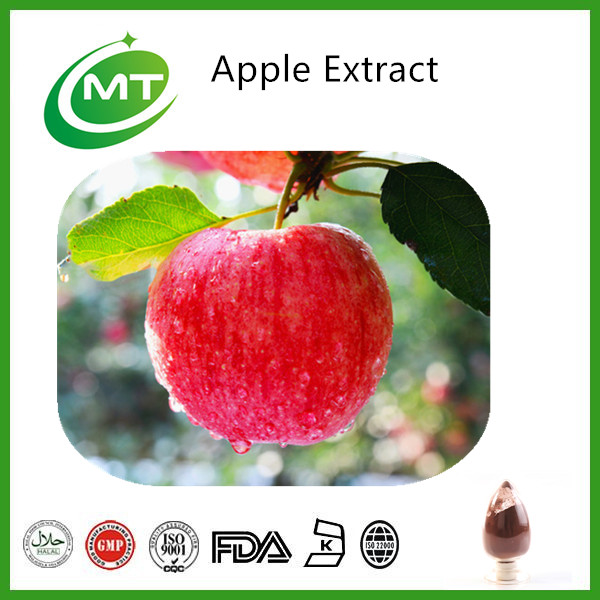 3.Main Function:
1. Slow the growth of cancer cells and tumors and promote cancer cell death. Prevent skin, breast and colon cancer, and lower the risk of colon and lung cancer;
2. Effect against external aging by promoting the health of skin cells and rejuvenation. Effect the Internal aging by promoting organ health, destroying the free radicals and strengthening fibers;
3. Reduce the number of atherosclerotic lesions in arteries, the amount of cholesterol produced in the liver and uric acid content in the blood.
Safety Information
Consult with a doctor before using this product.
Shelf time: 2 years if sealed and store away from direct sun light.
Statement: We hereby confirm that the product meets Kosher & Halal standard;
We hereby confirm that the product is GMO free, Allergen free, Irradiation free;
Certificates:Kosher, Halal, ISO9001
Package: Double plastic-bag inside, aluminum foil bag or fiber drum outside.Net Weight: 25kgs/Drum
Storage: Stored in a clean, cool, dry area; keep away from strong, direct light.
Shelf Life: Two years when properly stored.
4. Company showing:
Hunan MT Health Inc.are the professional manufacturer and supplier of Plant Extract Powder in China.
The main products we can provide include four series and over 200 varieties,
such as Tea Extracts, Herbal Extracts, Rare Mushroom Extracts as well as Fruit and Vegetable Extracts.
They are used for ingredients to the nutritional food supplement, pharmaceutical stuffer, cosmetic, beverage industries.
5.Material and Powder:
6. Producing:
7. Packing &Shipping:
| | |
| --- | --- |
| Packaging Detail | 25kg/durm, paper-drums and two plastic-bags inside and Can be customerized |
| Storage | Store in a well-closed container away from moisture |
| Shelf Life | 2 years if sealed and store away from direct sun light. |
| Delivery Detail | Within 5 days after order confirmation |
8.Hot products:
| | |
| --- | --- |
| Name | Specification |
| Instant Black Tea Extract | 30%Polyphenols |
| Centella Asiatica Extract | 40%Asiaticosides, 95%TECA |
| Grape Seed Extract | 95%OPC |
| Lycium Extract | 50%Polysaccharides |
| Polyporus umbellatus Extract | 30%Polysaccharides |
| Antrodia camphorata Extract | 30%Polysaccharides |
| Chaga Inonotus obliquus Extract | 30%Polysaccharides |
| Reishi Extract | 10-50%Polysaccharides; 4%, 6%Triterpenoid |
| Resveratrol | 20%, 98% |
| Cordyceps sinensis Extract | 30%Polysaccharides |
| Phellinus linteus Extract | 30%Polysaccharides |
| Fenugreek Extract seed | 4-hydroxyisoleucine 40%,Furostanol saponins 50% |
| Mulberry Extract Leaf | 1-Deoxynojirimycin (DNJ)HPLC1%,2%,5%,10% |
| Ginseng Extract | 80%Ginsenosides |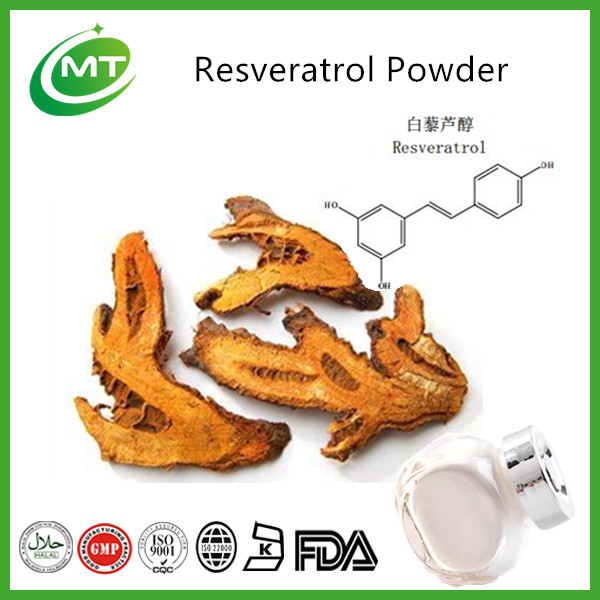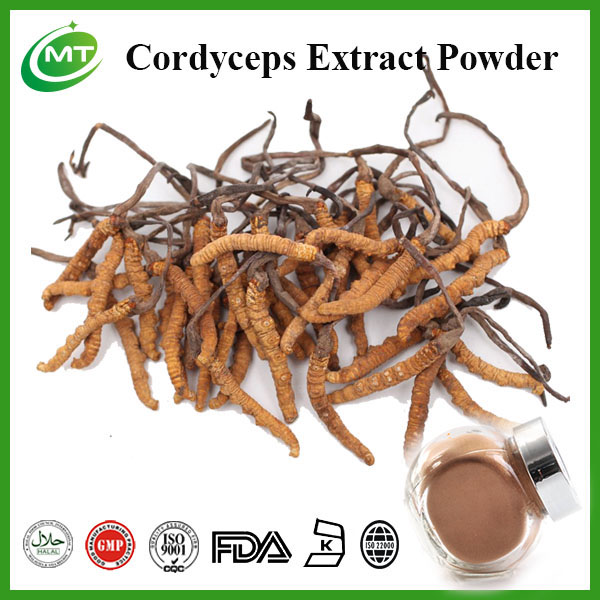 9.FAQ:
10. Contact us:
Tina
Hunan MT Health Inc
Exhibition 2017:
1. Vitafoods Europe. May 9-11, 2017, Geneva, Switzerland. Booth No.: G130;
2. Fi Asia(Thailand). September 13-15, 2017 ,Bangkok, Thailand. Booth No: H36
3. Supplyside West. September 28-29, 2017, Las Vegas, USA. Booth No: Q141.
4. CPhI Worldwide. October 24-26, 2017,Frankfurt, Germany. Booth No: 10.1 D79
Thanks for your interest in our products.
If you have any further questions or need a sample.Please do not hesitate to contact with me.
Wish you all of the best and regards!