Choose Easyfun, Wealth will belong to you!
The hottest product comes: 9D VR cinema (9D Virtual Reality)
9D VR cinema with 1 seat, 2 seats and 3 seats, and 6 seats 12D VR cinema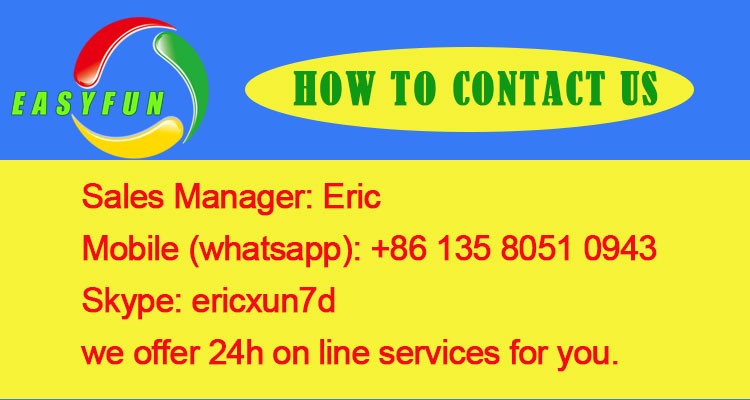 Why 9D VR cinema so popular?
Because it is the newest product, the different software with system of cinema, and broke the rules of the technology, Only use four parts and finish the high technology, Computer, Chairs. Control Desk, Glasses Only,its no need installation, and finish production, you can run this business directly!
ONE SEAT 9D VR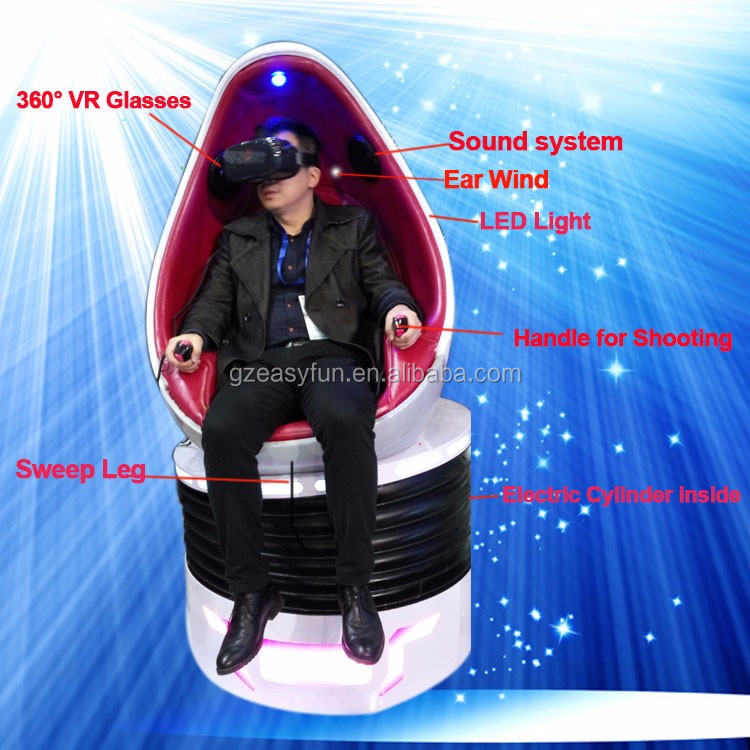 TWO SEATS 9D VR
THREE SEATS 9D VR
SIX SEATS 9D VR
Choose 9D, 5 advantages FOR YOU !

1.World premiere+Exclusive features
2.Small business location (only 2-9 square meter )
3.Wireless operation.No need to install.
4.Full automatic mode.1 person for operation
5.Professional after-sale service, lifelong maintenance!
Easyfun 9D VR Technology:
For the 9D VR Egg cinema, we are making 1 seat, 2 seats and 3 seats. 1 seat and 3 seats are 360 degree rotation. It use 3 Dof electric servo motor system, the motion is very accurate, fast and soft. The software is developped by ourselves. Now we can add wind, sweep leg, back vibration and bottom vibration on the seats. We can offer different design and different egg seats; We will keep updating new movies per month.
What is the detail information of 9d vr cinema?
1).22 inch LG touch screen, The controller is three in one with newest technology; we can offer different screen size as customer's requirement.
2).Use imported and high quality servo system and bearings .
3).Electric cylinder instead of pneumatic or hydraulic cylinder.
4). Famous brand 3 Glasses VR helmet, with 2k resolution,2560*1440
5). We Offer more than 100 pcs movies and games, including at least 80 5d movies and more than 20 pcs 360 degree VR games at first time,and will update two each month.
6). Using high specification computers for the system, Intel i5 CPU, 240G Kingston SSD, Memory card 8G, Graphics card GTX960 or more.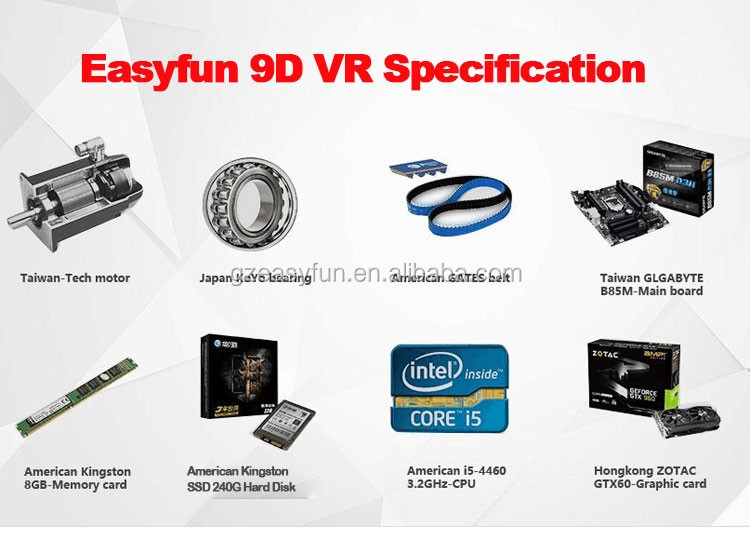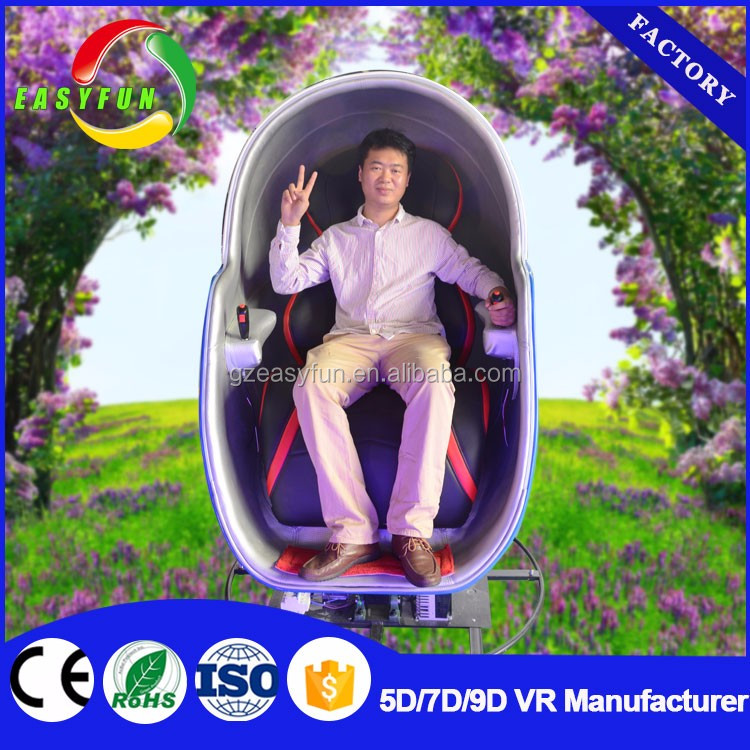 So Many 9D VR Eggs in our factory: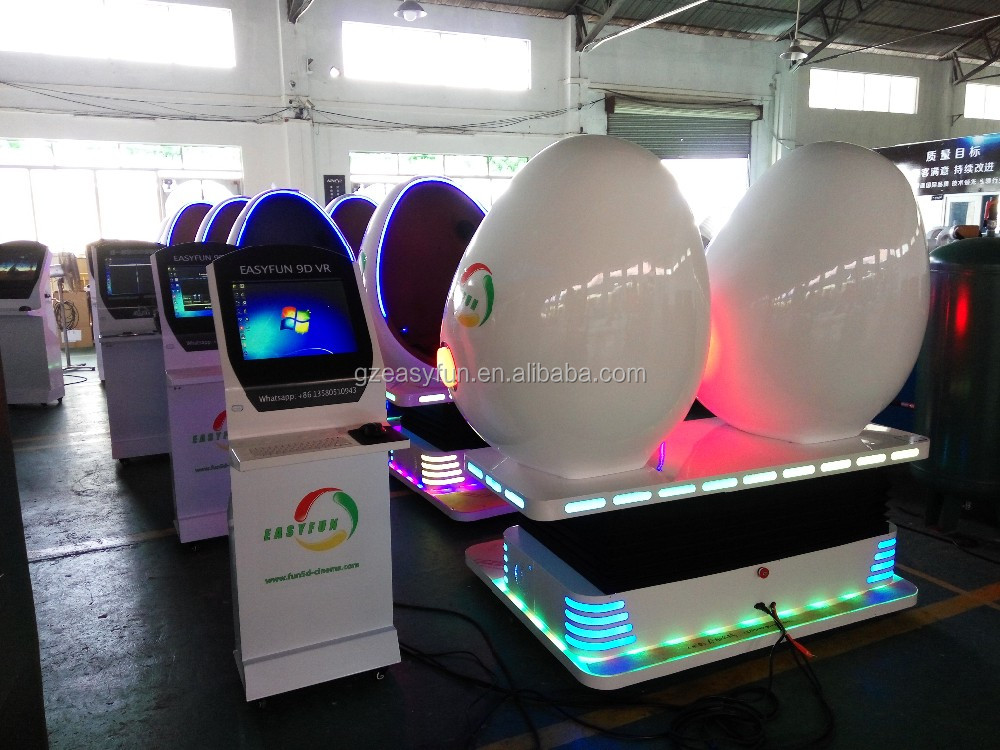 Our VR games and movies:
Our Excellent Service:
1. Installation
A.Send your technicians to China to learn installing and testing.
B.We will send you diagram, instructions, pictures and videos to show it.
C.Send our technician to your location to complete the installation.
2. Warranty
We offer you one full year factory warranty.we will offer you 24 hours online maintenance for free, and supply you for free the damaged key parts excluding projection screen and the lamp of projectors induced by non-human factors.
3. Movies & Games
We have our professional team working on the movies and games, normally we can update 1-2 new movie every month to our customers during the period of warranty.
4. Design
We have our professional designer, can supply and design the ticket and room decoration for you. Help you to do advertisements attracting more people and win the market.
CE Certificate:
Packing and shipment:
Within 7 days, we can start shipment. We will make safe package and buy shipping insurance.
About Easyfun:
Guangzhou Easyfun Animation Technology Co.,Ltd is a professioal manufacturer of 5d 7d cinema 9d VR cinema equipment , VR machines based on HTC VIVE and other amusement park equipment. We have strong development team for producing cinema and movies and other animation products.
Market leader in out-of-home multi-sensory interactive attractions, EASYFUN has created the most technologically advanced immersive and interactive media-based simulators for both the entertainment and edutainment markets. With installations in over 50 countries across all continents, EASYFUN continues to push the limits and allow guests worldwide to "live the moment". Since 2006, EASYFUN has operated its own studio to develop state-of-the-art custom content for its attractions. EASYFUN is a privately held company based in China with offices in Guangzhou and HongKong.
Now Easyfun already set up a branch company in Indonesia, and also we have exchange and cooperation with USA team, Australia Team and Korea Team. Our aim to be a great internationalized company in entertainment industry.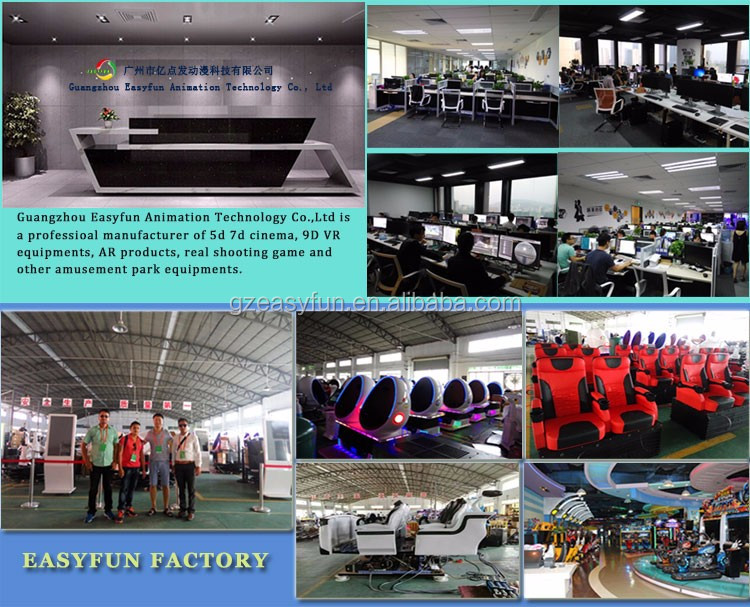 Easy Life from Easyfun
For more information please contact Eric:
Mobile / Whatsapp / Wechat: 0086 13580510943
Skype: ericxun7d