1. The hydrocolloid skin barrier has the performance of anti-maceration, low allergy, and rarely warping and
leakage. It has excellent exudation absorbance and long sticking ability (up to 7 days). It is soft, comfortable
and convenient to use.
2. The material of stoma bag possesses high obstructing ability, it is soft, comfortable, covert and safe.
3. Eliminate odor with activated charcoal, discharge intestinal gas easily.
4. Humanized design can meet needs of different stoma.
1. Clean stoma and the surrounding skin
2. Measure stoma with measuring guide before cutting out the hole and leave only 1/8'' to 1/6'' between the
measuring and the stoma
3. Remove paper backing from barrier and apply the entire appliance over the stoma. Make sure the stoma is
in the center of the hole. Press it all around to make sure it stick firmly.
4. Keep locking ring unlock, snap the pouch onto the barrier, should feel the tray "click" into place.
5. Remove the bag: press the lug to unlock the locking ring, lift the bag from bottom to up while pulling it away
from barrier. If you choose open type bag, please close it with the clip before sticking.

Collect excrement and urine colostomy, ileostomy and urostomy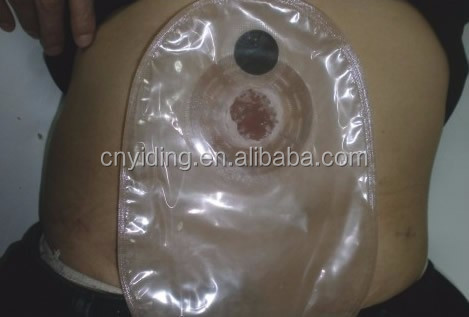 1. Zhejiang Top-Medical Medical Dressing Co., Ltd. have been devoted in developing, manufacturing and
selling Wound dressing, I.V. dressing, Ostomy Bag & Personal care dressig since 2006.
2. Comply with GMP, ISO13485 & ISO9001 quality management system.
3. The 1st company in Asia to produce Hydrocolloid wound dressing.
4. The 1st company from China that can provide all wound care dressing in the whole healing phases.
5. The 1st company from China that complete Class 3 Hydrocolloid & Foam registration and sells.
6. National High and New Technology Enterprise.
1. Q: Are you trade company or manufacturer?
A: We are the manufacturer for wound dressing, I.V. dressing, ostomy bag and personal care dressing.
2. Q: Where is your factory located? How can I visit?
A: Our factory is located in No.588, Road 12, Binhai Economic & Technical Developing District,
Wenzhou China.
3. Q: Can I get some samples?
A: We are glad to offer you sample.
4. Q: What's the certification do you get?
A: CE, FDA and ISO13485 quality system.