High quality smallest usb 3g modem gsm data receiver atm with 3g hsdpa usb modem driver download
With Smartpack software:
Main features:
1.Module: Sierra SL8080/81/82/83/84/85
3G Sierra SL808X frequency band:
UMTS (WCDMA)/HSDPA
SL8080/81: 850 MHz, 1900 MHz
SL8082/83: 900 MHz, 2100 MHz
SL8084/85: 850 MHz, 2100 MHz
• GSM, GPRS, EDGE 850 MHz, 900 MHz, 1800 MHz, 1900 MHz
• GPS (SL8080/82/84) 1575.42 MHz
2.RS232 OR RS485 interface
3.Embedded TCP/IP protocol station.
3G Sierra modem Description:
1.The Sierra Wireless SL808x (SL8080/81/82/83/84/85) is a 74-pin soldered-down module based on the Intel pin-out specification proposal for the standard JEDEC LGA packaging form factor. Its wireless UMTSbased modem provides data connectivity for eBooks, portable navigation devices, mobile Internet devices, point-of-sale devices, industrial handhelds, and other machine-to-machine.
2.Support:The SL808x modem supports data operation on HSDPA, WCDMA,EDGE, and GPRS network
The SL8080/82/84 modems also support voice operation on these networks.
3.The SL808x modems are based on Qualcomm baseband processors:
• Voice modems: SL8080/82/84—QSC6270
• Data modems: SL8081/83/85—MDM6270
4.Application interface features
NDIS NIC interface support (Windows, Linux)
• Multiple non-multiplexed USB channel support
• Dial-up networking
• USB selective suspend to maximize power savings
• AT command interface—(non-voice) 27.007 standard, plus proprietary extended AT command
5. Packet mode features
Dual-mode UMTS (WCDMA) / HSDPA / EDGE / GPRS operation
• GPRS class B, multislot class 10 operation—Supports CS1–CS4 coding schemes
• EDGE multislot class 12 operation—Supports MCS1–MCS9 coding schemes
• UMTS (WCDMA) R99 data rates—384 kbps downlink, 384 kbps uplink
• HSDPA
· Category 5/6 data rate—3.6 Mbps (peak rate)
· Category 12 data rate—1.8 Mbps
• Circuit-switched data bearers—64 kbps (maximum) uplink and downlink

6.Voice mode features (SL8080 / 82 / 84 only)
• All GSM vocoders, Enhanced Full Rate (EFR), Full Rate (FR), Half Rate (HR), and WCDMA Adaptive Multirate (AMR) encoders
• MO and MT calling
• Echo cancellation
• Emergency calls (112, 110, 911, etc.)
• Incoming call notification
• TTY/TDD compatibility through microphone/speaker connections using the audio interfaces
7.GPS features (SL8080 / 82 / 84 only)
Provides:
• Standalone GPS functionality
• gpsOneXTRA™
• A-GPS features
• NMEA support
Application: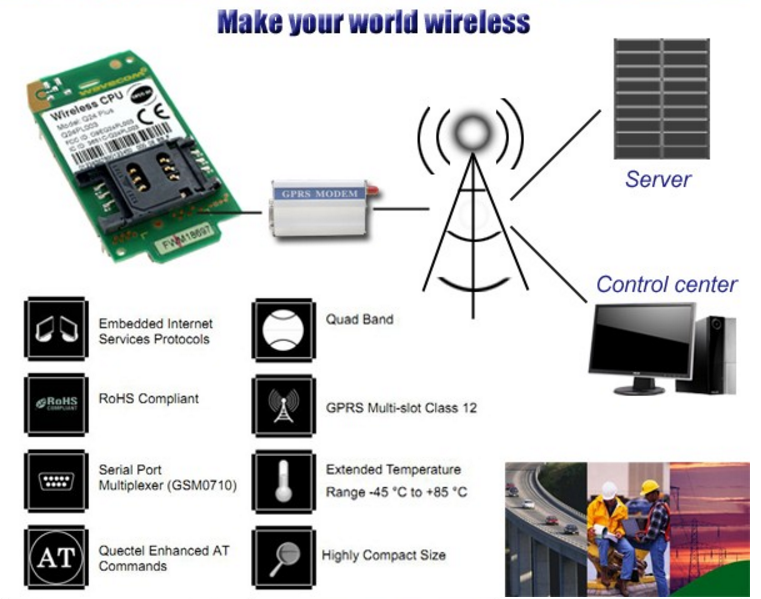 Packing:
Hong Kong Bailing International Co., Ltd, a Hi-Tech Enterprise, dedicating to the wireless communication domain,engages in R&D, manufacture and sales of wireless products.
Bailing has been qualified with integrated quality management system and environment management system, and certified with ISO 9001 and ISO I4001 certifications. Bailing can provide products compliant with CE/RoHS standard.
Under the principle of Professional Manufacture, Quality Assurance, Bailing manufactures wireless communication products with reliable quality and reasonable price. Based on the strength of professional R&D, Bailing can provide OEM products to meet customers' requirements.
Shirley Hu
SKYPE: hkbailingintl03
whatsapp: +86 15815547165
Wechat:+86 15815547165