Most competitive price and superior quality of natural ruby~
Most professional design and cutting for ruby by ourselves ~
50000 carats ruby inventory to directly sale~
Most excellent working team for dealing natural ruby
| | |
| --- | --- |
| Name: | Wholesale factory price natural red loose ruby |
| Material: | Natural ruby, red ruby |
| Size: | 1.0mm, 1.1mm, 1.2mm, 1.3mm, 1.4mm... |
| Grade: | Auto Machine-AAAA |
| Application: | brass jewelry, silver jewelry, golden jewelry,gift... |
| Features: | eco-friendly,nickel free,lead free... |
| Payment.W: | Company account, Western Union account... |
| MOQ: | 100carat per size, 10carat available if it is in stock |
| Shipping: | if have stock 1-2days, customization 8-12days |
| Guarantee: | reach quality & quantity customized standard with wholesale price |
~~~~~~The brief introduction of natural ruby ~~~~~~~
Natural ruby is a pink to blood-red colored gemstone, a variety of the mineral corundum . The red color is caused
mainly by the presence of the element chromium. Its name comes from ruber, Latin for red. Other varieties of
gem-quality corundum are called sapphires. Ruby is considered one of the four precious stones, together
with sapphire, emerald and diamond.
Rubies have a hardness of 9.0 on the Mohs scale of mineral hardness. Among the natural gems only moissanite
and diamond are harder, with diamond having a Mohs hardness of 10.0 and moissonite falling somewhere in
between corundum (ruby) and diamond in hardness.
Prices of rubies are primarily determined by color. The brightest and most valuable "red" called blood-red
or "pigeon blood", commands a large premium over other rubies of similar quality. After color follows clarity:
similar to diamonds, a clear stone will command a premium, but a ruby without any needle-like rutile
inclusions may indicate that the stone has been treated. Cut and carat (weight) are also an important factor in
determining the price. Ruby is the traditionalbirthstone for July and is always lighter red or pink than garnet. The
world's most expensive ruby is the Sunrise Ruby.
~~Here are more shapes, size accepted~~
~~~~~~You can experience natural ruby process here~~~~~~~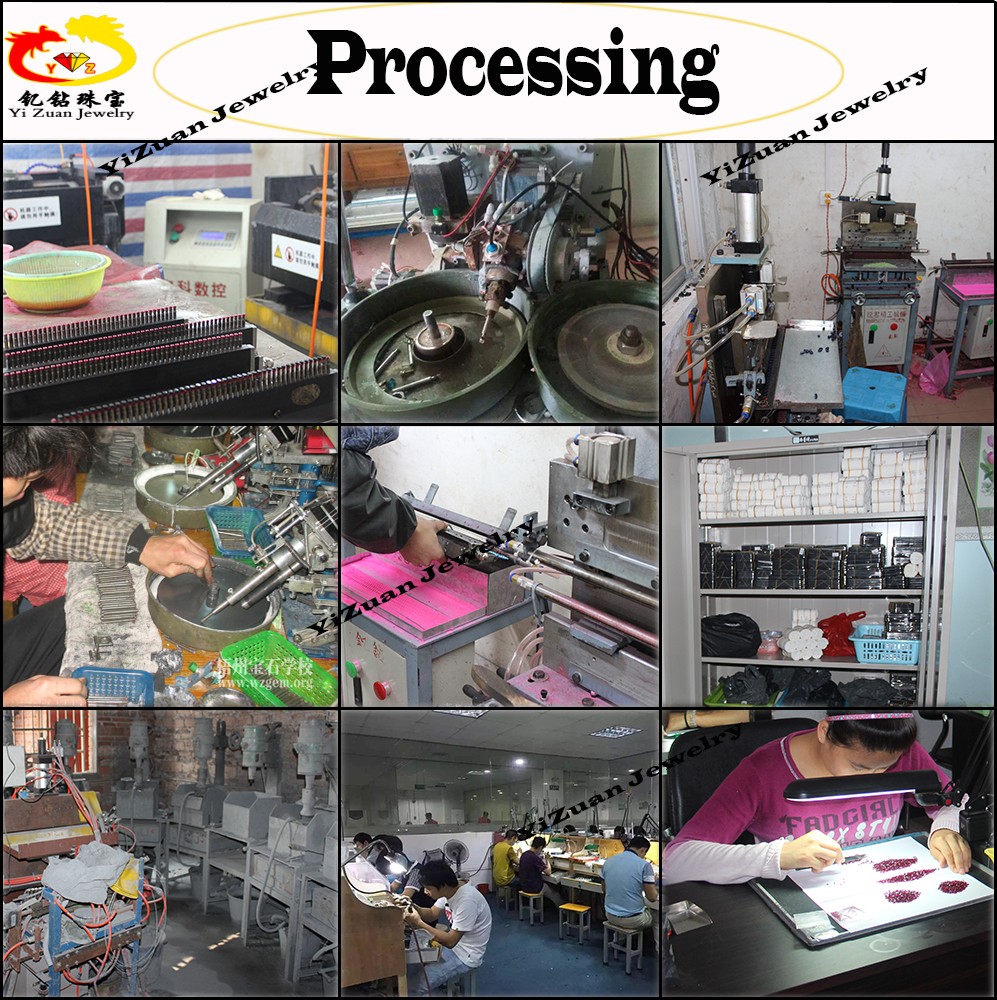 ~~Various customized product shapes waitting for your selection~~
~~~~~~~Knowing about our company~~~~~~~
YiZuan Semiprecious Gems & Jewels Firm owns two factories, one for cutting gemstones, another one for making finished fashion jewelry. Supported by our raw material stores in cities of Wuzhou, Panyu, Sihui, Dongguan, we are capable of large quantity orders of gems. It dose not matter that you are a distributor or wholesaler, we will be very happy to make a business relationship with you.

OUR LOOSE GEMSTONE BUSINESS are as follows(YZ GEMS): We can offer the Malay Jade, Burma Jade, Carnelian and Chrysoprase, Black Agate/Onyx, Amethyst, Tiger Eye, Malachite, Green Aventurine, Rose Quartz, Xinjiang Jade, Smoky Quartz, and Crystal/Clear Quartz, ,Labradorite, Piezo Crystal, Synthetic Gemstone, etc, for totally over 200 kinds of semi-precious gemstones with 100 kinds of customized shapes. Your presence to our cutting factory in Wuzhou will be our great honor.
~~~~~Waiting for your contact if any questions and demand~~~~~
TM ID: cn1513659630 SKYPE: Rubyyjewelry
QQ: 2831075378 MOBIL: 86-13737876432
TEL: 86-774-3990897
ADD: B-164 Gem Building, Wuzhou Guangxi, China.