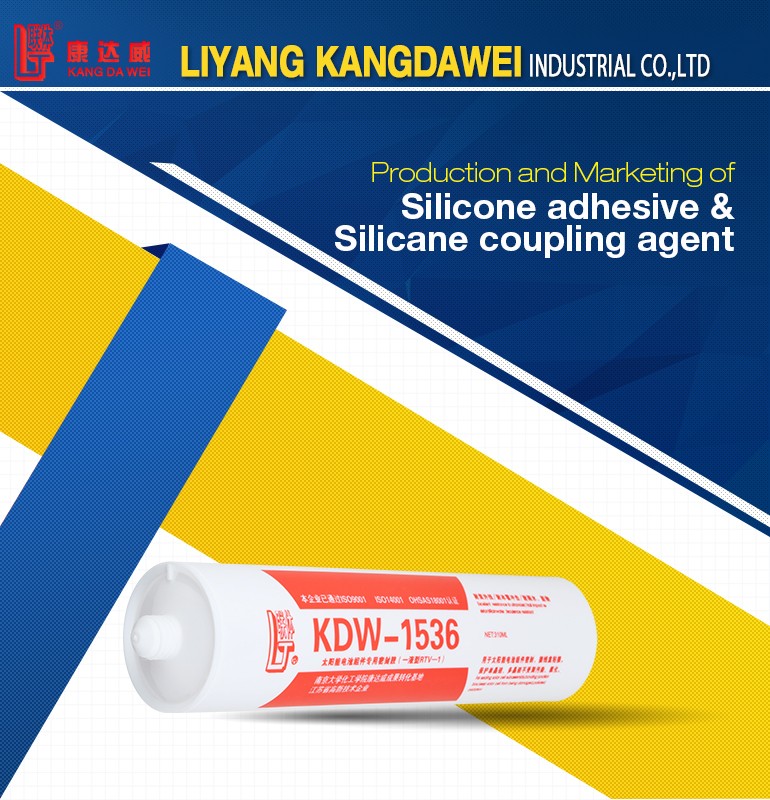 Liyang Kangdawei Industrial Co., Ltd. ( former Liyang Kangdawei Professional Adhesive Manufacture ) is specialized in silicone adhesive and silane coupling agent development and production. It was established in 1997, and located in Tianmu Lake Industrial Park, Liyang, Jiangsu. In 2004, it passed ISO9001:2000 quality management system certification, and has adopted quality management, strict inspection standards, superior testing means and comprehensive product inspection. To ensure product quality, meet customers' requirements and continuously improve the company's performance, it established quality management system based on ISO/TS 16949:2002, and passed ISO/TS 16949:2002 quality system certification in 2008. In 2012, it passed ISO 14001:2004 environment management system certification and OHSA 18001:2007 occupational health and safety management system certification. It has advanced production equipment, perfect testing means and strong technical force. It keeps long-term technical cooperation with Nanjing University and has established the 'achievement transformation base of Nanjing University'. Over the years, relies on independent intellectual property rights, it has researched, developed and produced a number of provincial high-tech products and gained many national patents. All products have passedSGScertification and parts of products have passed UL certification.
Main products include: one component RTV silicone rubber; two components RTV silicone rubber; liquid additional silicone rubber; silicone grease, silicone paste; anti-pollution flashover coating for electrical equipment; silicone sealant for solar energy cell components and adhesive for chimney anti-corrosion engineering.
Our company is based on the principle of high technology, high standing point and high quality, stands on the faith of keeping improving and pursuit of excellence, insists on market-orientation and the purpose of customers' satisfaction. According to modern enterprise management standards, to ensure quality to customers, we will be glad to offer services.
KDW-1536 deketoximized silicone sealant is one kind of neutral silicone sealing materials which cured by absorbing the moisture in the air at room temperature. It has good adhesion and sealing performance to most of materials, usually used in solar cell component aluminum frame adhesion and sealing, junction box adhesion, and prevent crystalline silicone and polycrystalline silicone from pollution and oxidation.After KDW-1536 silicone sealant cured, the elastomer has following chracters:
1.Resistance to moisture, dirt and other atmosphere components
2.Alleviating mechanical stress and tension caused by machine, thermal shock and vibration
3.Excellent electric insulation performance and anticorona performance
4.Excellent outdoor aging performance, and the service life could be 20~30 years
5.Stable mechanical and electrical performance at the temperature between -60~260℃
1.Clean the surface: clean the surface of adherend or coated object, remove rust, dirt and greasy dirt, etc.
2.Sizing: use knife to cut the head of plastic pipe, put on long nose, extrude the adhesive on clean surface, and fix the adherend.
3.Curing: put the adhesive units in the air, and it could be used after 24 hour curing at room temperature.
4.Notes: Seal and store the remaining sealant immediately after use. Remove the crust on the head when using again, which would not affect normal working.