JUHUAN fire retardant spray polyurethane foam sound insulation pu foam
JUHUAN Spray polyurethane foam is a one-component, economical type and good performance Polyurethane foam. It is fitted with a plastic adapter head for use with a foam application gun or a straw. The foam will expand and cure by moisture in the air. It is used for a wide range of building applications. It is very good for filling and sealing with excellent mounting capacities, high thermal and acoustical insulation.Gun-straw dual use spray PU foam is our patented product which can be used by gun and straw.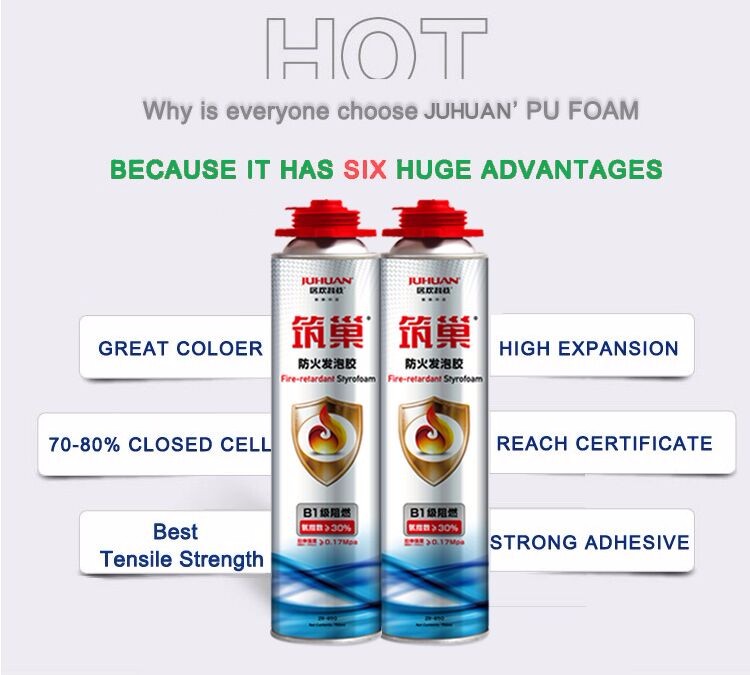 Under the new era of development for the China building industry, JUHUAN Technology rides on the emphasis of the green building technology. By adopting the state-of-the-art technology and environmentally friendly materials, we are able to provide comprehensive solutions to building constructions and architectural decoration industries.
Shandong juhuan covers an area of 67000 square meters and investment of first periof is 300 million BMB, which aims to eight production line of can.Now our factory has 8 production lines, invents two patent products. The patent product of the world establishes a standard model and receives a rave review; at the same year, we launched small cap product and three valve types, they also are our patent product. They obtain a high affirmation and favor by customers.
1 Q---Do you ship worldwide?
A---Yes, and our port is Qingdao.
2 Q---Are you a factory or a trade company?
A---We are a factory, so we can guarantee our quality and provide a lower price.
3 Q---Can you supply samples?
A----Yes, we can provide it for free.
4 Q---How long is your deliver time?
A----7-14 days after receieved deposit.