4S intelligent lighting System-IPL+RF+E light+ND YAG LASER beauty machine
Smart but powerful 4 in 1 multifunction beauty machine FG580B mainly for :
Hair removal, skin rejuvenation, wrinkle removal, skin tightening, pigment therapy, vascular therapy, breast liftup assistant, tattoo removal
What is FG580Bdifferent?
1. Multifunction in one equipment, integrates with IPL + RF + E Light + ND YAG LASER 4 systems, which with 4 handpieces together .
2. NEW DESIGN, the wheels can help you move machine anywhere easily; the components imported from USA, Japan
3. Convenience:
a. User friendly software means that operator error is drastically reduced
b. internal modular design, easy installation and maintenance
c. multi-software languages, easy your operations
d. 10.4" color touch LCD screen, all parameters setup can be finished easily here
4. Four working systems for different treatments:
a.IPL handpiece: 15x50mm big spot size design for instant hair removal professionally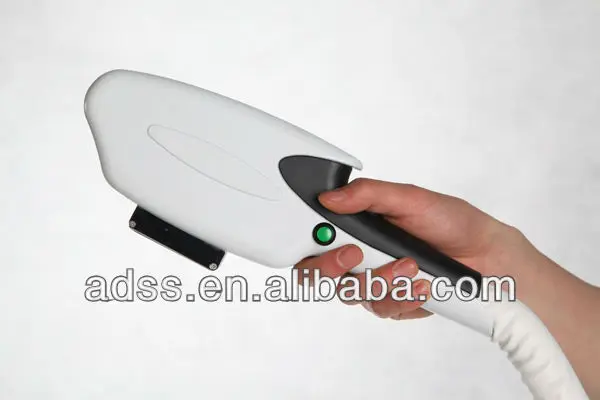 b.E Light (IPL&RF) handpiece: professional design, can prolong its using life twice or 3 times than traditional handpiece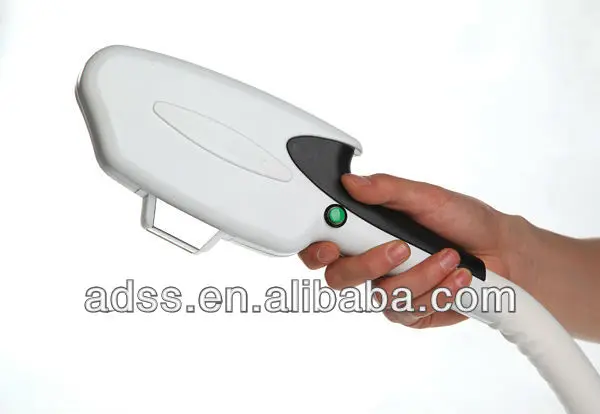 c.RF handpiece: big and small treatment probes facility different area treatment, comfortable and painless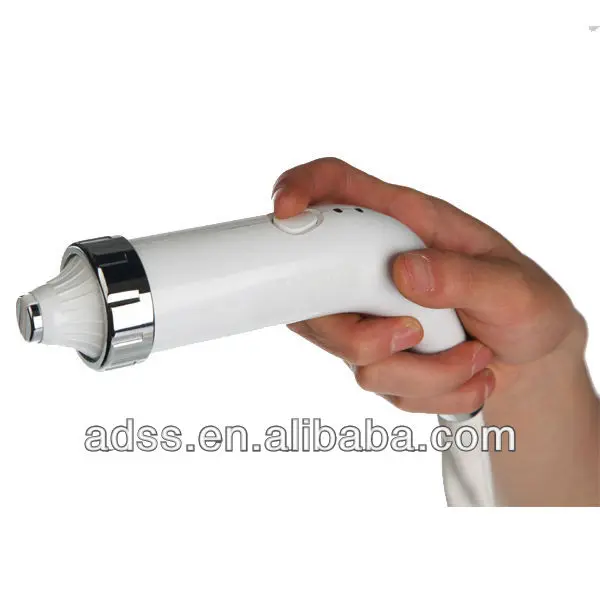 d.ND YAG LASER handpiece: 100% American imported "plug and play" connections, translate into reliable and long lasting machines capable of continuous work in busy clinic/salons, also easy your maintenance
5. Alarm protection system of water flow and water temperature, stop all working immediately in case of any risk at the first time, offering a safe operation to you
6. Painless: can offer good cooling treatment for each client, and reduce the pain feeling greatly in turn. No scar during/after treatments
FG580B Standard Specifications:
Basic specifications

Controller: 10.4" color touch LCD screen

Output power: 2000W

Multi software languages

Cooling System: semiconductor+ air + water + cooling gel

Skin Cooling: ≤0-100C

Voltage: 220V / 110V

E light (IPL+RF)system

IPL Energy: 1-50J

RF Energy: 1-50J

RF Frequency: 6MHz

RF duration: 10-2450ms

Pulse No.: 1-6

Handpiece number: 1pc, with 5 filters

Wavelength: 480/530/590/640/690nm standard (420nm, 750nm optional)

Spot size: 12x30mm, 12X40mm optional

IPL system

IPL Energy: 1-50J

Pulse No.: 1-6

Handpiece number: 1pc

Wavelength: 640nm standard

Spot size: 15X50mm

RF system

RF energy: 0-50J

RF delay: 100-1500ms

RF frequency: 6MHz

Interval: 1-4s

Handpiece number: 1 pcs with 2 probes

Spot size: 16/32mm

ND YAG LASER

Laser type: ND YAG Q-SWITCH LASER

Wavelength: 1064nm/532nm (1064nm for skin rejuvenation optional)

Indicator of aiming light: imported ruby indicator

Energy: 1300mJ
Picture of Before & After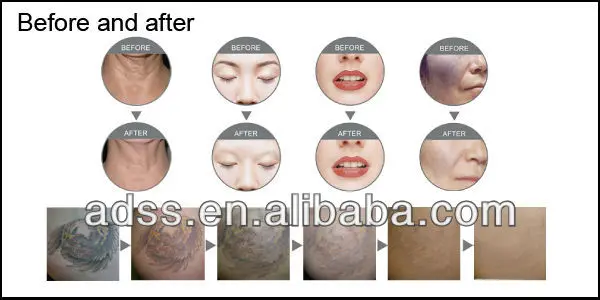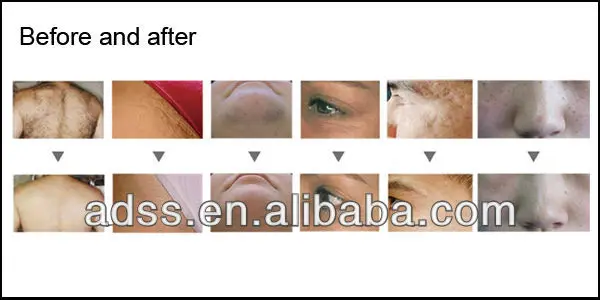 ADSS After-sale service :
Warranty: 2 years , technology support forever
Training: detailed user manual, operating CD, online training, onsite training
Questions and answer:
Q1. Is it a reliable company?
ADSS reply: Beijing ADSS Development Co., Ltd. Is established in 2005, engaged in R&D, sales and after-sales services of aesthetic devices & medical laser equipments, even part of IT area and Real estate sector. We have a professional team integrating with optics, machinery, electricity and medicine, to keep us ahead on in this field. ADSS factory covers 8500M2and has more than 150 employees. All provide ADSS is a reliable manufacturer and suppliers.
Q2: What about the delivery?
ADSS reply: we can offer the door to door services by air or by sea just depend on your actual request. Such as DHL, UPS, TNT, FEDEX… by air; and the sea transportations.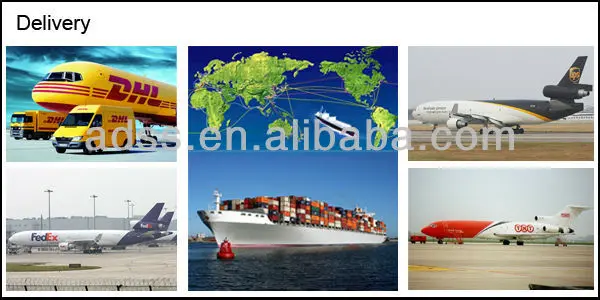 Q3: What's the delivery time?
ADSS reply: 3-7 days.
Q4: What's package?
ADSS reply: strong and beautiful aluminum alloy case/carton case/wooden case.
Q5: Do you have any timely technology supports?
ADSS reply: we have a professional technology supporting team for your timely services. We prepare the technical documents for you, also you can contact us by telephone, webcam, online chat (googletalk, MSN, skype, yahoo…).
Q6: What's the payment method?
ADSS reply: T/T, WESTERN UNION, MONEY GRAM, ESCROW, PAYPAL…
Q7: If the machines broken during the shipment, will you support us?
ADSS reply: generally our customer will purchase the insurance before shipment, avoid any money lost from rough transportation. ADSS will help you to solve the claims with the insurance companies to collect your money back in time.
For Medical and beauty industry:
We got ISO 9000 approval in August 2007
We got CE (EU) certificate in December 2007
We devoted international production line in July 2008, which is the unique and the first line among Chinese suppliers
We got the import & export certificate in August 2008
We got SFDA certificate in September 2008
We got ISO13485 and CE 0197certifications in March 2009
Welcome to visit ADSS factory
We took part in world-renowned exhibitions each year from 2007, such as hold in Moscow, Japan, Italy, Germany, Dubai, Hong Kong etc…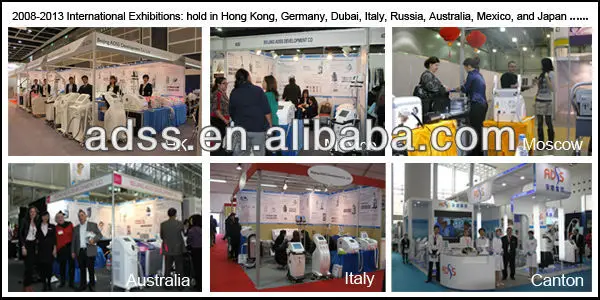 ADSS company culture is rich and colorful, we warm welcome you can come to visit the factory and become our partner, you will not only earn a good partner, and you can get a lot!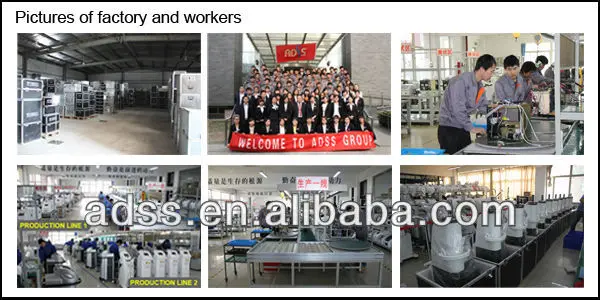 Just feel free to write us for sharing your ideas!