printed label Clear Inkjet Printable Color Printed transparency film for inkjet printers
Name: Transparent inkjet film for plate making

Type: Inkjet Film Series

Printers: Epson,Roland,Mimaki,Mutoh, HP,Canon and so on.

OEM&ODM Acceptable.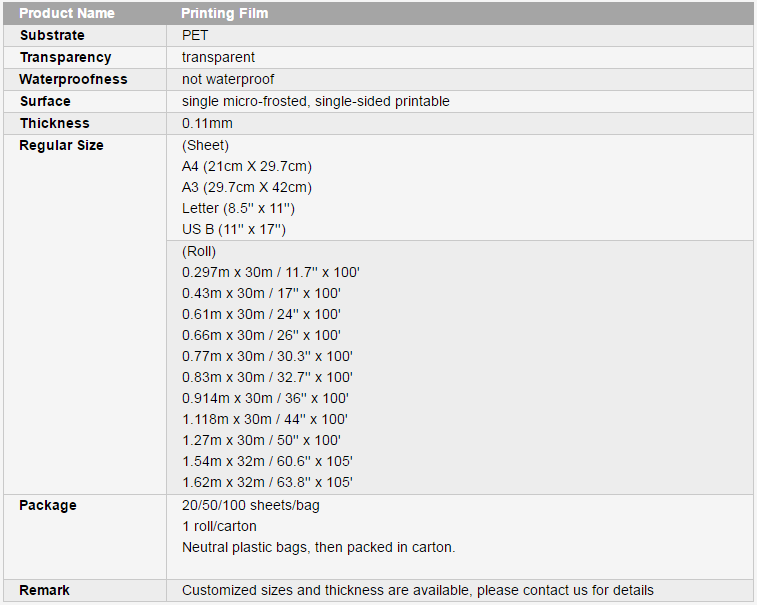 Remark:
For users' convenience, with identification strip on the side of film to indicate the printable side. The identification strip is usually white(can be other color), and additional characters and simple logo can be printed on the strip for advertising effects.

Feature:
1) Special micro-frosted characteristics which doesn't reduce transparency, while enhance friction of the film surface, eliminate stickiness between films. So films don't stick to each other even under huge pressure or in damp environment.
2) High penetrability, ink penetrate deeply into the layer after drying, so the printed graph is well protected and very hard to be scrubbed off even by hard articles.
3) Excellent ink fixation, prevent ink dots on the film from spreading, extend storage time of printed graph.
4) Transparent as traditional laser phototypesetting films.

5) Density of output screen dots and solid is high enough for printing down, operations are similar to laser phototypesetting film in the course of printing down.

6) All operations are done in light room, darkroom and developing process are omitted, no wastewater produced, convenient, and save cost for customers.

7) The cost of film and printing is far less than traditional laser phototypesetting films.
Applications:
Textile prints, screen printings, printworks, towel manufacturers, carpet manufacturers, for plate making in all kinds of sizes as a substitution of traditional laser phototypesetting films.