Roll Up Shade, roll sun shade, Window roller blinds

| | |
| --- | --- |
| Product Name | Roll up shade |
| Suitable Place | Home,Office,Meeting Room,etc |
| Character | Semi-transparent / Full black out |
| Control | Plastic chain or metal chain |
| Fabric | Polyester & PVC Semi-transparent or full blackout |
| Top Tube | 28mm, 38mm Aluminum tube, thickness: 0.8mm/1.0mm/1.2mm |
| Bottom rail | Aluminum rail, small style/ heavy style |
| Color | Plain Color or printed |
| Delivery time | 6-45days |
| Port | Huangpu Guangzhou |
| Sample Shipping Method | Small quanitty by DHL,FEDEX,TNT,UPS or LCL by sea |
Roll up shades are simple, streamline and affordable and rate as our most popular blind product amongst our customers.
All roller blinds are custom made here in our Misdar Shade factory and include:
Chain operated or manual roller blinds
Motorised or automated roller blinds
Block out roller shades
Sunscreen roller blinds
Translucent roller blinds
Double roller shades
Roller Blinds with matching pelmets(Fascia or cassette)
waterproof roller blinds
Chain control roller blinds have child safety chain hold downs as a security feature to reduce the risk of harm to any children that come into contact with your blinds.
waterproof roller blinds ,used the same technical parts, only different in fabric, water proof fabric,,waterproof roller blinds mainly used for bathroom, toilet ,kithen or any humidity places
They work by rolling up and down and can be either chain controlled manually or can be automated through motor drive, control it by remote,smart home sytem, wifi etc.


Window roller blinds are an essential part of any home, office, hotel, flat , apartment, and they usually play a key role in reflecting our personal taste and lifestyle, yet they are more than merely a fashion statement. Window roller shade offer privacy and light control and can help us save money and energy by preventing heat from coming in during the summer and escape during the winter. Shades, blinds and drapes also aid us in managing daylight to protect our floors, art and furniture from the damaging UV solar rays.


Featured in fashionable designs and colours, the made to measure roll up shade displayed in our online selection of window roller blinds have been designed with the purpose of providing consumers with items that perform various functions simultaneously providing privacy.

protection from the sun and insulation while beautifully complementing the look of any room.

With quality components for the operation system of the roll up shade we offer , it is easy to position the shade at the desired point on the window.
Screen roll sun shades
Screen shade have quickly emerged into a popular window treatment solution for many homes because of their superior functionality when it comes to filtering over 85 percent of harmful UV rays. The best part of screen blinds is despite their superior UV-ray protection; they continue to afford you with external environment visibility and allow some natural light to enter the room during the day.
At Integrity Blinds, our stylish screen rollers and blinds are designed to furnish your home with a contemporary finish without compromising on privacy and view. With so much privacy still uncompromised, screen blinds have become a viable alternative for those who don't want sheer curtains in their home. Made from different types of sunscreen materials like polyester, PVC and fibreglass, you'll love the feel of your shimmering sun drenched interiors without worrying about UV rays harming you. We offer a range of colours to suit your personal taste.
Features of our screen roll sun shade include:
· Cuts down the glare and heat inside your home dramatically.
· External visibility without any obstruction.
· Different materials, colours and styles to match your home.
Blockout roll up shades
Blockout screens or blinds offer the highest degree of privacy and protection from the sun because the fabrics are designed to completely block out the sun from the internal spaces of your home. Unlike other materials that may allow some light to enter into the room, block-out fabrics obstruct the sun completely. When brought down, they darken the room completely – giving you the privacy you need at any time of the day.
Whether it is letting you sleep in the morning because you work late shifts at night or whether it is allowing you and your family to watch an exciting theatre-style movie without any lights entering your home, block-out screens from Integrity Blinds offer superior levels of protection for your home without any compromise.
Features of our block-out screens include:
· High degree of privacy and sun protection.
· Offer room darkness during the day when needed.
· Superior insulation prevents heat loss and gain.
Dual Roller Blinds
Double or dual roller blinds are essentially two different blind materials independently set on the same window bracket and are perfect for people looking to achieve both style and function for their rooms. These separate fabrics allow you have a specific sunscreen blind, which can be brought down in the day to control sunlight and another fabric, which can be lowered during other times. Double roller blinds are typically made from sheer and block-out fabrics, allowing you the dual function of blocking out the sun completely or letting in some natural light.
At Integrity Blinds, our double roller blinds allow you to display the aesthetic beauty of your windows with gorgeous treatments built to impress. With us, you can personalise the colours, fabrics and designs to help you choose something that resonates best with your home. You have the option to choose from spring-loaded, motorised or chain-operated mechanisms to enable easy operation.
Features of our double roller blinds include:
· Enjoy the best of both worlds with sheer and block-out materials for different functions.
System Drawing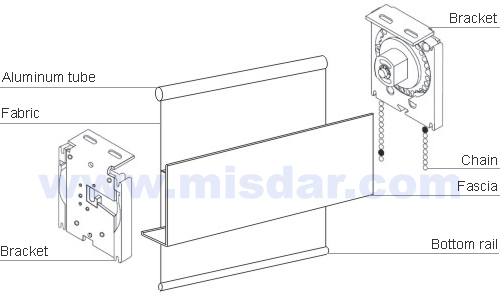 Key Features


Ready made roll up shade use 28mm or 38mm diameter aluminum round tube, the plastic chain can control the fabric




up and down

The system has built-in speed-reduced device bracket and accessories adopted import plastic with durance and can




used long time

The strongpoint of roller shades are simple and convinent.

Heavy-duty zinc coated steel brackets and inertia brake system, ideal for commercial use.

Concealed chain wheel, 90-lb test stainless-steel chain, self-lubricating gears, and cadmium-free hardware

Optional direct, lift assist, and gear-reduction drives

Specialty shapes and configurations available

Misdar offers roll sun shade window roller blinds with both chain and crank-driven mechanisms that ensure a smooth operation and locks the shade positively in any position, providing fingertip control.
Our zinc-plated, versatile universal mounting bracket allows for the roll up window blinds to be ceiling, side, or wall mounted without the need for additional hardware.
Fabric
Window roller blinds come in four main styles of fabrics
Block out fabrics (either block out coated fabric or polyvinyl block out which provide 100% privacy)
They provide significant heat protection and instant privacy, making them an ideal choice for conference rooms, bedrooms, and home theaters.
Fabric can be availabled in the following widths: 200cm, 250cm, 300cm

Translucent fabrics (which generally have the appearance of paper or a light sheet and usually give a moderate level of day and night time privacy whilst still allowing light to filter in)


Sunscreen fabrics (a tight mesh style weaved fabric which reduces the heat and light but does not provide privacy).
Solar screen fabric are designed to filter out natural light, rather than block it out. These materials effectively reduce heat absorption and prevent heat and cold loss. roller blind fabric minimize worker fatigue and eyestrain by effectively reducing the amount of glare on computer monitors. While they provide substantial protection against fading, unlike other forms of window coverings, solar screens also preserve an outside view. Most roller shade fabrics are low maintenance and washable, bacteria resistant, and fire retardant, making them an optimal solution for healthcare facilities, educational institutions, and commercial applications.
Polyester sloar screen fabric provide a significant reduction in solar heat-gain and greater comfort from the radiant component of sunshine.
Our polyester solar screen fabric collection comes in different weaving styles, different colours.
Solar fabric can be availabled in a variety of openness factors:1%, 3%, 5% , 8%, 10%
Fabric can be availabled in the following widths: 200cm, 250cm.
Printing fabric fashion beautiful colors, gorgeous and elegant, elegant Tianshi breath, crystal texture, indoor warm conditions, so that infiltration of living arts, wonderful life to fashion, there are innocent childhood, cheerful songs, bright galaxy, it is reverie unlimited.
Fabric can be availabled in the following widths: 200cm, 230cm.