Description: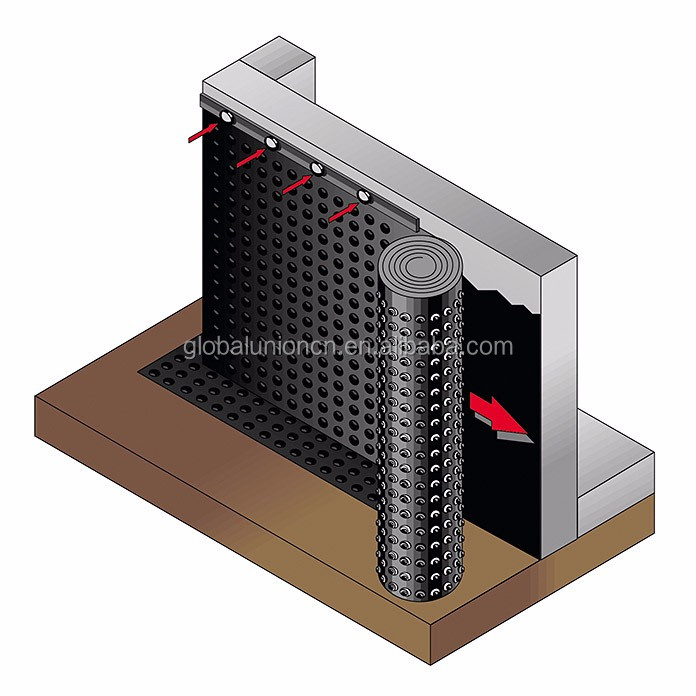 Drainage board is made of high molecular, produced by extrusion and adsorption. The tri-dimensional space can drain gas and fluid. It's a multi-functional material, can from channels for water and gas easily, which is sound insulation and vibration isolation. In the field of civil construction can be widely used in building roof system layer overhead, planted roof drainage ventilation, basement waterproofing system production, thermal and moisture isolation of the interior surface, road and rail tunnel drainage protection. In the urban land, space, material resources are becoming scarce today. Plastic dimple drainage sheet to provide the most valuable option.
For Roof or Roof Garden, use 20mm or 30mm height drainage board .
Specification:
| | |
| --- | --- |
| Sheet Material | HDPE,EVA |
| Sheet Thickness | 0.5mm-1.3mm |
| Dimple height | 8mm/10mm/12mm/16mm/20mm/30mm |
| Width | 2.0m/2.4m |
| Length | 20m |
Property:
Low-cost, high efficiency, durable, chemical resistance, resistance to puncture of plant roots, diverse application, simple installation and quality guaranteed.
Application:
Waterproofing system of road, rail tunnel and underground, basement of building, roof garden and other waterproofing and drainage construction works.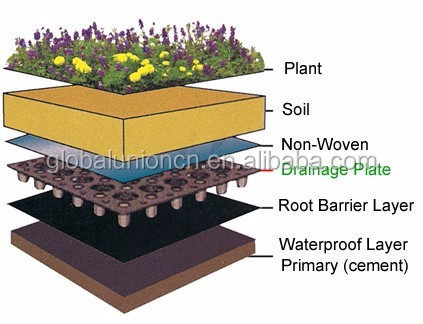 Production Standard:
GB 18173.1-2012<Polymer water-proof materials – Part1: Water-proof sheet>
JC/T2112-2012<Plastic board for drainage and protection>