high quality QTJ4-18 new products 2016 automatic concrete block making machine/block making machine concrete
Mobile No.:0086-15969940592
Product Presentation
1. QTJ4-18 Hydraulic Automatic Brick Making Machinery cal control systems. It is characterized by high efficiency, reasonable design, compact structure, easy operating and convenient maintenance.
2. For the product forming, the machine takes the hydraulic force as the main and the mechanical force as the auxiliary, through vibrating and pressing, to finish the forming procedure. The formed products are high in compressive strength, good in density, perfect in anti-frost and precise in dimensions. Its four guiding columns are coated with cadmium, having perfect torsional strength and wearing capacity. Its material distributor, using sensor and hydraulic proportional driving technologies, can produce forced centrifugal discharging under the function of swing and arc-breaking mechanism to provide quick and even material distributing, and to increase the productivity.
3. For multi-function use
Main Technical Specifications
Forming pieces

400*200*200 4pcs/mould hollow brick

240*115*90 12pcs/mould cellular brick

240*115*53 26pcs/mould standard brick

Total Weight

6T

Forming Cycle

20-25s

Size of host Machine

3400*2100*2500mm

Power of Host Machine

15kw

Exciting Force

60kn

Vibrating Frequency

3000-4500r.pm

Size of Carriage Plate

900*550*30mm

Daily production capacity for hollow bricks

5800pcs

Daily production capacity for cellular bricks

18000pcs

Daily production capacity for standard bricks

38000pcs
Hollow blocks:6000-14000 pcs/day (8hour shift)
Solid bricks:45000-5000 pcs/day
Color pavers:15000-30000 pcs/day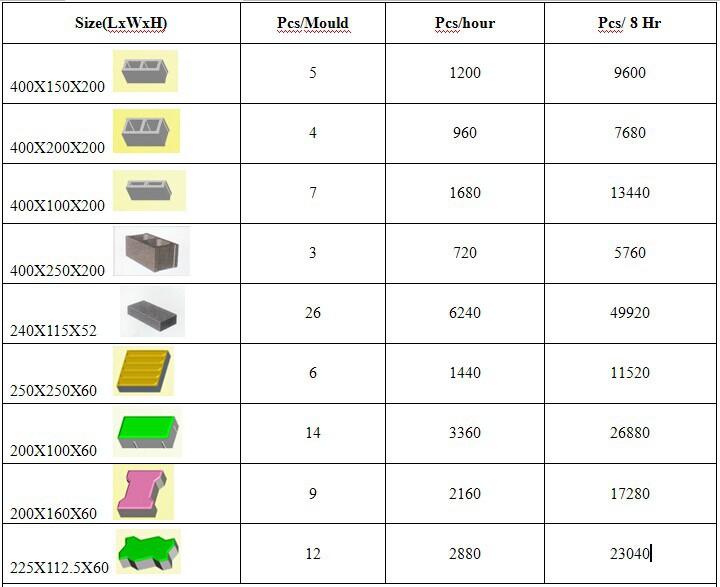 Other Information
1. Area: Workshop area: 150-200m2, all factory area 2000m2, the bigger, the better.
2. Workers : three or four
3. Ratio of raw material:cement 8%-10%;sand 30%-40%;stone:50%-60%,
about cement :sand : stone is 1:4:5.
4.hollow block weight:
(400*200*200) :17KG,(400*150*200):13.5KG,(400*100*200):10KG
5. raw material consumption per day:150-170T
6. water consumption per day:3%-5% of raw material .Weight.
Assessment Guarantee
1.One year warranty for the critical component.
2.After one year, we can help you to maintain the machine and the accessories are provided only on the cost price.
3.We can help you train the operator and mechanic.
4.We can help you to design the production line, workshop and provide turn-key project.
5.We give our cement brick making machine one year guarantee,during the period we can supply spares if they are broken.
Brick Sample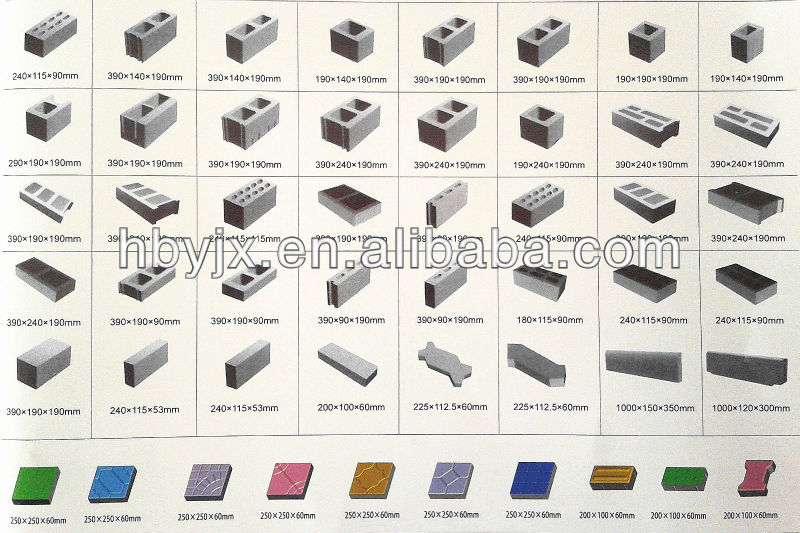 Assessment Advantage
1.Key parts:motor(CE certificate),Taiwan hydraulic unit
(COMPASS CHAOTIAN),Japan hydraulic valve,high strength steel (No.45 national standard steel ) and special welding technology.
2.Scatter:using 360 degree revolving material-scattering,corresponding to scatter material twice,
one time is ok,the speed is high,so the blocks have high density and strength.
3.Moulds:through 900 Degrees Celsius High temperature carburizing heat treatment, strong and durability and long service life
4. Hollow bricks can reach 8-10Mpa,Solid bricks can reach 10-12Mpa,so they have a higt pressure,can be widely used.
Host machine
Block conveyor
Block stacker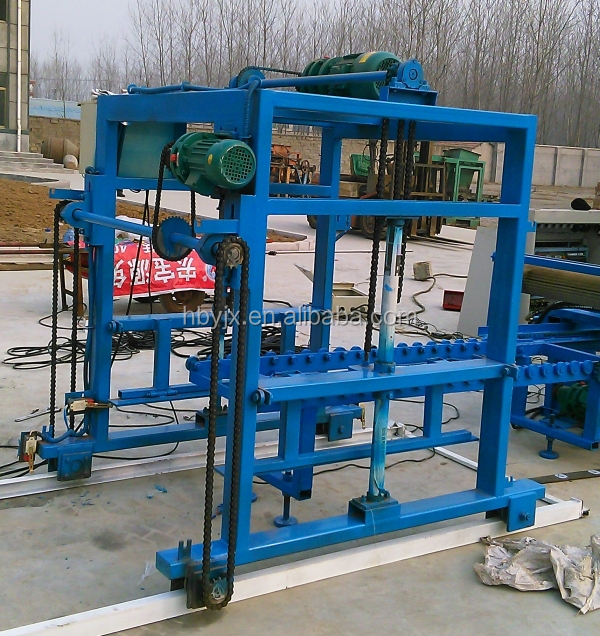 Conveyor Belt
Hydraulic Station
PLC Control Box
Customer visiting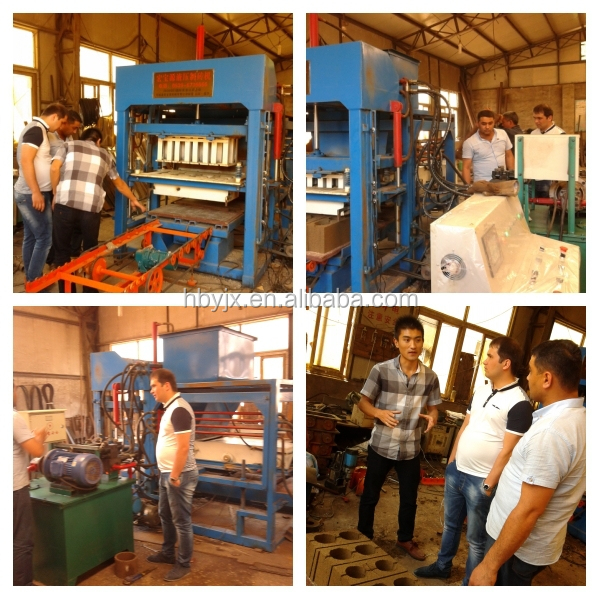 whatspp/Mobile No.:0086-15969940592
Skype: davidliuhby
If you would like to know more details ,please send your inquiry to us.
please Write your questions , then click " send" button .