Automobiles & Motorcycles Tire Repair & Punctures Repair Solution: No.1 Quality Tyre Sealant in China market
Suitable for Car & Motorcycle & Scooter & Electric Bicycle & Bicycle Tyre Punctures.
Customers have great interesting for the LIVE show with electric bicycle.
Are you still worried about the punctures on road for your favorite vehicles?
Don't worry, we have the perfect solutions for you!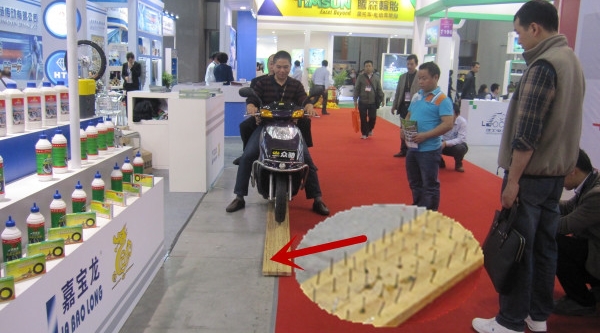 Tire Repair String, Tire Repair Patch, Tire Repair Tool Kit for tire punctures repair.
Anti Rust & Anti Corrosion
JPAD Tyre Sealant VS Traditional Tyre Sealant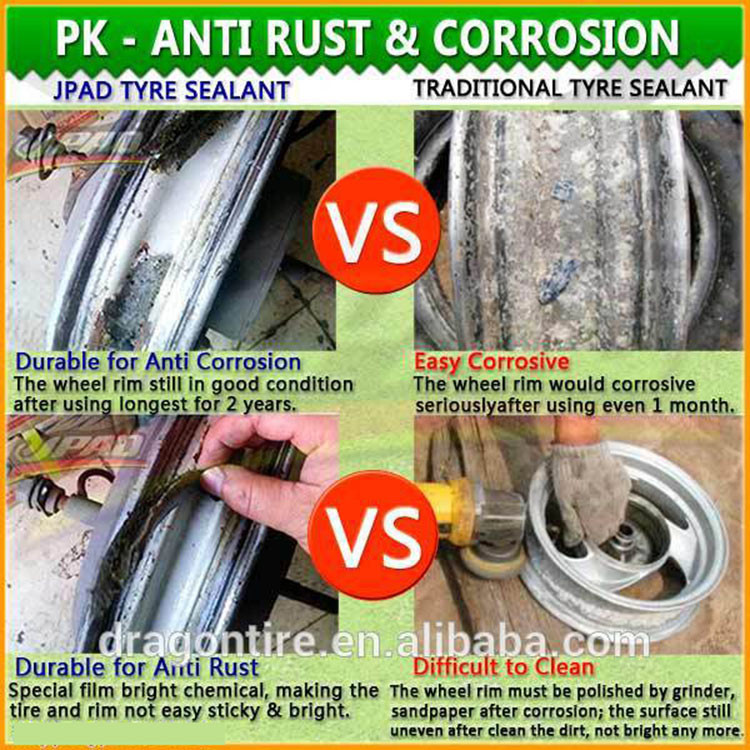 Price and Anti Freeze Function Comparing
Directions For Use - Tubeless tyre
Including Car Tyre, Motorcycle Tyre, Scooter Tyre, Electric Bicycle Tyre, Bicycle Tyre.


500ml & 350ml Assembly with Attached Tube - Tyre Puncture Sealant
1. Remove the valve core & deflate the tire.
2. Cut the sealant bottle cap mouth with scissors;
3. Then connect the tube and the air valve, press the bottle to make the liquid flowing into the
tire completely.
4. Finally inflate the tire.
5. Ensure to make the wheel turning for several rounds, or run several rounds with your vehicle before your test.
How Much per Tire?

Application

Volume
Bicycle, E-Bicycle Tyre
250-350 ml
Motorcycle Tyre
350-500 ml
Family Car Tyre
500-800 ml
Truck Tyre
800-1,000 ml
The different exhibitions in China we attended every year, including Auto & Motorcycle & Bicycle Exhibitions.
Factory Address: Nanshui Road, Hegui Industrial Area, Lishui Town, Nanhai District, Foshan city, Guangdong China
Market Coverage & Customers: Over 1,500 distributors in China, OEM customers including CHAO YANG(tyre),
ZONGSHEN(Motorcycle), EMMELLE(Electric Bicycle & Bicycle)....etc.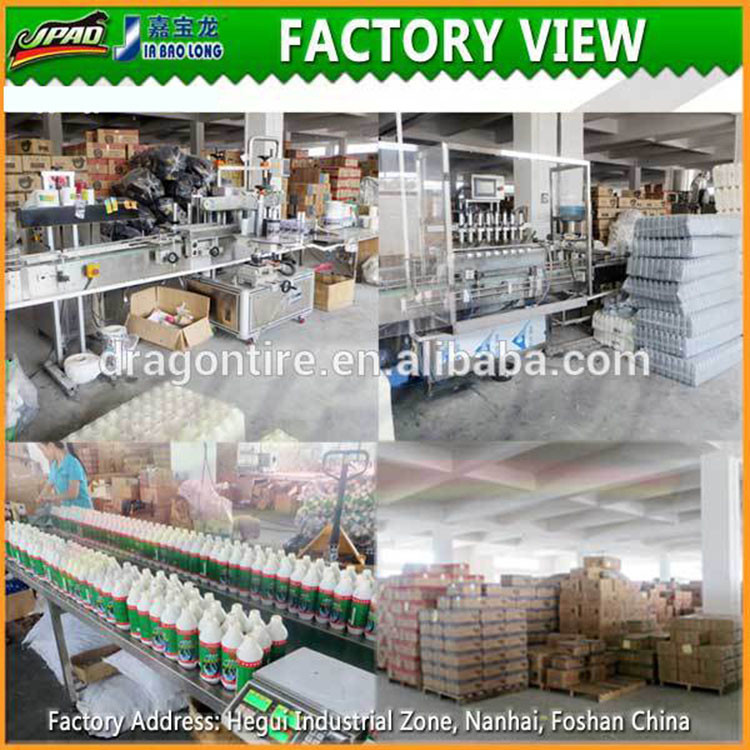 Guangzhou Wholesale Market Address:
No 517, Guangzhou Baiyun Motorcycle Parts and Accessories Wholesale Market, Guangzhou China
Parts of tire repair products as below:
1.Tyre Repair Products & Tyre Repair Materials:
- Tyre Repair Patch/Cold Rubber Patch
- Tyre Repair String
- Tyre repair kit & tooling
2.Tyre Sealant
- JPAD Puncture Repair Liquid Tyre Sealant
- JIA BAO LONG Anti Rust Super Glue
- Anti Freeze Puncture Free Sealants
- M-ONE Flat Free Liquid
- Durable Tyre Sealant
liquid tire sealant, tire sealant tyre sealant, tire sealant with air compressor, slime tire sealant, tubeless tire sealant, tyre sealant, puncture repair liquid tyre sealant, tyre puncture sealant, anti puncture tyre sealant, flat tire repair, motorcycle tire repair, car tire repair, tire repair tool kit, tubeless tire repair kit
About Us
-------------------------------------------------------------------------------------------------------
Foshan City Dragon Vehicle Parts and Accessories Technology Co.,Ltd
(Previous name: Foshan Nanhai Dragon Adhesive Products Factory)
1. No. 1 Sales Volume & Production Capacity in China from 2013 - Tyre Sealant products.
2. 15 years of leading factory in China
3. Max. 70% market share in many parts of China
4. Max. -45 degree(Centigrade) anti freeze function.
5. China Well-known Brand - JIA BAO LONG.
6.Motorcycle parts and accessories for the whole serials.