Specifications
Free standing alluminum alloy custom fiberglass shower enclosure
Size: 80x80x185/cm; 90x90x185/cm
Volume: 0.12CBM
Free standing alluminum alloy custom fiberglass shower enclosure
1. 5 mm tempered glass with aluminum alloy frame
2. Solid base tray with acrylic material
3. Easy installation and fixture
Free standing alluminum alloy custom fiberglass shower enclosure
I. Size
Size: 80x80x185/cm; 90x90x185/cm
Volume: 0.12 CBM
II. Materials
> 5 mm solid tempered glass with aluminum alloy frame
> high quality acrlyic material with 3 layers glass fiber to harden the base tray.
> stainless steel door handles
> brass with chrome drainage
> copper or plastic hoses for customers to choose
> high quality weel runners
> Optional
Glass color: Wove, Frosted, Transparent and Straight bar
Frame color: Satin Silver, Silver, White
Handle: could be changed to optional design
III.Style
Fixed installation makes your bathroom compact and comfortable.
IV. Advantages
1. Solid, hard, high quality.
2. Easy to wash, clean and maintain.
3. Good insulating properties.
4. Radiation-proof.
5. Convenient to carry out; portable.
Inside: protective film & thick foam against the body
Outside: hard carton wrapped with EPE belt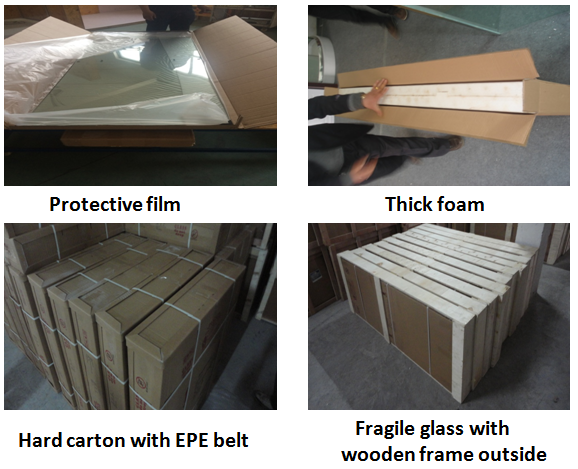 1. We offer 1% main spare parts freely before shipped.
2. Tray body:5 years
3. The water system:3 years
4. Electric system: 1 years
5. Gimbal cam(wheels): 3 years
6. Metal parts: 3 years