Hot Sale In India 9DVR 9D Virtual Reality Cinema 7D Realidad Virtual Simulador From Factory Price

WE ARE MANUFACTURER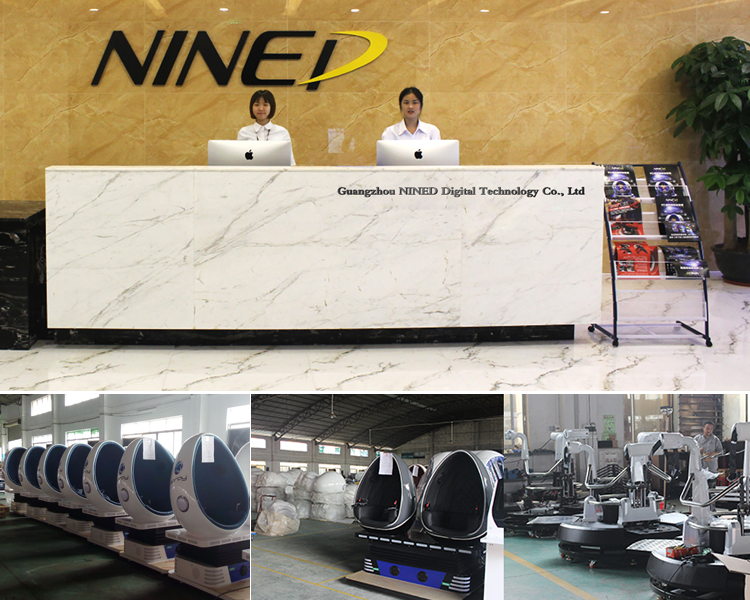 What is 9D VR Cinema?
9D VR Cinema is an unique successful commercial vr product. It use vr glasses to show the 360º movies. It connect with the motion seats and bring you a totally different and real experience.
You just need to wear VR glasses and then go into the world of the movies. Moving your head
and press the button on the seats to shoot the target in the movies.
Different kind of movies which will give you the different experience. Join us to get more fun and more business opportunity.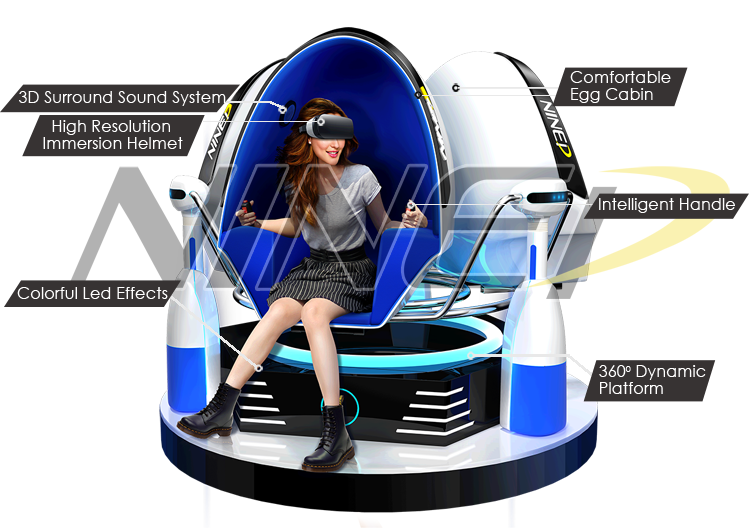 What is the parameter of 9D VR ?
Parameter

Name

9D VR 1seat

9D VR 2seats

9D VR 3seats

Brand

NINED

Color

Blue, brown,red,yellow or as customer's need

Rated power

2.2kw

2.5kw

4.5kw

System

Electric System

input voltage

220V

Vertical lift

170mm

170mm

480mm

Motion

360 degree rotation

70 degree vibration

360 degree rotation

Movement speed

250mm/s

Specifications

1x1x1.95m

2.15*1.2*1.9m

2.15*2.15*1.95m

Films

360 degree 9D VR Movies

Weight

200kg

270kg

600kg

Rated current

10A

12A

18A

Warranty

1 year warranty
9D VR Cinema has a wide range for operating. The places where have large passenger flow are all allowed, such as: amusement park, theme park, theater cinema, farm, indoor and outdoor children's playground, walking street, shopping mall, beach resort, ect.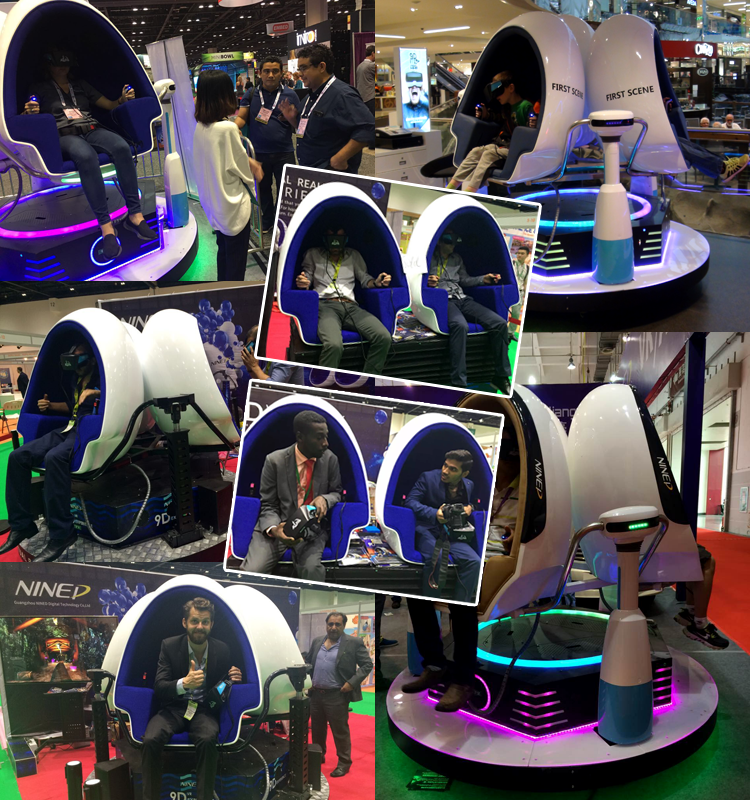 NINED 9D VR 6 FEATURES
1.Attractive egg design with 1/2/3 seats mode
2.Full HD Immersive vr glasses
3.Various vr movies & games, with English version
4.Professional movies production team
5.Professional 9D Experience store design
6.Super product warranty
Multi-Seats 9D VR Cinema Simulator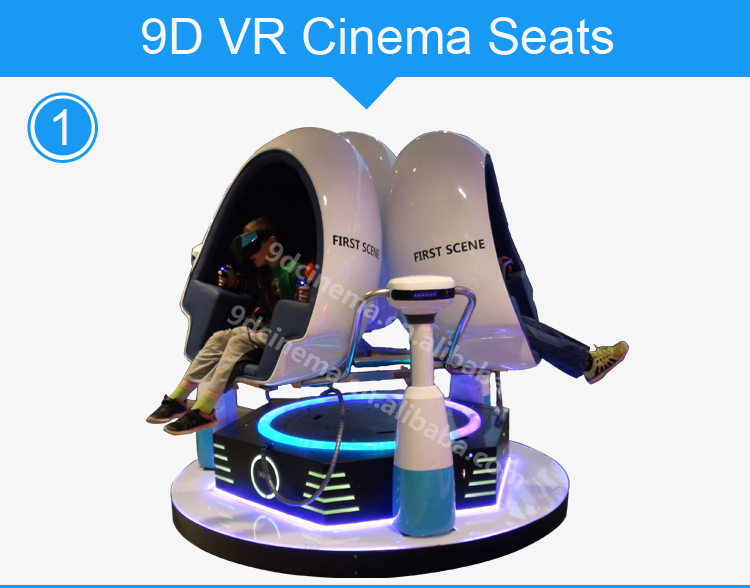 Product Details
Full HD Immersive VR Glasses, With 1080P 2K high resolution, more clearly to experience the games.
There are different type of vr movies. Horror, Adventure, Cartoon, Racing and so on. Also with the interative shooting games and special effects. More exciting to enjoy the games.
What is the features of 9d Egg VR Cinema Simulator?
Free vision
Bionic 125 ° field of view,1080P HD resolution two eyes independently, without dead ends brings you to enjoy the new funny world with real feelings .
Interactive cabin with dynamic effects
The moving speed of the cabin from 10mm / s to 167mm / s can be precise regulation, make you free to move in the new wonderful world.
360 ° rotating platform
Rotating platform is based on a high level freely.Once advancing, turning around, you can have fully experience of the real pleasure from the spatial displacement of the new funny world.
Head tracking target
Built-in 9-axis sensor, 360 ° head tracking, you will feel your whole body into the world of film when turning around.
Rich content
Boundless Universal,Endless Ocean,Hail of bullets......Fantasy you ever dreamed of will come true now.
Amazing virtual reality experiences
Explore every wonderful creation of our world, broadcast the moment at present,predict the future
Income Of 2 Sets 3 Seats 9D VR

Ticket price

Working time

Movies times

for one hour

Conversion mode

Income

One Day


(Daily)

$5

5 hours

5 movies

5*5*5*6

$750

One Day


(Weekend)

$5

10 hours

8 movies

5*10*8*6

$2,400

One Month

$5

10*8+5*22

2400*8+750*22

$35,700
The Income Will Amazing !!!
Guangzhou NineD Digital Technology Co., Ltd., is engaged in 5D/7D/8D/9D VR Cinema
technology development and application of high-tech company which headquartered in the national central business Tianhe district CBD zhujiang New Town.
We are in research,development, production, marketing and operations with 32,000 square
meters area of modern production base. There are four major sales subsidiaries in Panyu,Beijing,Jinan and Xian and fully equipped with independent research and development capabilities of VR video content team.
Advantage in 5D/7D/8D/9D VR Cinema field experience of store construction, operation and
commercial VR technology with leading-edge equipment.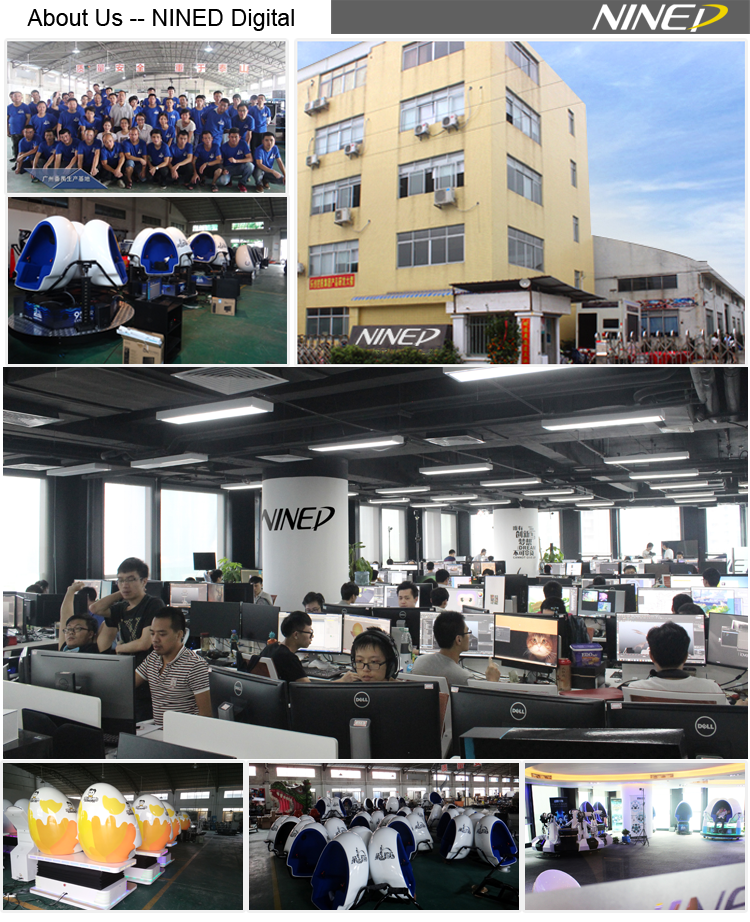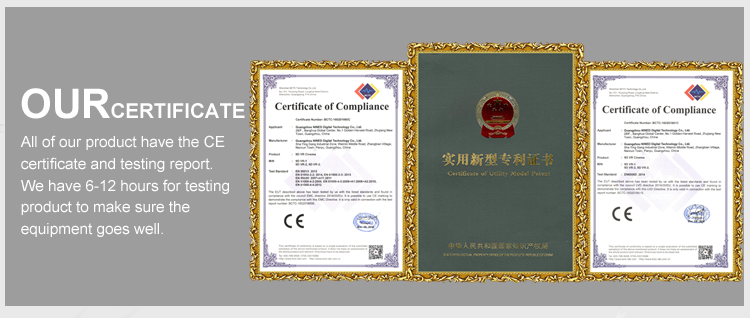 All our cinema products have pass the CE test and got the CE certificate. Ensure the quality and will not charge customer extra payment for CE application. Save your investment and solve your worried problems.
NINED will attend different exhibitions per month at home and abroad, such as IAAPA Attractions Expo, Dubai Entertainment Amusement & Leisure Show, CES, Canton Fair, GTI Exhibition and other industry exhibition to show our vr prodcut.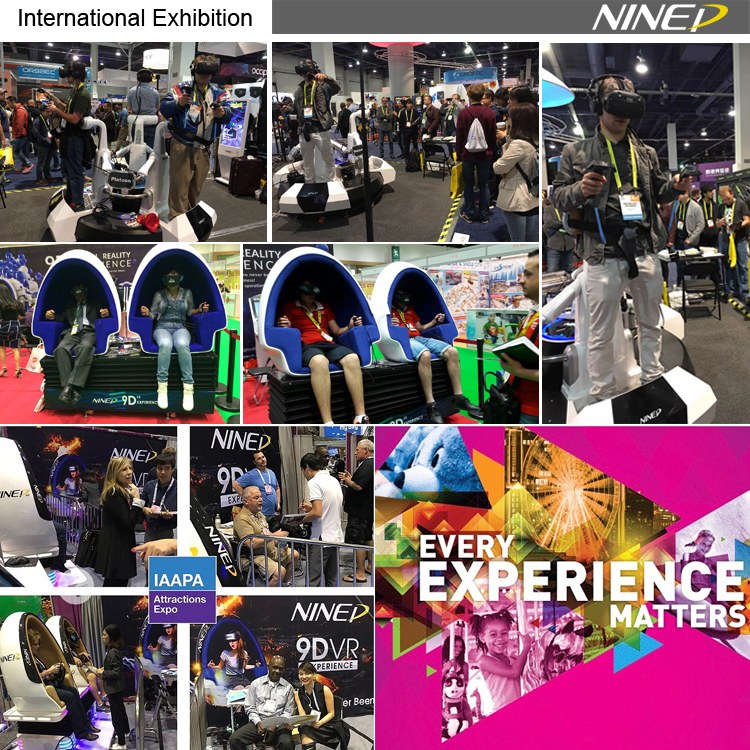 FAQ:
Q:What is Virtual Reality?
A:
Virtual reality is an artificial environment that is created with software and presented to the user in such a way that the user suspends belief and accepts it as a real environment.
Q:What is the difference between 9D VR cinema and 5D/7D/8D cinema?
A:There are 4 main differences:
1.No need screen and projectors in 9D VR. Just wear the VR glasses.
2.9D VR cinema can have 360° Rotation,fully immersive.
3.Different from shooting with real guns in 5D/7D/8D cinema,9D VR uses the advanced head tracking technology. You can use your head control the direction you want!
4.Don't need to do a complicated installation!
Q:Where can I run the 9D VR cinema and what is the size of the room it requires?
A:Shopping mall,amusement park,theater,
Theme park,ect. Many locations are suitable because it just needs 2-9 spare meters to place the whole set of machine.
Q:What is the type of your movies and how many movies we can get?
A:Horror,thriller,cartoon,race movies ect. 5-10 minutes for every movie. Movies are in English Version. We will provide with at least 15pcs movies, or more than 100pcs.
After-sale Sercice :
A.3 years warranty for software!
B.2 years warranty for components!
C.1 year warranty for hardware!
D.Technical support in a lifetime!
Technology Support :
Provide the manual of machine, to teach customer how to operate and install the machine.
Send photos and video to customers for reference.
Operation data analyze based on customer's machine, offer advice for parameter setting to get more profit.
Installation Service:
A.Send your technicians to China to learn installing and testing.
B.We will send you diagram, instructions, pictures and videos to show it.
C.Send our technician to your location to complete the installation.
VR Movies Update:
We have our professional team working on the VR movie, normally we can update 1-2 new movie every month to our customers during the period of warranty.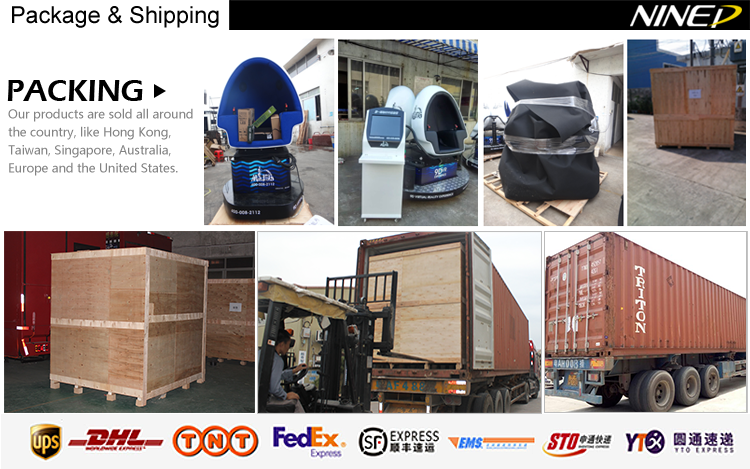 More detail, feel free to send inquiry to us.
Also welcome to contact us for any service. We will reply you as soon as possible.
Thank for your time and click our products.