3D leakguard baby diaper produce machine with servo motor control
1- Four size: S, M, L & XL
2- Fluff pulp with SAP & airlaid ultra-thin 2 designs baby diaper
3- Acquisition distribute layer
4- Double legcuff to prevent leakage
5- Elastic waistband
6- Cartoon frontal tape
7- S-cut velcro side tape
8- Breathable lamination back sheet
9- Wetness indication design
10- Bi-folding & tri-folding
11- I shape or T shape baby diaper
3D leakguard baby diaper produce machine with servo motor control
1- The machine can produce four sizes (S.M.L.XL) baby products by changing cutting tools and gear box
2- High speed teeth-like crusher can take treated and untread pulp.
3- Full servo control machine is totally driven by servo motors without shafts transmission.
4- Mitsubishi/Siemens PLC centralized control
5- Automatic splicing material without stopping the machine, so the working speed is guaranteed.
6- Automatically detect and reject defective products and trim remove.
7- Automatically stop the machine when material is broken or used out.
8- Human machine interface is controlled by touch screen.
9- Safety protective door.
10- All electric components are famous international brand.
11- All cutter assembly & machine body are CNC processing
12- In the frontal and back side of the machine, there is emergency stop line which is able to stop the machine at any place in emergency.
3D leakguard baby diaper produce machine with servo motor control
Technical Parameter
Power supply

380V 50HZ

Installation capacity

250 KW

Designed production speed

550 pcs/min

Stable production speed

450-500 pcs/min

Product dimension

a). S (380-390)×280mm

b). M (430-440)×320mm

c). L (470-480)×320mm

d). XL (510-520)×330mm (customized)

Waster Percent

less than 2% (excluding caused by glue applicators failure)

Machine size

30m×9.0m×4.5m (L×W×H)

Operation size(Minimal)

40m×12m×5.0m (L×W×H)

Weight

80 Tons
BABY DIAPER RAW MATERIALS LIST
No.

Description

Remark

1

hydrophilic nonwoven

top sheet

2

hydrophobic nonwoven

leg cuff

3

ADL

distribution layer

4

fluff pulp

absorbent material

5

SAP

absorbent material

6

tissue

core packing

7

SPANDEX

leg cuff

8

rubber glue

material lamination

9

construction glue

material lamination

10

side tape

tape

11

frontal tape

tape

12

elastic waistband

waistband

13

PE film

(breathability or unbreathability)

back sheet

14

hydrophobic nonwoven

(laminated)

back sheet
1. The guarantee is one year. After the machine arrive the buyer's factory, we will send our engineer to the buyer's factory to install and test the machine, and offer training for the buyer's technicians about 20-30 days. The buyer should pay for visa fee, round trip tickets, hotel, food and salary USD80/day for each engineer.
2. The electrical components, the loss by nature and artificial damage created by unprofessional technician, not in the scope of the warranty.
3. We offer lifetime services. Whether the machine is under warranty or out of warranty, if the customer has any problem on machine operation, we will help the customer solve the problem by phone/fax/email immediately. If the customer request, we will send our engineer to the customer's factory to fix problem, and the buyer should pay for visa fee, round trip tickets, hotel, food and salary USD80/day for each engineer.
Our 3D leakguard baby diaper produce machine with servo motor control
3D leakguard baby diaper produce machine with servo motor control
in customer's factory
Our company, MH-Machinery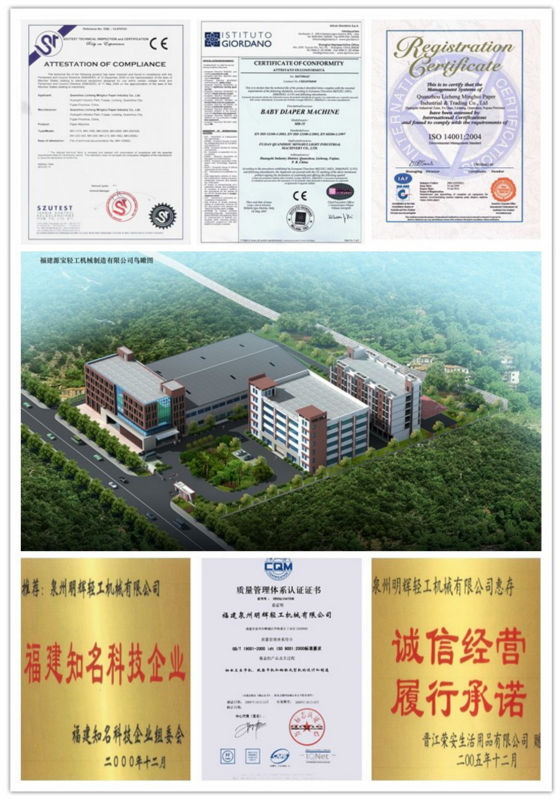 Contact Info
3D leakguard baby diaper produce machine with servo motor control