D20mm pvc clothing sewing magnet
Best selling dimension, small disc neodymium monopole magnet, use for sewing in clothing. Large quantity in stock, ready to ship.
Dia 12*2mm
Dia 12*3mm
Dia 15*2mm
Dia 20*2mm
Dia 20*3mm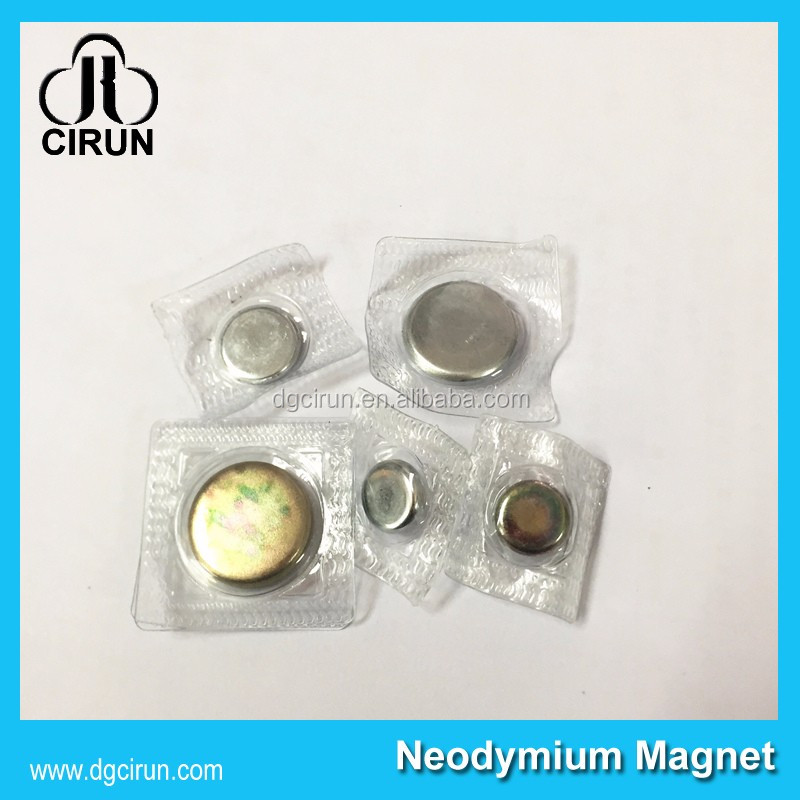 1: Custom any size and shape rare earth neodymium magnet
2: Free design and free samples service
3: 100% payment protection and USD 80000 warranty trade assurance
4: 100% production quality protection with real material
5: 100% on time shippment protection
6: 16 years experience in manufacturing neodymium magnet
Neodymium magnets are acturally composed of neodymium, iron and boron(they are also referred to as NIB or NdFeB magnets). The powdered mixture is pressed under great pressure into molds.
The material is then sintered (heated under a vacuum), cooled, and then ground or sliced into the desired shape. Coatings are then applied if required. Finally, the blank magnets are magnetized by exposing them to a very powerful magnetic field in excess of 30 KOe.

D20mm pvc clothing sewing magnet
D20mm pvc clothing sewing magnet

Shape

Disc, round neodymium magnets (Sintered Neodymium magnets shape can customized)

Material

NdFeB (Neodymium Iron Boron)

Coating

Ni-Cu-Ni, Nickel, Zn, Gold, Silver, Copper etc.

Tolerance in size

+/-0.05mm or +/-0.1mm

Magnetization direction

Thickness, Length, axially, diameter, radially, multipolar

Grade

N33-N52;N33M-N50M;N33H-N48H; N30SH-N45SH;N30UH-N40UH; N28EH-N38EH,N28AH-N35AH

Br(kgs)

N35(11.8-12.2);N52(14.4-14.8);N35M(11.8-12.2);N30H(10.8-11.3); N30SH(10.8-11.2); N30UH(10.8-11.2); U30EH(10.8-11.2)

Hcj(ka/m)

N35≥955; N52≥876; N30SH≥1353; N33AH≥2785

TW(degrees celsius)

N35≤80; N52≤70; N30SH≤150; N33AH≤240

Application

NdFeB neodymium rare earth permanent magnets are widely use in many different area, such as motors, sensor, speaker, rotors, alarm, microphone,

wind turbines/wind generators, magnetic hooks, magnetic holder, filters automobiles and so on

MOQ

Samples could be offered

Delivery time

3 to 10 days for sample, 10 to 30 days for order. (According to the stock information)

Certification

ROHS, SGS, ISO9001
Neodymium Magnets Shape and Application:
Shape

Photo

Application

Cylinder NdFeB Magnets

Disc Neodymium Magnets

a) Motors

b) Sensors

c) Microphones

d) Switchboard

Block Neodymium

Cube Shape NdFeB Magnet

a) VCM

b) Printer

c) Magnetic chuck

d) Switchboard

Ring Neodymium Magnets

Bar Neodymium Magnets

a) Horn, Trumpet

b) Magnetic separation

c) Loudspeakers

Arc Segment Neodymium Magnets

a) Motor

b) Wind turbines

c) Wind generators

d) Switchboard

Customized Size

Neodymium Magnets

a) Motors

b) Permanent-magnet machine

c) Magnetic device

d) Magnetic therapy
Magnetic Properties and Grade of Neodymium Magnets:
Magnetization direction of Neodymium Magnet:
Thickness Magnetized

Axially Magnetized

Diametrally Magnetized

Multi-poles magnetized

Radial Magnetized

Customzied specific requirements magnetized
Our Neodymium Magnets Advantage:
1. High Performance :
Our neodymium magnet for variable frequency compressor,motor, rotor..
2. High Consistancy :
Our neodymium, (Br) and (Hcj) are much higher than 1.63. The consistency of the surface magnetic field and magnetic flux can be controlled at +/-0.05%.
3. High Working Temperature :
Our neodymium magnet can satisfy the working temperature requirements with excellent temperature resistance. can be in most applications.
Neodymium magnet production flow:
Neodymium magnet melting-Pulverization-Magnetic filed orientation and molding-Sintering-Semi-finished inspection-Precision machining for cutting-Surface treatment-Magnetizing machine-inspection&packing-Ex factory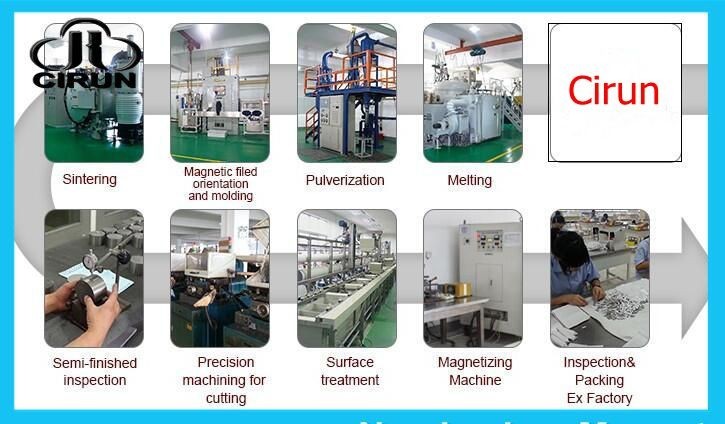 Company Introduce and Certification:
Established in 2008, located in Dongguan City, Dongguan Cirun Electronics Co., Ltd. is a high-tech manufacturer for magnetic material, we mainly specialize in permanent neodymium magnet and ferrite magnet.
Our factory have 3000 square meters area, with first-class production equipment and perfect testing philosophy, that means we can provide top-quality products for our customers. Now we have export our magnet to Europe, North American, Southeast Asian and other countires.

For all, We persist in providing superior quality, competitive prices as well as prompt delivery. Based on this strong background for many years. We serve our customers sincerely while they treat us as their trustful friends.
Standard packing for sea and air transportation, box carton with plastic sack or composite board box to protect the Neodymium magnets and Ferrite magnets.
Or for customer request.
What's the payment we accept?
For small order: T/T, Western Union, Paypal, Escrow. Need full payment in advance.
For big order: T/T, L/C, D/P, D/A, Western Union, Escrow. 30% deposit in advance, 70% payment before shipping.
What's the MOQ?
10pcs, 100pcs, 500pcs, 50000pcs, 500000pcs etc, depend to the different size, item, design and process.
Sample order is accepted.
What's the delivery time?
5 to 30 days, according to the quantity, stock information and your special request, will give the accurate delivery time when you contact us.
Where's your company?
Welcome customer to visit our company, full address is: A106 Building Fumin Road, Shuiku Industrial Area, Guanjingtou Village, Fenggang Town, Dongguan, Guangdong, China
How can i contact you?
Here is the contact information, please feel free to contact us in anytime, we will try to reply you within 24 hours.