Neodymimum permanent arc magnets
Materials
Neodymium-Iron-Boron, Rare Earth NdFeB arc Magnet
Technology

Utilizes new Sintered NdFeB magnet techniques and equipment such as strip casting, HDDR technology;

Magnetic properties

a. High coercive force

b. (BH)max from 33 to 53MGOe,

c. Max working temperature up to 230°C;

Grades
N33-N52,33M-48M,33H-48H,30SH-45SH,30UH-38UH, 30EH-35EH
Shapes
Block, Cube,Ring, or others
Sizes
Length x Width x Height, mm/ inch. Customized;

largest block length of 150mm, biggest ring of D220mm, smallest thickness of 0.5mm largest block length of 150mm, biggest ring of D220mm, smallest thickness of 0.5mm

Coatings
NI,NICUNI, Zn, NiCU-Gold, copper,Epoxy,NICU-Epoxy ,chemical, parylene, etc;
Applications

Sensors, motors, rotors, wind turbines/wind generators, loudspeakers, hooks,magnetic holder, filters, automobiles,etc;

Parameters

Grade, Size( L X W X H) or Drawing, Coating, Quantity, Etc.

Glad to give you some suggestions on the Neodymimum block magnets.

Certification
ISO9001:2008

We are

China industrial Block permanet Sintered NdFeB magnets manufacturer

offer best industrial Block permanet Sintered NdFeB magnets OEM, ODM,service.
Sintered NdFeB Magnet Production Flow Chart
UPMAG's Exhibition: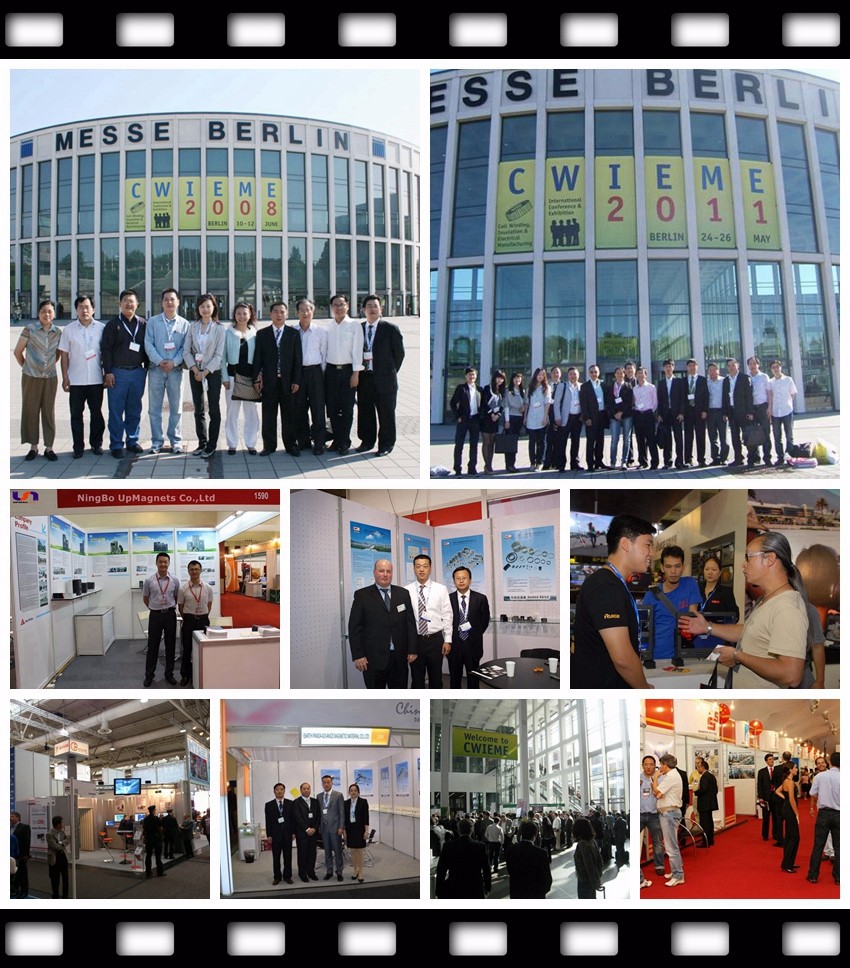 Finally---Why you choose us?
1. Comprehensive properties range from N35-52, 30M-45M, 30H-48H, 30SH-48SH, 28UH-40UH, 30EH-38EH, 33AH, etc.
2. Good consistency
3. High magnetic field
4. High surface gauss value & Magnetic flux
5. Good coatings. 72 hours of salt spray test is our company standard, no matter customers request or not.
6. Economical .Save much labour and material cost for you, as our magnets are checked one by one before shipping.
7. Short delivery time. Our delivery time is accepted by all of our customers.
Q1:How long will it take to receive your price quotation?
A1:Usually it takes 1- 2working days.
Q2:What is your lead-time after I place a purchase order?
A2:Usually take 2-3 weeks. If it is needed to make a mould, it may take a little longer.
Q3:How is the price ?
A3:As we believe the quality is the most important,we will provide the high quality magnet with reasonableprice.
Q4:Could I get samples ?
A4:Yes,we have materials in stock to help you to get the samples as soon as we can.
Q5:What information do I need to supply when I have an inquiry ?
A5;If you have any inquiry,please kindly advise the following items:
Dimensions or drawing with tolerances.
Material grade or magnetic properties.
Magnetic direction
Surface coating(if necessary)
Quantity and delivery terms
Q6:What is normal dimension of your products ?
A6:Our factory have a huge magnets stock list,we will share with you if necessary,all magnets arecustomized as different clients' different use.