Synthetic grass is widely used in various occasions, garden, backyard, public parks, sidewalk, roof, chamber, exhibition and etc.
Synthetic Grass Advantages
No weather limited: It can be used in any climates, no matter rain or snow. All weather used.
Long life&Evergreen: When natural grass entered hibernation, artificial turf still can bring you the spring.
Environment-friendly: All materials are accord with environmental protection requirement.
Natural appearance: Artificial turf adopted the principle of bionics production.
Excellent flexibility let us feet comfortable.
Durability: Durable service, no fading, especially suitable for the primary sites for higher frequency.
Economy: General guarantees 8 years of life.
Free maintenance: the lawn will need little maintenance.
Easy to install and maintain.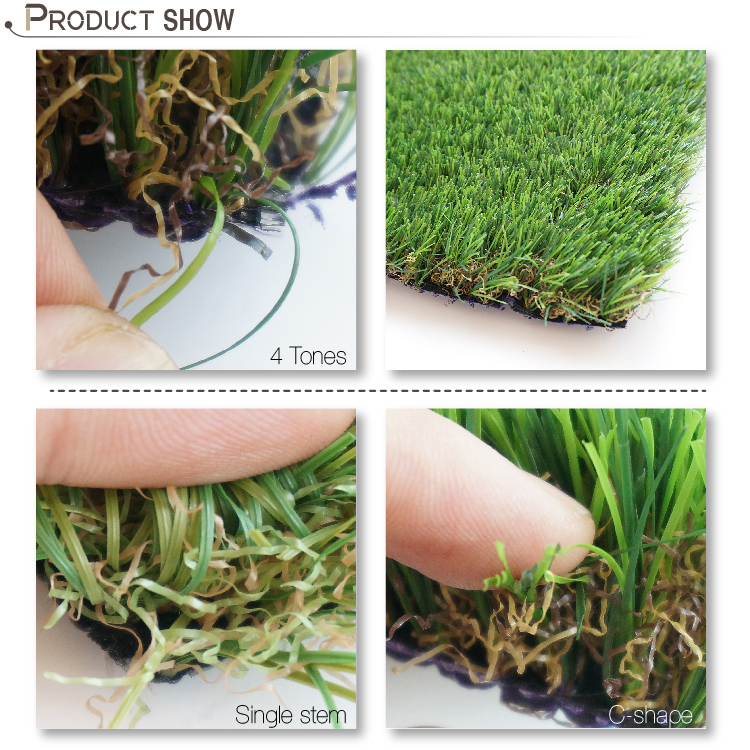 Technical Data Sheet

UV Stability
DIN 53387 ≥6000 hr
Color Fastness
DIN 54004 Scale 7
Diameter of Drainage Holes (mm)
3~5
Amount of Drainage Holes (/sqm)
22~50
Fire Resistance
DIN 51960 Class 2 flammable
Environmental Protection
No heavy metal contents
Wearlessness
Wear rate 10%, after 3000 circuits
Installing accessories
Joint tape, Adhesive, rubber granule, Quartz sand
We are not only selling products
Understand what the customer needs and provide them solutions
That is what we do
Shanghai Dracon Industry Co., Ltd. is newly operated in Shanghai Free Trade Zone - the most popular and convenient area for international trade in China. Our sales team members are patient and well trained. We keep our commitment to quality and customer satisfaction through innovative product and professional service. Our unique step by step Quality Control procedure allows us to have better control of the quality.
We provide standard OEM service for our customers. And you are welcome to contact us if you want to be our area distributor or brand representative. Please check with our sales staff for details.
1. What's your product range of synthetic grass?
- Sports Grass for football, tennis, golf, hocky...
- Landscape grass for garden
- Commercial grass carpet for showcase
- Artificial grass for roof decoration
- White grass, yellow grass and all installation accessories

2. What information do I need to provide to get a quote?
- Quantity you need
- Specification and type
- Where to install the artificial grass
- Packaging requirements
- Destination port
- Time expectation for the delivery

3. How can I get a sample?
We charge $50 for standard sample confirmation. And the sample fee will be deducted with the first order payment.

4. Why install synthetic grass?
Artificial grass supports a truly modern lifestyle. It is low maintenance, helping you to save on time and money and it's also environmentally friendly. Artificial grass means you can have a beautiful lawn without any worries - you will not need to mow or water the grass, never add fertilizer, your pets will not damage the grass and there'll be no more worries about bringing mud into the house.

5. Before make the order, can I visit your factory?
Yes, you are welcome to visit our factory. Please inform us your traveling schedule ahead of time. We can arrange to pick you up at the hotel or the airport.
Your Best Choice For Synthetic Grass!
Any size, any specification, any logo acceptable, sample order service, welcome to leave an inquiry to know more details about Price, Packing, Shipping and Discount.
Contact Us
Hannah Hu
Mobile: +86-17301839973
Tel: +86-21-58350550