One Layer Low Cost High Return Waste Heat Pigment Dryer/Belt Dryer for Reutilization Environmental Protection Industry
Waste heat sludge dryer can achieve the treatment of "reduction, stabilization, harmlessness and reutilization". Final sludge granules can be used as fuel, incineration, construction materials, biological fuel, etc. It is applicable to dry all kinds of sludge, such as municipal, dyeing, papermaking, electroplate, chemical, leather etc, even the sludge with abundant sand can be dried.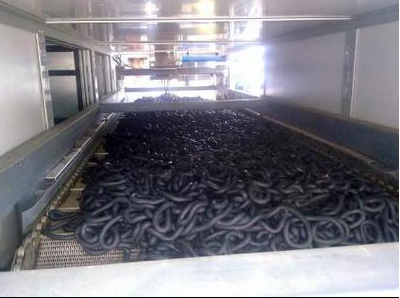 (1)Using waste heat in drying process, which is more energy-saving;

(2)The drying process is under the temperature of 75℃, safe operation;

(3)Heating indirectly and no gas emission;

(4)All-closed drying mode, no waste gas emission;

(5)Low energy consumption, 60kw.h/1000kg.H2O (use 60kw.h electric to dry 1mt water );

(6)Sludge can be dried to be 10% moisture;

(7)Suitable for sludge of moisture under 83%;

(8)NO mechanical friction with belt, NO dust explosive danger;

(9)More than 15 years' service life;

(10)The water rate of final sludge can be adjusted (10%-50%);

(11) It needs less floor space, less costs for civil construction.
If you are interested to learn more about our products, please feel free to contact us:
Contact Information
Company Name

Changzhou

ZHENXING

Environmental Technology Engineering

Co.,Ltd.

Contact Person
Olivia Ye
Email
olivia(at) zxdrying.com
Skype
olivia94525
Mob/WhatsApp
0086-187-9623-0692
TEL
0086-519-85257376
FAX
0086-519-88670178
Website
www.drying-equipment.cn