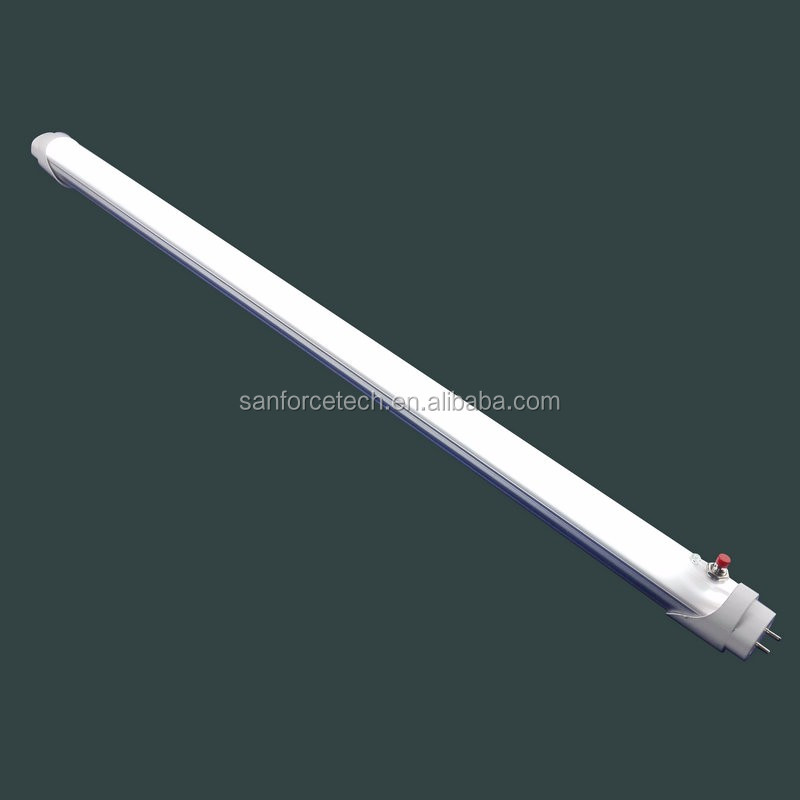 Product
2ft/ 0.6m LED Tube
4ft/ 1.2m LED Tube
5ft/ 1.5m LED Tube
Model
10w
18w
25W
Dimension
594/ 602mm
1212mm
1513mm
Luminous (Frosted lens)
900lm±10%
1800lm±10%
2100lm±10%
Luminous (Emgergency )
350lm±10%
700lm±10%
1000lm±10%
Emgergency Time
1~3hours
1~3hours
1~3hours
Emergency output power
3W
6W
9W
Emergency output current
80mA
160mA
240mA
Emergency output Voltage
DC32~42V
DC32~42V
DC32~42V
Battery Size
7.4V700mAh
7.4V1500mAh
11.1V1500mAh
Color Temperture
3000K/ 4000K/ 5000K/ 5700K/ 6500K
CRI
72~75, or Ra80, or Ra90
Input Voltage
AC85~265V 50~60HZ
Power Factor
0.90~0.95
Efficiency
>0.86
Beam Angle
>120
Light-emitting surface
180
Warranty
3years for LED Tube, 3 years for battery
Operation Temperature
-20ºC to 40ºC
Storage Temperature
-40ºC to 85ºC
For more emergency options, customized solutions is available.
Description
Sanforce 10W rechargeable T8 emergency led tube lighting has two functions of general lighting and emergency lighting.
This is ideal for lighting failures or emergency situations when there is a loss of power. Supplied with a battery back-up pack and an emergency module driver these are easy to install.
Features
LED Tube Light Source: SMD2835

LED Material: AL + Strengthen PC cover

Lifespan: >50,000hrs

Up to 70% Energy Saving Consumption

High Brightness

Easy Installation

Instant On

High Shock/Vibration Resistance

No Buzzing

No Mercury/Poisons

No Radio Frequency Interference

No Flickering

Green charge status display LED

Test switch Emergency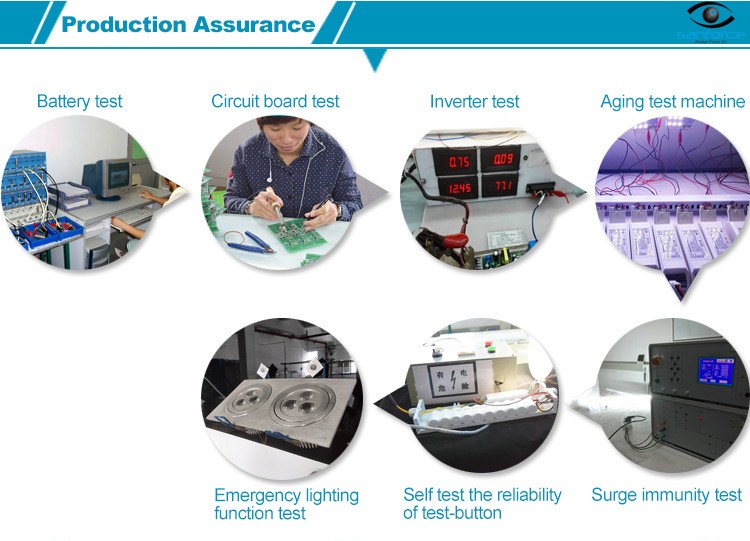 1)Maintained Operation Module, no switch board equipped.
2)Maintained Operation Module, switch board equipped
Sanforce is a manufacturer specializing in emergency conversion kits for LED and fluorescent lighting since 2008.
We cooperate with valuable supply chain, inspect all the incoming materials and set up strict product assurance system, such as SMT, Auto Aging test, Simulation test during our production process. We have very skillful and responsible workers, most of them have been working here over 6 years.
With strong technical support and customer- oriented service, you can be sure that Sanforce is ready to support you, whatever your needs.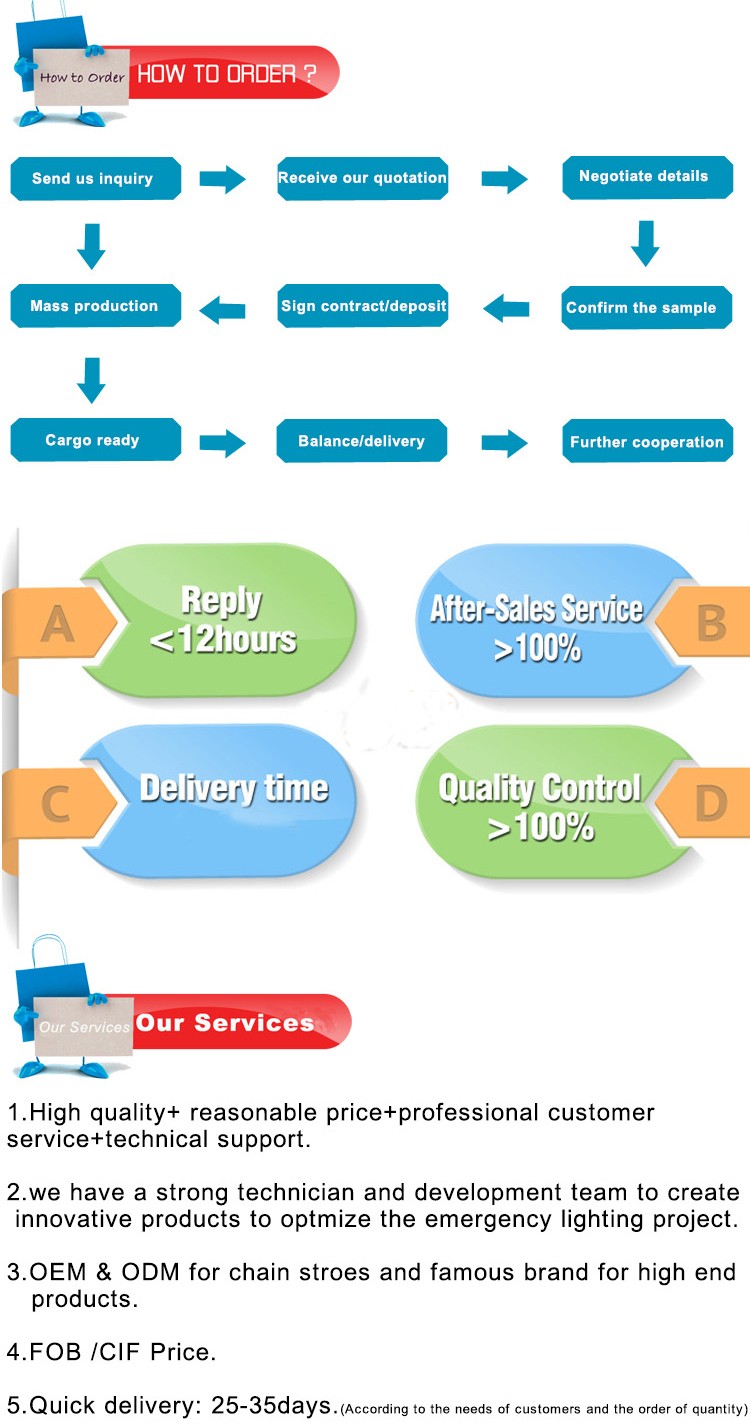 1.What is your main product line is made?
We are dedicating to LED emergency power pack for commercial lighting, research,
manufacturing and sales, aiming to be a leading emergency lighting backup power producer.
Our main products include:1). Constant current output of Led conversion kit for LED panel
light, LED down lights and other LED light applications with external driver. Emergency
output power differed from 5-90% according to customer's requirement.
2). 100% emergency output power of emergency kits for LED tube with AC220V or DC110-150V
output.
3). Emergency lighting battery packs for Fluorescent tube 14-98W.
4). High Temperature rechargeable NiCD and NiMH battery pack for emergency control gear
5). Emergency LED T8 tube and min LED T5 3W-4W
6) Constant power emergency kits.
2.What is the difference between high temperature battery and normal temperature battery?
The main difference is that high temperature battery can be trickle charged well even
though the emergency power kit stay at high temperature due to insufficient radiating
caused by the lights working for long time, while normal temperature battery may stop
charging in such conditions that result in emergency light failed to work. We would highly
recommend to use high temperature battery for emergency lighting kit.
3.Does battery have an end-of-charge detection/over voltage protection?
No, The battery is being charged all the time, The charging current will be decreased based
on the capacity status during the charging process. For NiCD and NiMH battery, it is
applicable for constantly charging without any risk even though no over voltage
protection. But under voltage protection is set up for discharging.
4.How long (months/years) before the battery discharge time goes below 2 hours?
Normally 2 years later.For Nicd battery, the capacity will be reduced by 10% at first of
year and 20%of the second year, it will remain 70%-80% after total 3 years.

5.If the battery reaches full charge, (NiCd in our case), and the fitting is supplied with
220VAC all the time, can you explain how does it not damage the battery when it keeps
charging all the time?
For Nicd battery we offered you, we set up the charging current at 0.05C(1/20 battery
capacity) that is suitable for long time constant charging, no any damage for battery. It'
s characteristics of NiCD itself.
6.What are your market reach throughout the region?
Our markets mainly spread over Europe, South of America, Africa and Asian Pacific region as
well as domestic marketing, we have 8 years of experience in foreign trade, we have worked
with buyers of lighting importers and distributors etc.
7.Can the light work as emergency function immediately once we installed the emergency conversion kit into standard lighting applications?
NO
The emergency output is high voltage and high frequency (1000v 230KZ))for fluorescent, That
is not applicable for LED system.