#SF-ZJ630
Polyester Brush Angle Sash 4 Different Sizes Nylon Bristle Painter Brush with Beech Handle
Bristle: Black/silver Nylon/Poly Tapered Filament
Ferrule: Brushed Stainless Steel Paint Brush
Glue: Epoxy Glue
Handle: Birch Beaver-tail Wooden Handle Paint Brush With Printed Logo
Packaging: Customized Paper Box for Paint Brush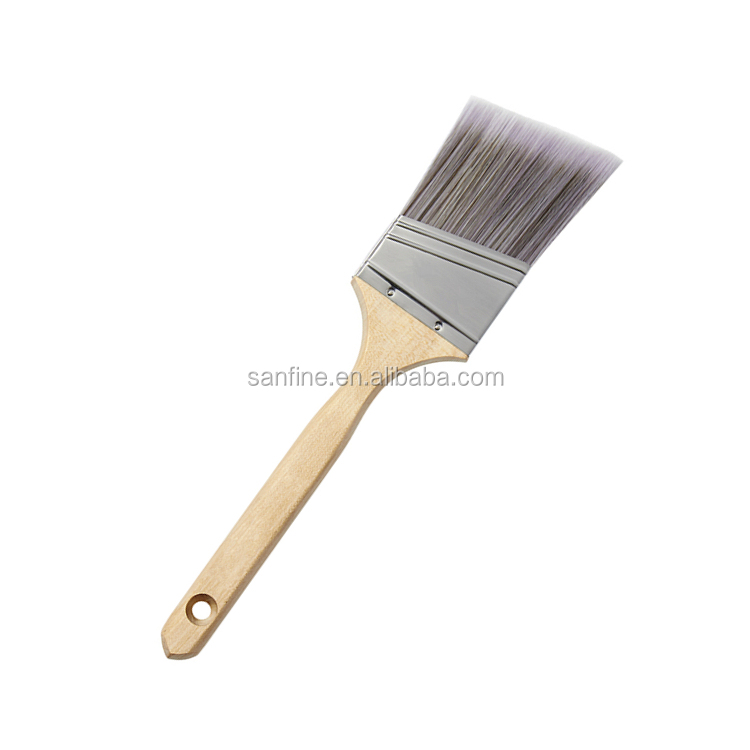 SERIES

Size

Thickness

Lengthout

PACK QTY

Nylon/poly

1"

16mm

57mm

12pcs/innerbox, 120pcs/carton

1.5"

18mm

64mm

12pcs/innerbox, 120pcs/carton

2"

19mm

70mm

12pcs/innerbox, 120pcs/carton

2.5"

20mm

76mm

12pcs/innerbox, 120pcs/carton

3"

22mm

83mm

12pcs/innerbox, 120pcs/carton

4"

22mm

89mm

12pcs/innerbox, 120pcs/carton
Tin-plated ferrule with size number printed on one side. High quality glues make the bristle not shed or pull out.Transparent PVC plastic bag ,making the bristle more straight. Diffrent size for diffrent function.
Details of specification as below:
This 45 degree bent handle paint brushes are excellent for painting in those hard to reach places including corners, behind and inside of machinery, duct and bridge work. Made with quality black bristle, epoxy set for high solvent resistance.
Natural Hair
The natural hair in natural hair brushes usually comes from Chinese hogs or from badgers. Natural hair paintbrushes work best with oil-based paints, although this means they need to be cleaned with paint thinner. You can also use brushes made from Chinese hog bristles with water-based paint, as they absorb the water.
Synthetic Hair
Synthetic hair means the bristles are made from polyester or nylon. They're much rougher than natural hair paint brushes. They work best with water-based emulsion paints.
Flagged Bushes
Flagging on paint brushes means that the ends of the bristles have been split. These "flagged" brushes, also known as "exploded bristle" brushes, are used exclusively for latex paint work. Paint can be applied more smoothly, with fewer marks from the brush.
Sized Brushes
Paint brushes come in many different sizes. These can range from the tiny, used in fine art, to those several inches wide, used when painting a wall. Within the sizing there are specialist brushes. Sash brushes have the bristles cut to a point, or taper in a chisel-like shape to access corners.
Delivering & Shipping in Sorts of Transportation (Safely and Timely)
1. Small order quantity can be met here.
2. Samples are available.
3. A prompt feedback will be submitted against your inquiry within 12 hours, well-trained and experienced staff are ready to offer service for you.
4. Your business relationship with us will be confidential to any third party.
5. Good after-sale service.
6. You can see us and our products on the exhibitions home and abroad.
Chatting online! Skype ID: sanfinetools
Taizhou Sanfine Tools Co., Ltd. is a company specialized in importing and exporting goods. It is located in Taizhou city, Zhejiang Province, which is only one hour away from Ningbo Port.
We have an experience of foreign trading for more than 10 years. The excellent sales and after-sale service team, is supervised by regions and business demands. We can provided you with multifarious high-quality commodities made in China with professional service.
Q 1: Do you have any MOQ?
A: Yes, generally the MOQ for paint rollers is 2000pcs, brushes 2000pcs, putty knife 3000pcs, power machine 500units.

Q 2: What is the lead time?
A: Sample time 1-3days, mass production 20-40 days for the first order.

Q 3: Can we put our logo on our products? Is there extra charge for it?
A: Yes,we can achieve it by silkscreen or just simply stick a label on it. The lettering charge depends on the quantity you are ordering.

Q 4: Can samples be sent free?
A: For quality reference, we can supply 1-2 samples for free, but Freight Collect please.