Our machines have been widely applied to various kinds of industries, such as kitchen utensils, automobile making, motorcycle manufacturing, glasses, hardware, household appliances, low-voltage apparatus, elevator, compressor, etc.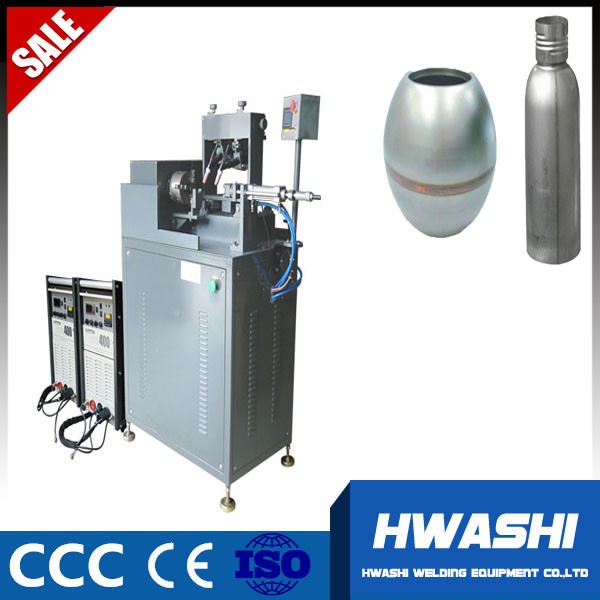 HWASHI Automatic TIG welder , Factory Best New Design Circumferential Seam Welding machine
Automatic straight seam welding machine adopts argon arc welding machine as the welding power source. The stepping motor drives the welding gun to conduct constant speed movement. The moving speed and length is set through PLC; use pneumatic pressing plate to press to ensure the stability and consistency of welding; the action program of the whole machine is controlled by PLC; use the touch screen to input data.
Maximum work piece length: 300/500/1000/1500/2000mm
Welding thickness: 0.3-8.0mm
Welding speed: 30-800mm/min
1. Power Source: Both the imported pulse AC and DC from "Panasonic, OTC" or argon arc welding machine from famous brand as the welding power source. The minimum thickness of sheet is 0.2mm.
2. Welding Control System: Adopt electricity and gas, coordinating with transmission mechanism to form the overall operation network. Use Japan Panasonic PLC as the central processing unit to transmit all kinds of data. Easy debugging and convenient operation.
3. Cooling Method: Adopt recycle cooling water system which is equipped with cooling water filter, shunt to ensure the temperature of large current heating parts like transformer, silicon controlled, electrode holder and electrode will not rise out of limits after continuous working for 20 hours. The machine is also equipped with temperature control warning device.
This machine is applicable to welding of iron , stainless steel, or aluminum product. The thickness of welding work piece could be range from 0.2mm to 3mm. The length or diameter of welding work piece could be customized from 100mm to 650mm.
1. Adopt the energy storage quick charge-discharge capacitor from Japan Nippon Chemi-Con (NCC) which is the original MARGON or HITACHI; Fast discharge rate. Stable performance.

2. Adopt SEMIKON, IXYS from West Germany or Silicon controlled of IR from United States. High precision and durable. Be able to achieve high stable control on the magnitude of current.

3. Adopt Motorola integrated circuits from United States. Quick reaction. Stable performance.

4. Adopt pneumatic parts from Japan or Taiwan. Reliable performance.

5. All the devices are from imported famous brands. Ideal service life and performance.
We have professional production team, production line, experienced technical experts who engaged in this industry for more than 20 years.
The main products of our company include capacitor discharge spot welder, pneumatic AC pulse spot welder, three-phase secondary rectifying spot welder, medium frequency inverter spot welder, precision micro spot welder and high degree of automatic welding machine.

1. HWASHI is the leading brand in resistance welding industry in China for 20 years; Factory direct sale, competitive price.

2. Customized Service: We can help to design and develop the welding machine according to your requirement. We are flexible and capable Supplier.

3. Genuine Product with Excellent Quality: 12 months warranty. Our machines are strictly complied with ISO9001:2000 and China Compulsory Certification. Most of our machines enjoy 8-10 years service life. 100% guarantee test before delivery.

4. After Sales Service and Technical Assistance: 24 hours technical support by email. Our professional team is always here willing to be your technical consultant.

5. Quick Delivery: Our company provides just-in-time delivery.

6. Prompt Response to Customers: Your satisfaction is the goal we pursue.