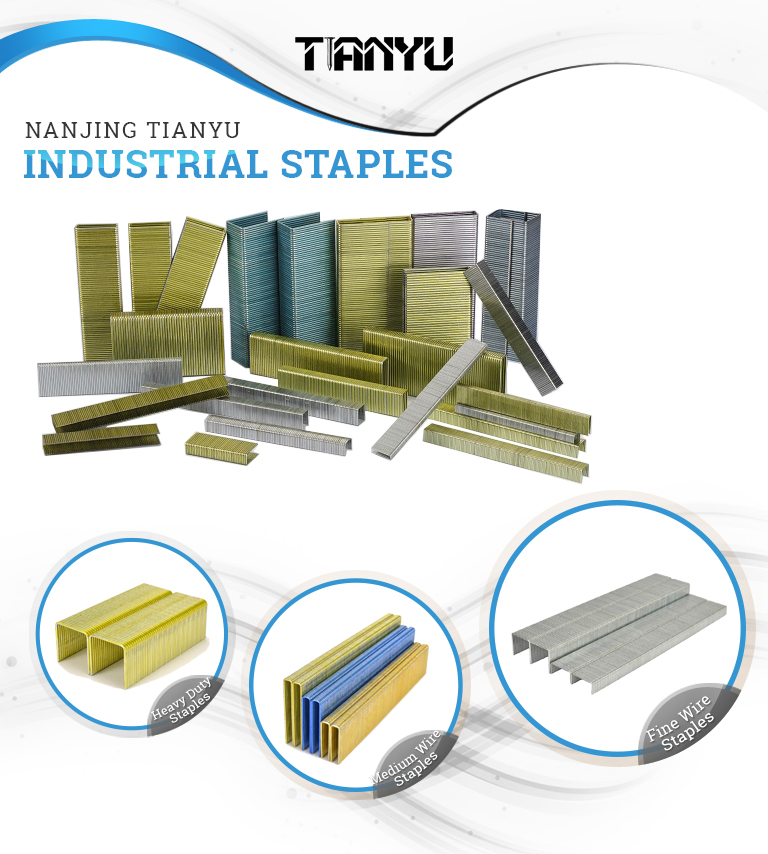 20 GA 1/2 inch Crown 80 Series Staples

Galvanized Fine Wire or Stainless Steel

Similar to BeA 80 staples
TIANYU carries OEM and interchange industrial staples for all popular industrial stapling tools. Whether Bostitch, Spotnails, Salco, or any other major brand, our staples are made to the highest OEM quality standards and are guaranteed to run in your tools.
80 series staples 1/2 inch Crown, 20 gauge. Galvanized and Stainless Steel. 10,000 staples per box.
Interchangeable with BEA 80, Bostitch AZ33, Atro 8, BeA 380, JK-680, Spotnail 8100, Haubold 800, Empire 8, Rainco 8, Prebena A.
The specifications as below:
| | | | | | | | | | | | |
| --- | --- | --- | --- | --- | --- | --- | --- | --- | --- | --- | --- |
| Item | Crown (inch) | Length (inch) | Length (mm) | Crown (mm) | Width*Thickness (mm) | Pcs/Strip | Pcs/Box | Boxes/Ctn | Ctns/Plt | Plts/20GP | Weight (kgs/box) |
| 8004 | 1/2" | 5/32" | 4 | 12.7 | 0.95*0.65 | 125 | 10,000 | 20 | 48 | 21 | 0.85 |
| 8006 | 1/2" | 1/4" | 6 | 12.7 | 0.95*0.65 | 125 | 10,000 | 20 | 48 | 19 | 0.98 |
| 8008 | 1/2" | 5/16" | 8 | 12.7 | 0.95*0.65 | 125 | 10,000 | 16 | 48 | 20 | 1.13 |
| 8010 | 1/2" | 3/8" | 10 | 12.7 | 0.95*0.65 | 125 | 10,000 | 12 | 48 | 23 | 1.30 |
| 8012 | 1/2" | 1/2" | 12 | 12.7 | 0.95*0.65 | 125 | 10,000 | 12 | 48 | 21 | 1.43 |
| 8014 | 1/2" | 9/16" | 14 | 12.7 | 0.95*0.65 | 125 | 10,000 | 12 | 48 | 19 | 1.62 |
| 8016 | 1/2" | 5/8" | 16 | 12.7 | 0.95*0.65 | 125 | 10,000 | 10 | 48 | 20 | 1.79 |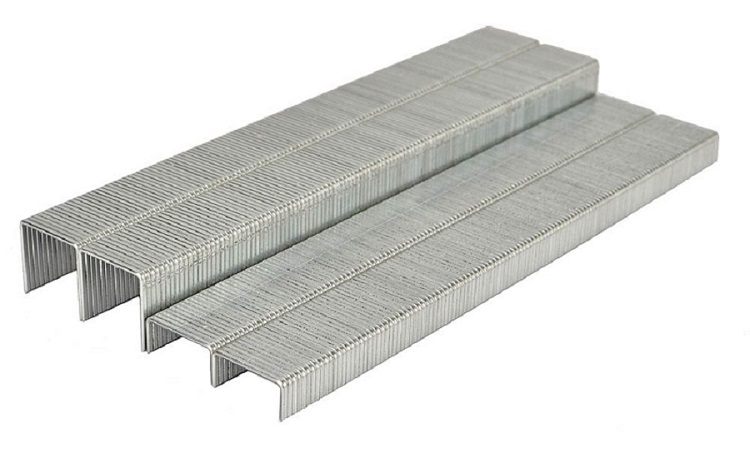 pneumatic staples , manufacturing , electrical wire staples, ground wire staples ,fine wire crown staple ,industrial staple wire band ,flat wire staple ,staple steel wire ,fine wire staples