supersonic machine cavitation shock wave therapy equipment for face, eyes and whole body
electric shock wave therapy equipment
infrared therapy equipment
40k cavitation shock wave therapy circuit board
Please copy the link below to see the operation video: https://youtu.be/60u54VaayGY
1. 650nm Infrared laser+ vacuum + multipolar RF+ 40KHZ ultrasonic cavitation + cryo system.
2. Effective for weight loss, fat reduction, fat reduction, skin tightening& lifting, etc.
3. Laser slimming
4. 2012 the current newest non-surgical medical cosmetic technologies.
5. It is a non-invasive treatment with a comfortable process.
6. RF: 5MHZ RF penetrates the skin depth with 5~15mm. It focuses on heating the fat cells and treats cellulite intensively.
7. Vacuum: The vacuum can increase blood circulation and promote cell metabolism.
Cool Technology:
As triglyceride in fats will be converted into solid in particular low temperatures.
It uses advanced cooling technology to selectively target fat bulges and eliminate fat cells
through a gradual process that does not harm the surrounding tissues,reduce unwanted fat,
When fat cells are exposed to precise cooling,they trigger a process of natural removal that
gradually reduces the thickness of the fat layer.And The fat cells in the treated area are gently
eliminated through the body's normal metabolism process,to eliminate unwanted fat.
Laser system:
Laser for fat reduction, use the 650nm & 839nm soft laser to destroy the deep fat cells,
broke the cell membrane, change the fat to triglyceride, then leave out the body thanks to
metabolism.
The laser heat can stimulate the subcutaneous dermal tissue collagen and elastic fibers
hyperplasia, make the treated area skin tighten and elasticity.
ii. Accessories
1. Vacuum cooling handle (for buttocks, belly, back, leg etc.)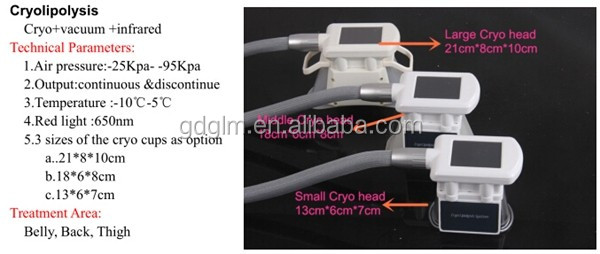 2. 4 X, 6 X laser handles ( for thigh, arms, belly, abdomen, waist)
3. 40KHZ cavitattion handle ( for buttocks, legs, belly etc.)
4.Multipolar RF handle ( for buttocks, legs, belly etc.)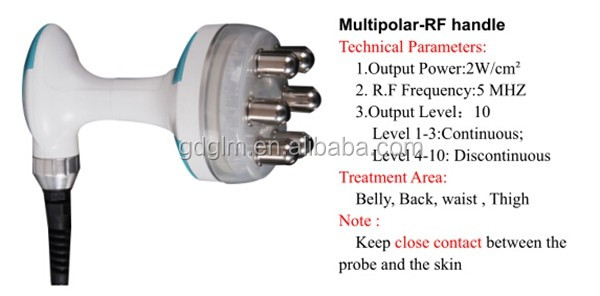 iii. Technical Parameters
Input voltage: 220V,50HZ or 110V, 60HZ
Fuse size: F2AL250V
Vacuum pressure: 1Kpa~80Kpa
Cooling liquid: Pure water
Light wavelength: 700nm
Cavitation frequency: 40KHZ
X4 laser intensity: 1HZ~1000 HZ adjustable
Power consumption: 300W °C
Screen: 10 inch wide color touch screen.
Temperature: -5 °C to 5°C, or -10 °C to 5 °C
Ambient temperature: 5°C~+40°C
Multipolar RF frequency: 5MHZ
Infrared laser: 650nm
X 4, X 6 for thigh, arms, belly, abdomen, waist.
iv. Before and after contrast diagram
Outer packing: Wooden case; Inner packing: Thick PE foam
Delivery
Gate
Office
Showroom
Warehouse
Workshop
other hottest slimming machine
We are the professional manufacturer and exporter of beauty equipments.
And specialize in this field for many years with high reputation.
We have our own research &development department and our own factory.
We can provide the OEM and ODM service for the distributor all over the world.
Our only request is the quantity not less than 3 pieces.
Put your logo, company's name on the machine.
Design machine according your requests and we will not sell this machine to other clients.
You will be exclusive

.
And any other requests that we can do.
We supply:

1. Fat Freeze Slimming Machine;
2. Velashape Vacuum Roller fat Removal Machine;
3. Laser Slimming Machine;
4. Cavitation Slimming Machine;
5. Fractional Rf Skin Care Machine;
6. Radio Frequency Slimming Machine.
Contact Person:Misha liu
Guangzhou GLM Spa Beauty Equipment Manufacturer
Skype: misha3079083826
Cell phone: 0086 13631319585 (WhatsApp )
Welcome to contact Misha Liu for more details or Latest Price!
Any questions from you are welcome and will be replied within 24 hours!