Hot product 2016 cryo fat loss fat freeze liposuction slimming machine
Cryolipolysis machine of 2 Cryo handles can work simultaneously:
Advantages of cryo handles:
1.the cryolipolysis handles are touch screen.
2.the 2 cryo handles can work at the same time.
3.each cryo handle shows working temperature so it is easier for operator to aviod frostbite.
Cryotherapy (fat freezing treatment) is a non-invasive (without contact) procedure in which doctors place a small suction cup on a patient's skin. The device gradually extracts body heat until the subcutaneous fat is frozen. During the procedure, the epidermis remains within a normal temperature range, which leaves the skin undamaged.
Fat cells, according to researchers at Harvard Medical School, are very sensitive to cold. They discovered that intense, localized freezing killed adipocytes – the cells involved in forming fat tissue. Therefore, cold destroys fat by damaging the cells: they gradually die and are then naturally metabolized by lymphatic system.Clinical trials have shown no side effects and the procedure is painless and effects are impressive. After the first session, fat deposits are reduced by 25 percent. One procedure is likely to be enough for most patients, but manufacturers do not rule out the need for additional sessions, depending on the amount of fat a patient wants to lose.
40KHz Cavitation Slimming:
Effects are visible after the first treatment (1-4 cm)Belly, hips, thighs, buttocks, knees, and upper arm shaping without surgery and scars.Non-invasive, painless, safe, and quick alternative to liposuction.Precise removal of sectional fat layers without long term recovery.
Multipolar facial RF handle and body RF handle:
The heat produced in the tissue by the passage of the 5mhz RF is an excellent alternative to obtain non invasive reaffirmation of flabby and aged skin. The controlled heating generated at this frequency reaches a superficial cuteanous temperature between 38-42C,capable of stimulating the existing dermic collagen and producing a transition process in the denominated collagen contraction. These reactions are use to give more firmness and quality to the skin.The effect is a smoother skin and an evident reduction of wrinkles and flaccidity,as well as the "orange skin" very characteristic of the cellulite.
Lipo laser working theories:
The LipoLaser is a 100% Noninvasive,laserbased,spot fat reduction and body contouring system.Offering the relaxation of a 40-minute massage with the benefits of inch loss!
Rather than a painful incision,the LipoLaser uses laser energy to safely (painlessly) penetrate the skin and target specific adipose (or fat) cells. It is through this targeted process that the LipoLaser is able to in fact stimulate the cell itself into releasing water, free fatty acids, and glycerol. Having released these three compounds, water, free fatty acids, and glycerol (often referred to as Triglycerides), the fat cells "shrink" significantly, obtaining inch loss for patients!
Functions:
1. Body shaping,fat dissolving,repel the cellulite.
2. Croylipolysis fat freezing,cryo vacuum fat removal
3. cold fat loss,body shaping,body beauty
4. Tightening skin,strengthen skin elasticity,skin lift
5. Clear belly wrinkles,especially the stretch marks.
6. Complementing the collagen,skin rejuvenation.
Technical Parameters:
| | |
| --- | --- |
| Host display | 8 "TFT color touch screen |
| Voltage | 220V/50Hz or 110V/50Hz |
| Power | ≤ 450w |
| Cooling liquid | pure water |
| Vacuum | 650mmHg |
| Pump flow rate | 60L/min |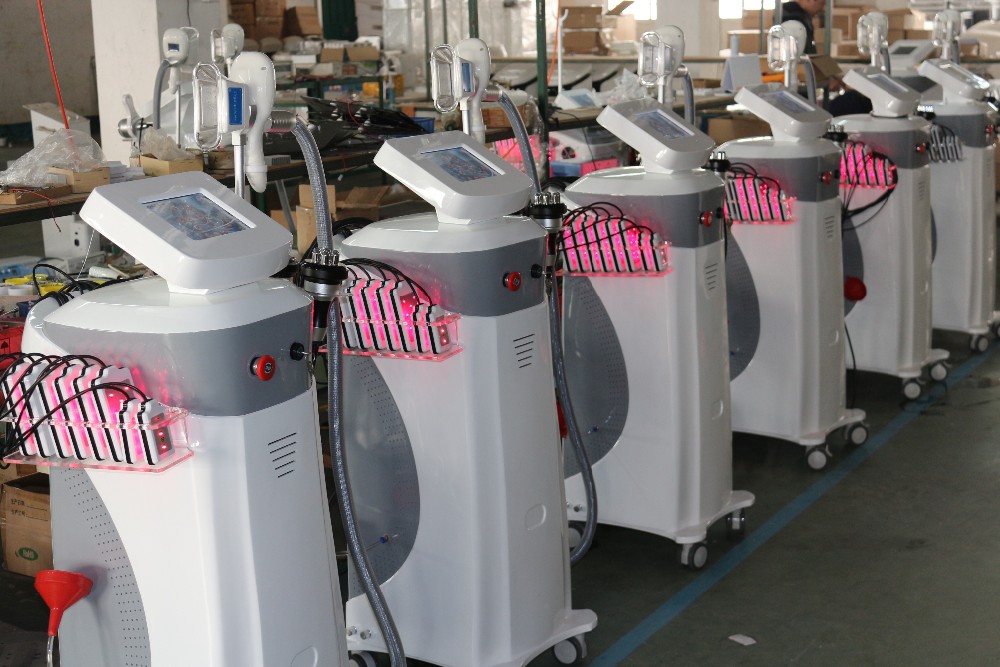 After sales service
We provide 1 years warranty. Within the warranty, if it is some problem with the products, please inform us and take some pictures or videos for the problems. We will know what happened from your descriptions and pictures or videos. Then we will tell you how to solve it. If some spare parts need to change, we will send new parts or customers ship the products back to our factory for repairing
Q: What if any quality problems during guarantee period?
A: We can provide free technical support
Q: What is your delivery time?
A: Delivery will be arranged within 1-10 days after received payment.
Q: Can you print our logo or company name?
A: Yes, we accept OEM service,we could print your logo or company name on the display or the machine shells.
Q:What should I do if I don't know how to use the machine?
A: We have operation video and user manual for your reference, and also we
provide you 24 hours on line service.
Q: How many kinds of payment term do you have?
A: We accept Western Union, Escrow, Money Gram, Paypal and T/T.
Q: How long is the warranty good for?
A: One year warranty.
Q: What's your transportation modes?
A: We can transport the goods by air or by sea, it will be based on customer's
Guangzhou Tingmay Beauty Equipment Co.,Ltd is one of the leading manufacturers of professional high-tech beauty equipment in China, we established more than 10 years and focused on innovative beauty equipment, manufacturing, distributor and sales. Our principle is faith business, quality control, mutual benefit, professional engineer provide first-rate service to customers.
Our main product: E-light system, Yag laser system, Cryolipolysis, Cavitation RF system, HIFU machine. Physical therapy system, derma roller. Spa and personal care system, etc. Our product have the recognition and have good feedback from our customers. Welcome to be our agency in your country, and establish long-term cooperation relationship with each other.