magic mirror 3D skin and hair analyzer machine/scanner dialysis machine
Theory
Skin Analyzer System is currently the world's most advanced skin detection system for analysis, called "skin CT", it using RGB and UV spectral imaging technology, it can be accurate quantitative and qualitative analysis of the number of outstanding spot, stain density, number of pores, wrinkles, etc., as well as the bad cosmetics, UV or sunlight to cause different degrees of damage to the skin to make accurate diagnosis and analysis. Is one of the essential equipment in beauty hospital, hospital department of Dermatology and beauty salons, etc .
Under the Ultraviolet Lights, you can diagnose different skin conditions such as dry or oily areas, or excessive layers of dead skin, in which will show up under the violet light normally invisible to the naked eye
Applications
1. According to the skin condition analysis, provide reliable skin analysis results
2. Through the skin analysis and reasonable set of customer project treatment and recommend the use of products
3. Combined with skin analysis and product recommendation to improve customer service
4.Through the skin analysis of customer project treatment and product effect to do a detailed assessment.
Product details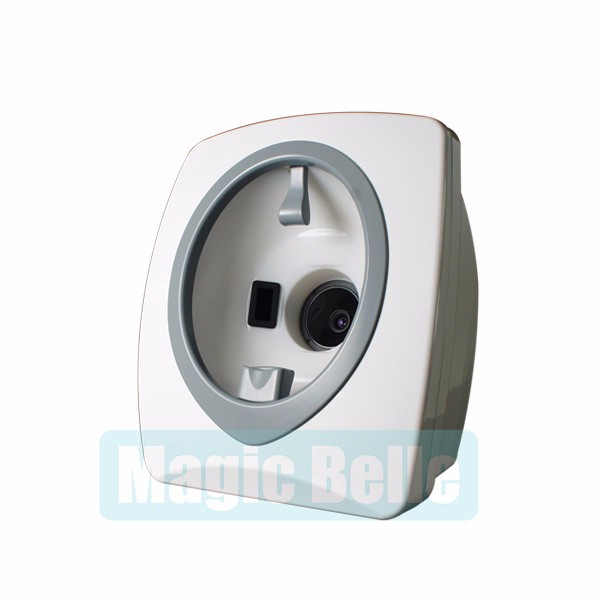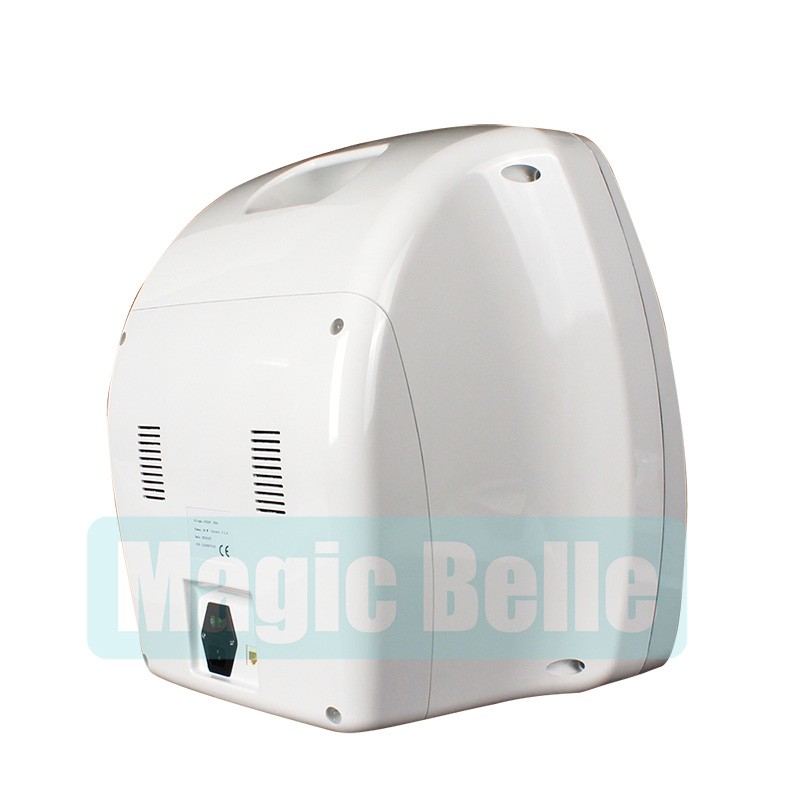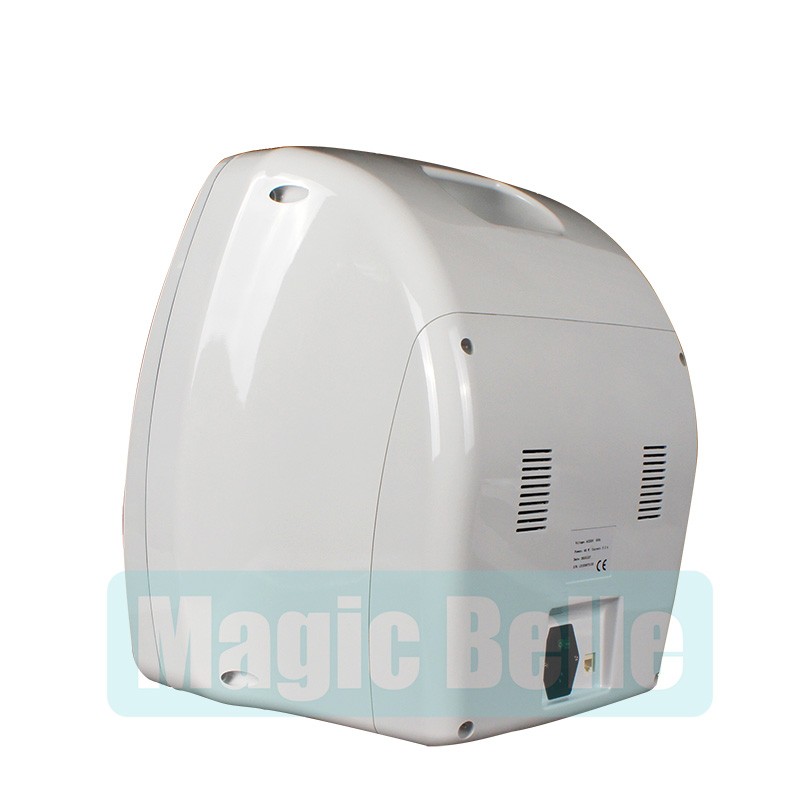 Accessories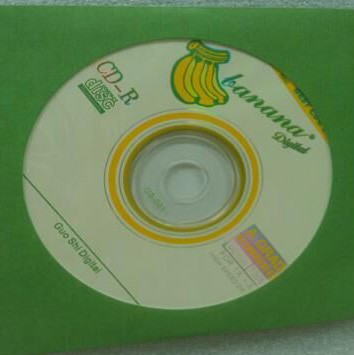 Report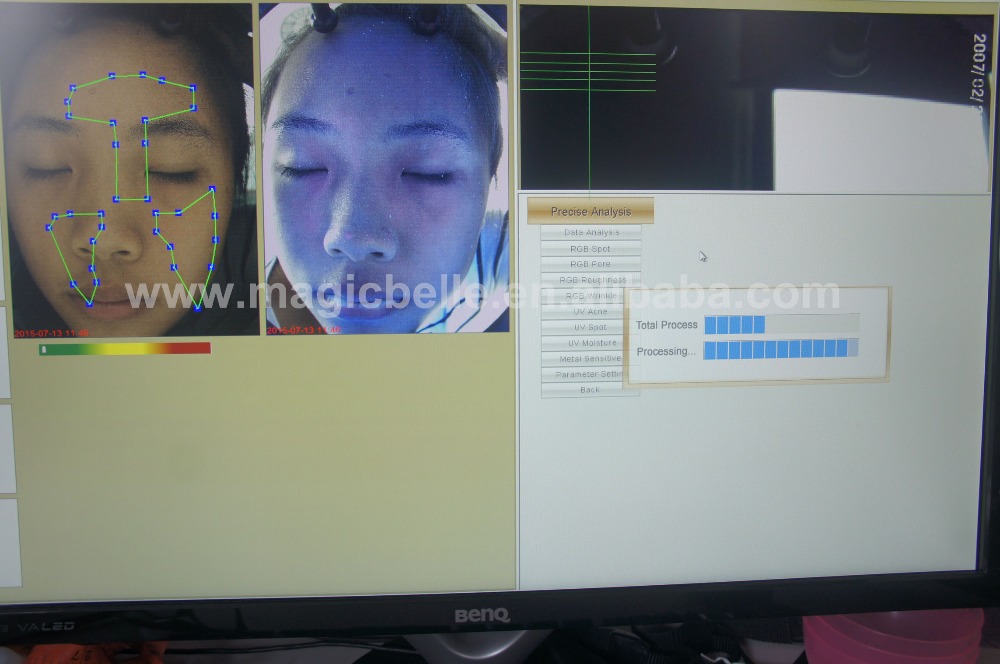 Features
1. Unique RGB / UV photo shot system
2. Real-time preview + dual pictures display
3.12 Mega pixels high solution RGB/UV CCD
4.Comfortable tilted check entrance, human-oriented design
5.Powerful PC software supporting for automatic precise analysis
6.Analysis area user definable
7.Before and after contrast, easily to compare
8.Not only check facial skin today, and also "see" the facial skin in the future
9.CRM with professional UV / RGB analysis for pore, wrinkle, acne….
Specifications
Illumination (RGB)

8800 lux

Fluorescent tube life

12000 h

Color temperature

7200 K

Electrical requirement

AC 220V±10 % 50 Hz

Environment temperature

10~35 °C

Dimension of machine

42cm*35cm*49 cm (L*W*H)

Max resolutions

FS-1000 W

Hard Disk Space

120 GB

RAM

2 GB

Camera

1:1.7"CCD Digital Camera

USB

2.0 Port

Computer & Monitor

OS:Windows XP or Windows 7

Home version
Ⅰ.Operation Index
Database Backup&Recovery
Backup:Installation directory-System C/Program File/Skin Analyzer/userdb2000.mdb and photos/ copy into computer and saved.
Recovery: replace these files such as userdb2000.mdb and all photos into installation directory to do recovery.
ⅡEquipment Maintenance
Ⅱ-1.Cleaning of the system
Keep the machine and camare system clean, when not use,
shall use a cloth to cover it.
Ⅱ-2.Check the lamp
When the RGB lamp or UV lamp get broken or failed or out of
life,not working ,shall check or replace a new one.Contact to
the manufacture's technician for repair or instruction.
ⅢCautions
Ⅲ-1.Requlrements of Computer System
Magic Mirror Ver2.0 is 100% compatible with XP & WIN7
only!And XP is the best choice.
Ⅲ-2.Tips for installation
Please do not change the saving path during install the
software, and after software installation and connecting the
Equipment to computer, please don't forget to change the IP address.
Ⅲ-3.Rlps for Analysis
1.Please go to analysis and shoot after the light of Magic Mirror goes out, or it will show that "can not connect to camera".
2.Only after the light of system flashes 2times,can we move or shooting will be not successful.
3.After finish shooting,we can not go to analysis directly,we should adjust the analysis area first,and please avoid hair,eyebrow, nose ,mouse and beard.
Ⅲ-4
1.The UV image is too bright to see the problems.
Please make sure that the light of ambient environment is not strong, the darker of surrounding environment the better.
2.Equipment works but the light is not on.
There may be something wrong with the RGB light,please change the light.
3.Equipment doesn't work at all,including the fan.
There may be something wrong with switch power supply, please check the power supply.
4.The fan of equipment works but it can not analysis.
Please check whether the line of ballast is loose
Warranty
1.Warranty Coverage
a.MagicBelle warrants defects in materials and workmanship for a period of 1 year from the date of original purchase.
b.MagicBelle will repair these products at no charge or refurnish the parts if it has any abnormal condition.
2.Exclusions
This warranty is void and invalid in case of;
a.Damage caused by accident,abuse,misuse or misapplication,it will be repaired with repair fee
b.Damage caused by service performed by anyone who is not technician or qualified by manufacturer.
c.Product or part that has been modified without any permission of manufacturer.
d.Product that has no serial number.
More skin analyzer machine:
Packaging & Shipping