Hi.man. Nice to meet you! Welcome to visit our company page,now I will introduce you to this product
best price with 5% discount flange coupling gas pipe fittings
best price with 5% discount flange coupling gas pipe fittings
gas pipe fittings Standard: GB/T12465-2002
gas pipe fittings Old size: VSSJA-2
gas pipe fittingsMaterial: Q235,QT400-15,QT450-10
gas pipe fittings Installment Instruction:CLICK
gas pipe fittings Working Pressure: PN0.6MPa --> DN65--DN3200
PN1.0MPa --> DN65--DN3000

gas pipe fittings

makes many different types of ductile iron pipe fitting, like ductile iron tee, ductile iron bend & ductile iron elbow.

express joints

With special ductile iron material, this series of pipe fittings can also be used for transferring the acid in the acid plant or transferring slurry.
stainless steel pipe connector

Foundry has been supplying Pipe Fittings for over 10 years and Pipe Fitting surface shall be smooth and free from sand holes, blow holes, distortion or any other defects. Hundreds of patterns are ready and Max. dia. is 1.2 meters with max. height of 2 meters.

gas pipe fittings Special Features
gas pipe fittings are our featured products.we can meet any demand by your order. express joints are low cost vibration and deflection absoption compents in fluid coveyance pipes. The bellow consisits of two symmetrical connecting ends,either threaded unions for small nominal bores or flanged ends for large nominal bore pipelines .
gas pipe fittings production process
flange coupling with rubber seal
gas pipe fittings packaging process
flange coupling with rubber seal
HENGZHONG Warehouse
stainless steel pipe connector
HENGZHONG qualification:
gas pipe fittings application
HENGZHONG Main product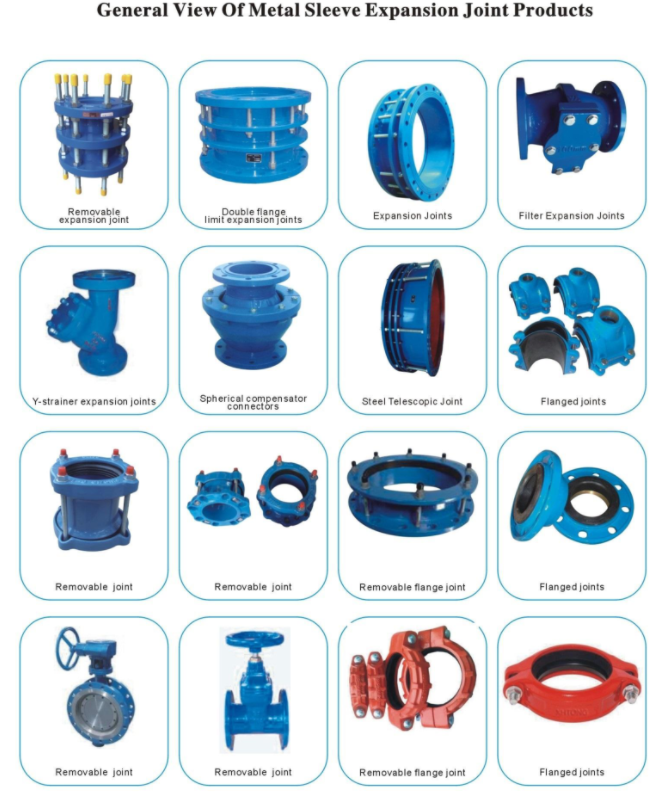 FAQ
Q1: What is the Warranty for the gas pipe fittings ?
A1. For the flange coupling with rubber seal ,we have 18 monthes warranty.If any quality problems on our side occured in this period ,we will take on the shipping cost and replacement.
Q2: What is the specific size of the gas pipe fittings ?
A2.We have different size of mold,so we have some special length for every size. For the rare requirements of our customers,we are able to design model to produt it.
Q3: What is the payment terms?
A3.You can through T/T,Western union ,Paypal ,Escrow.OA/Cash/Paypal/Credit/Alibaba Escow/Visa/Master Card .Normally 30% deposit,and 70% balance payment before shipment
Q4.Can i get a sample of gas pipe fittings?
A4.Of cause you can! we provide sample to every customer.If you are interest in our company enquiry,we will try our best to meet your requirements.
Q5. Is that your company have another products for us to choose from?
A5: Our main products include rotary joint, metal expansion joint, flange coupling with rubber seal ,metal hose and hydraulic hose
Q6. What is the our MOQ for the gas pipe fittings ?
A6: Our MOQ is 1 piece of gas pipe fittings . You can also get it as a sample to test our product quality.
Q7.When we contact you ?
A7.24 hours a day,anytime and anywhere.
Why choose us?
1. Full experence for export -15 years's export experience .We can design as customer request for different product .
2.24 hours online-- Anytime,anywhere can provide what you want
3.100% QC inspection Before Shippment
4.CE/UL/FCC listed,competitve price
5.ACT fairly by all men--Give enough service to samll list
6.best production capability ,best quality control, Best Service .
Contact us
dismantling seal joint
Gongyi Hengzhong Water Materials Supply Co., Ltd





Address

South of Yongan Road, Gongyi City, Henan Province, China

Tel/Phone

0086-371-64032688 0086-15838275686

Fax

0086-371-64032611

Skype

jun.cnhengzhong

We chat

994531772

Trademanager

cnhengzhong

QQ

2047889042

Website

http://www.rubber-expansionjoint.com

http://www.gyhzgs.com http://www.hengzhonggd.com

Contact

Jun. Zhang

Email
flange coupling with rubber seal flange coupling with rubber seal