~Most fashionable design for quartz piezoelectric crystal
~Most professional cutting for synthetic quartz
~Bulk high quality products form artificial quart
~Most reasonable price for imitation quartz ametrine
| | |
| --- | --- |
| Name: | Pear oval trillion cut synthetic rough ametrine |
| Material: | synthetic quartz crystal, multi color synthetic crystal,imitation ametrine |
| Size: | 3x3,4x4,5x5,6x6 to 15x15,16x16,17x17,20x20, to 25x25... |
| Grade: | Auto Machine-AAAA |
| Application: | brass jewelry, silver jewelry, golden jewelry,gift... |
| Features: | eco-friendly,nickel free,lead free... |
| Payment.W: | Company account, Western Union account... |
| MOQ: | 100pcs per size, per color, 10pcs available if it is in stock |
| Shipping: | if have stock 1-2days, customization 8-12days |
| Guarantee: | reach quality & quantity customized standard with wholesale price |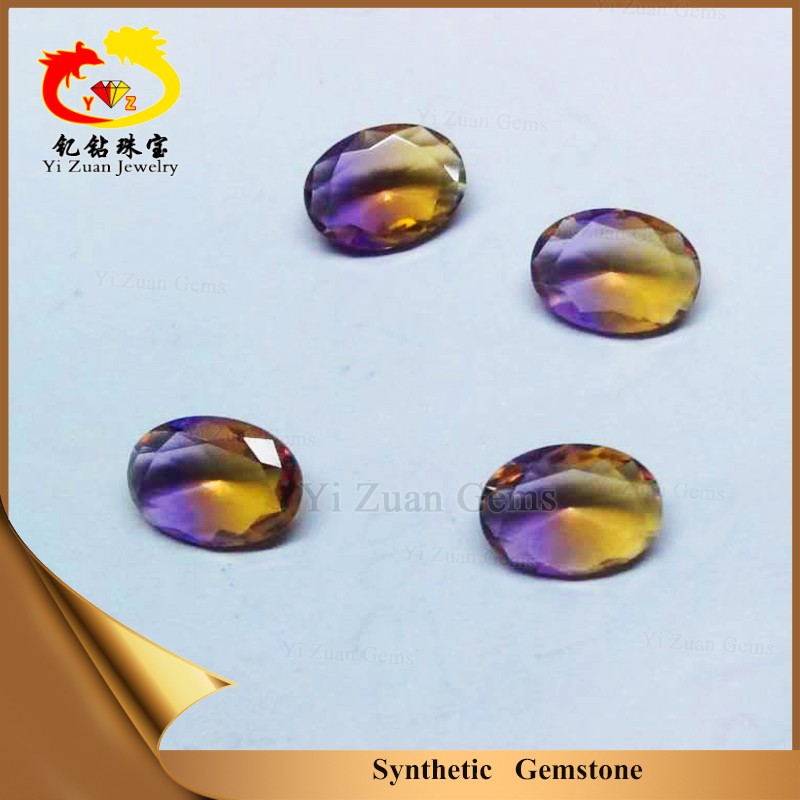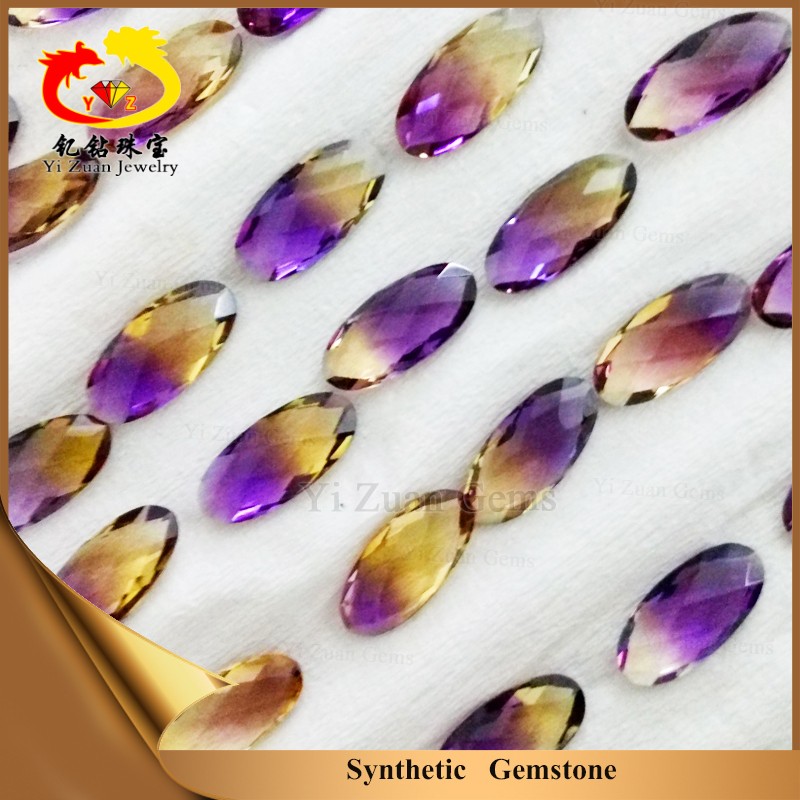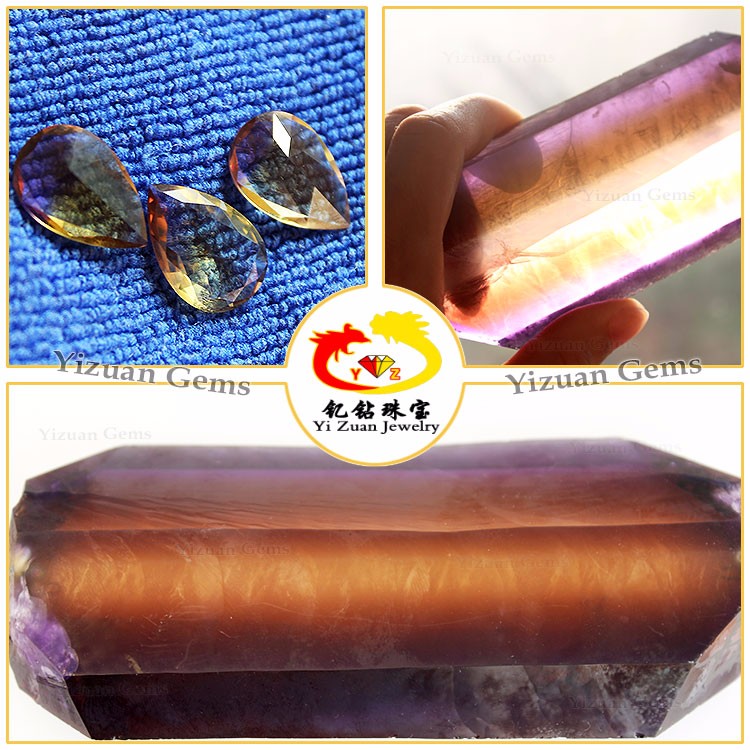 ~~~~~~More cutting styles for you select~~~~~~~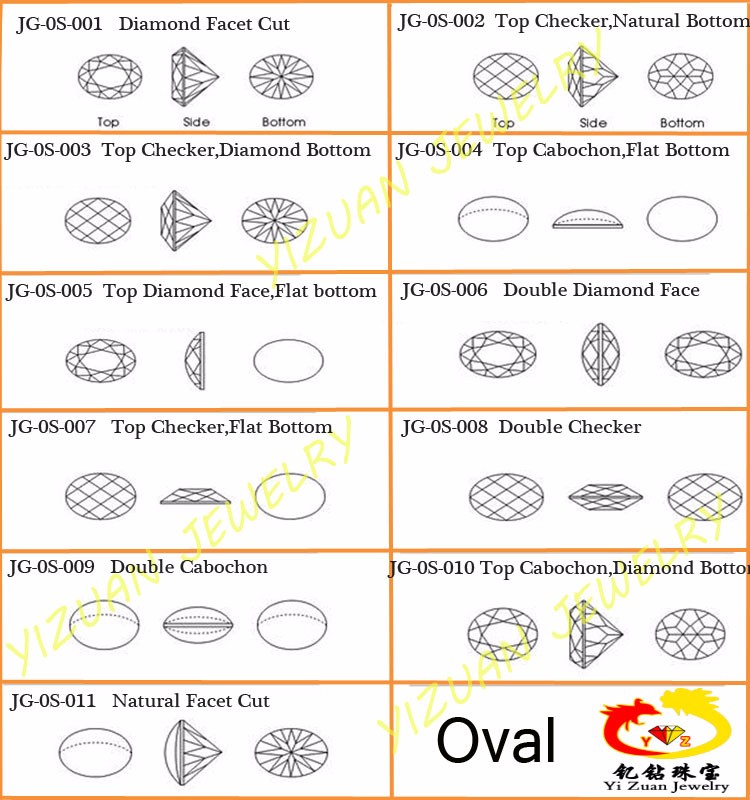 ~~~~~~More outstanding finished products for you select~~~~~~~
~~~~~~The brief introduction of synthetic quartz crystal~~~~~~~
Ametrine, also known as trystine or by its trade name as bolivianite, is a naturally occurring variety of quartz. It is a mixture of amethyst and citrine with zones of purple and yellow or orange.
Synthetic quratz crystal has good light transmittance, can be used as a prism, filter, polaroid and otheroptical components,it has superior temperature frequency stability, therefore, it has won wideapplication in the field of electronic technology,can be made into all kinds of waves and acousticsurface wave oscillators, resonators and filters.
Synthetic quartz crystal growth by hydrothermal method generally, the quartz raw material and solventinto the autoclave, heating to 330-380 degrees Celsius,pressurized to 80-150 mpa, in such an environment,the porosity, and recrystallization, and quartz crystal is obtained.
~~Various customized product shapes waitting for your selection~~
~~~~~~~Knowing about our company~~~~~~~
YiZuan Semiprecious Gems & Jewels Firm owns two factories, one for cutting gemstones, another one for making finished fashion jewelry. Supported by our raw material stores in cities of Wuzhou, Panyu, Sihui, Dongguan, we are capable of large quantity orders of gems. It dose not matter that you are a distributor or wholesaler, we will be very happy to make a business relationship with you.

OUR LOOSE GEMSTONE BUSINESS are as follows(YZ GEMS): We can offer the Malay Jade, Natural seashell, Carnelian and Chrysoprase, Black Agate/Onyx, Amethyst, Tiger Eye, Malachite, Green Aventurine, Rose Quartz, Xinjiang Jade, Smoky Quartz, and Crystal/Clear Quartz, ,Labradorite, Piezo Crystal, Synthetic Gemstone, etc, for totally over 200 kinds of semi-precious gemstones with 100 kinds of customized shapes. Your presence to our cutting factory in Wuzhou will be our great honor.
~~~~~Waiting for your contact if any questions and demand~~~~~