consolidation ocean freight rates from Shanghai
1). Who We Are:
Company Name

Cooperate Logistics Co,. Ltd

Company History

Over 7 Years

Quantity of Staff

Over 80 people

Commerce Registered Capital

RMB5,000,000 (Equal: USD833,333)

Commerce Registered No.

440301103657853

Head Office Location

Shenzhen, China

Market Field

From

Shenzhen

Shanghai

Hong Kong

Guangzhou

Tiaanjin

Ningbo

Yiwu ...

To

Worldwide

Service Field

Consolidation Collection and warehousing

Documentation and customs declaration

Shipping and forwarding agent

Sea and Ocean Freight (20ft/40ft container)

Dropsipping and All Express

Air Freight and Flight Charter

Supply Chain Management Forwarder

Express and courier Freight

FCL LCL OT OR and OOG Logistics Transportation ...

* part of our happy family:
2). What We Can Do for You:
* some example pictures about our sea freight services:
Picture 1:
The goods get loaded into the container at factory, and then trucked to port.
Picture 2:
We help prepare the documents, like CO, invoice, shipment insurance, B/L, and do the customs declaration at port.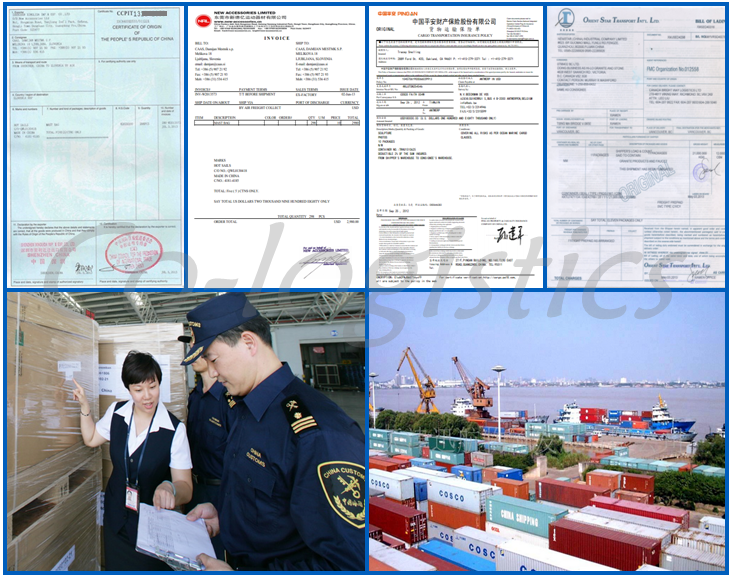 Picture 3:
The goods get sailed to your destination port.
* the main steps about our sea freight service:
1, you tell us the contact information about the supplier.
2, the supplier offers us the booking authorization.
3, we book the shipping space when the goods ready and the supplier get your payment.
4, the goods get loaded and trucked to port.
5, we prepare the documents and do the customs declaration.
6, the goods get sailed.
7, we offer you the B/L scan.
8, you pay us.
9, the goods arrive at your destination port.
3). Some Examples about Our Value-added Service in Warehouse: (Consolidation)
000
4). FAQ:
1. Q: What is the price of your service?
A: The exact price can be offered when the details of your goods finalized, like weight, volume, loaded city and destination city.
2. Q: How can I pay you?
A: You can pay us by bank transfer (T/T), Western Union and so on.
3. Q: When shall I pay you?
A: Commonly, for sea freight shipment, you can pay us after the goods sailed.
4. Q: Can we pay you monthly?
A: Yes. That can be talked if your shipments are quantities.
5. Q: My supplier has no right to export. Can you help me export the goods?
A: Yes, we can. We can buy the export license, do the customs declaration and ship the goods out to you.
6. Q: Can you help me inspect our goods?
A: Yes, we can help do that for you. Please offer your detail requirements for the inspection.
7. Q: Can you help pick up our goods from the inland of China?
A: Yes, we can help do that for you. Please offer the exact address for picking up.
8. Q: Can you help do the customs clearance, and deliver the goods from destination port to our warehouse?
A: Yes. We have partner agents in oversea ports. So we can help you do that, if needed.