Standard Functions
--- all auto, easy to control & save your time/energy
* Auto water inlet - water get into the tank automatically
* Auto draining - drain out water automatically after steam shower
* Auto flushing - flush the water tank automatically after draining, to reduce water scale formation
* Auto power off - steam generator is powered off automatically
* Overheat protection - power off the heating elements instead of shutting off the relays, much safer
* Time setting - 1~60min.or Continuous
* Temperature setting - 35~60℃(95~131℉)
Standard Materials
--- high quality, avoid trouble in the use of follow-up
*SS#201 polished stainless steel housing - Anti-rust
*SS#304 stainless steel water tank
*SS#316 heating element with UL certificate - reduce water scale formation and avoid steam odour
*SS#304 Steam nozzle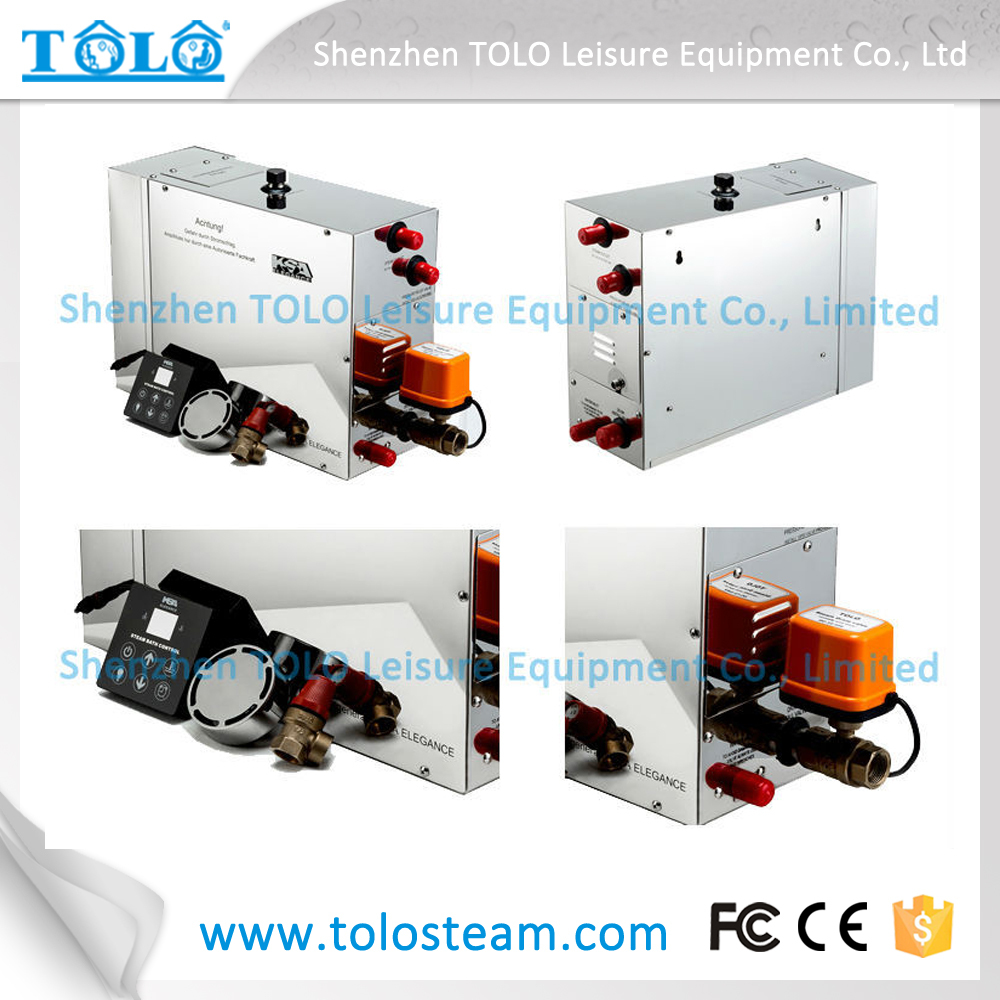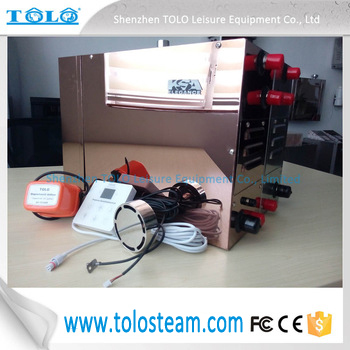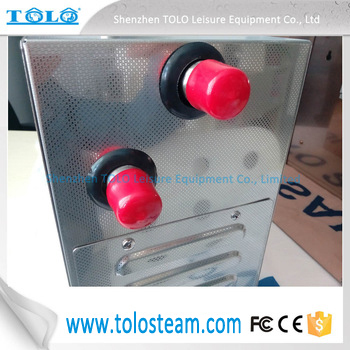 Standard Accessories
* 1PC steam generator
* 1PC all-in-one controller --- to link in all the functions
* 1PC waterproof touch screen control panel
* 1PC 3/4" full-bore auto draining valve
* 2PCS SS#304 Steam nozzle/ steam head
* 1PC temperature sensor with box
Optional Functions & Equipments
For the below optional functions, the software part of these functions are already exist, but to enjoy these functions, below optional euipments are needed. And, anytime to add following equipments is workable.
1. Commercial model--"fast steam", steam out in 30 seconds.
Steam generator will keep the water at 85℃, steam will come out in 30 seconds after user push the button. 30minutes a cycle. This function helps a lot on commercial use, your customers will enjoy sauna in a quite short time, only 30 seconds; besides, with the technology of sectional heating, it's also very energy-efficient for yourself.
2. Double aroma pumps.
Appearance, elegant, and easy to observe the application amount & add essential oil at any time.
With two essential oil bottles, free to add two kinds of essential oil, always let you customers have one more choice. Fragrance can be changed by controller/ iPhone
3. Colored light.
6pcs Led lights, color changed by controller/ iPhone
4. Music system
1 pair waterproof speaker, Bluetooth controlled
5. Salt atmosphere generator
Salt bath can sterilizing, can clean & whiten & moisturize the skin, anti acne, reduce blood pressure, lose weight etc.
Controller/iPhone controlled.
6. Auto Descaling device
Many of our customers feedback that it's easy to deposit scale in the tank, so we have added this new function --- auto descaling in our new AIO serious.
Auto descaling, easy control and time saving. Don't need to worry about scale anymore.
7. Wifi control system
Wifi connection device, exclude wifi router.
It's available to control by iPhone
8. Exhaust fan
Dry the steam room.
controller/iphone controlled.
9. More functions as you wish, our engineer team have more than 15 years experiences