Humber beer making kits Home brew Beer Kits
Cocomplete beer kits

Mashing system

Lauter tun

Mash kettlewhirlpool

Hot water tank

Wort pump/hot water pump

Combined pipes

Frequency inverter

Malt miller

Heat exchanger

Oxygen adder

Fermenting tanks

Fermenting tank

Bright beer tank

Valve pipe

Cooling pipe

Thermal meter

Pressure meter

Cooling system

Ice water tank

Cold water tank

Chiller

Ice water pump

Pipe & valve

Controlling system

Power controlling cabinet.

Meter controlling board

Refrigerator board

PLC control board for option

Washing system

Washing tanks

Mobile pump

Valve & pipe
3D and CAD drawings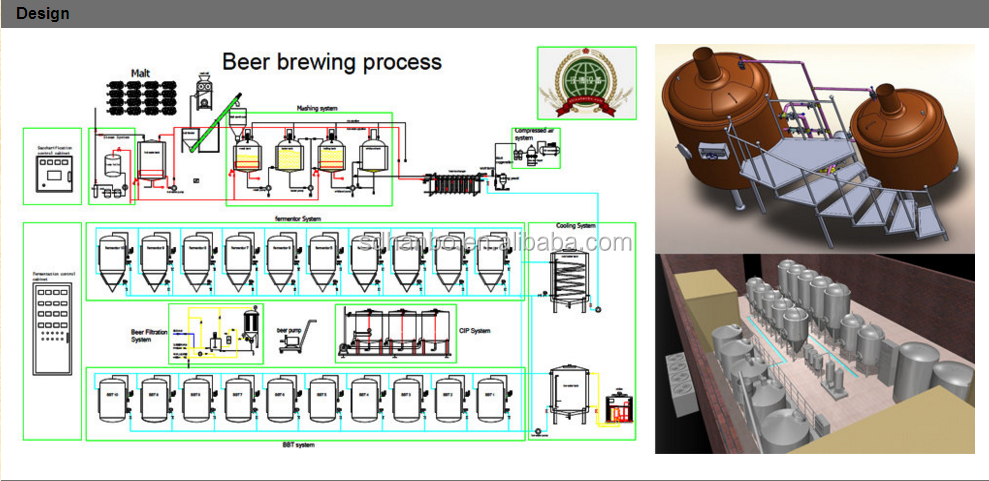 Milling:
Here, malt is grinded and malt husks are cracked. It makes mashing faster and makes filtration of mashing easier.
Mashing:
Mashing is the process of mixing milled malt and water, then heat this mixture. Mashing allows the enzymes in the malt to break down the starch in the grains into sugars. Mashing involves pauses at certain temperature(notably 45-62-73℃ or 113-144-163℉). Mashing takes place in mash kettle.

Lautering:
Lautering is the separation of grains and liquid. The bottom of lautering kettle has thin slits to hold back the solids and allow liquids to pass through. The mash itself functions as a sand filter to capture mash debris and proteins through recirculation. Grain washing also takes place in the lautering tank. After the wort runs-off, trickling water will goes through the grain to extract sugars.

Boiling:
After lautering, the wort will be boiled with hops ( and other flavouring if needed). Average boiling time ranges from 45 to 90 minutes, depending on its intensity, the hop addition schedule and water volume.

Whirlpool:
At the end of the boil, solid particles in the hopped wort are separated from whirlpool tank. Then wort will be cooled when runs into the fermentation tank through the plate heat exchanger.
Fermentation:
It takes place in fermentation tank. Sugar in wort will be transformed into ethyl alcohol by respiratory action of yeast. At same time, some other chemical and physical reaction happens too. Wort turns into beer gradually under these reactions.

After fermentation, we can drink beer directly or put beer into BBT via filtering equipment.
These processes are finished in several tanks. Tank quality can be customized.( beer process)
Technical space need
| | | | | | | |
| --- | --- | --- | --- | --- | --- | --- |
| daily output | 100l | 200l | 300l | 500l | 1000l | 2000l |
| unit type | HB-100L | HB-200L | HB-300L | HB-500L | HB-1000L | HB-2000L |
| floor space(SQUARE) | 15 | 25 | 35 | 45 | 80 | 120 |
| power(KW) | 12 | 15 | 20 | 35 | 35/15 | 65/15 |
| beer production period(DAY) | 8-12 | 8-12 | 8-12 | 8-12 | 8-12 | 8-12 |
Trade shows