China Supplier Wholesale Aluminium Fence Panels for Garden Fencing, Aluminium Swimming Pool Fencing
Aluminium Fence Panels for Garden Fencing Product Show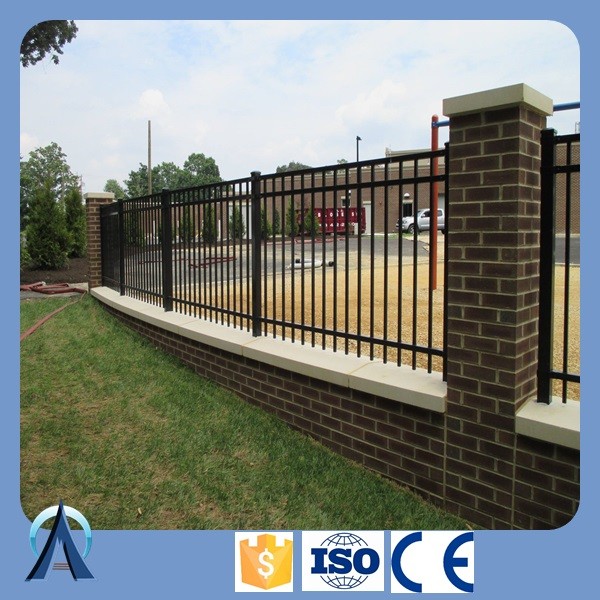 Aluminium Fence Panels for Garden Fencing specification introduction:
1. Heavy duty Crimp top picket steel fence in Black color only
2.Width 2400mm x Height 1800mm Crimp top diamond shape
3.40x40x1.6mm top rail,25x25x1.2mm Verticals
4. There are 17 vertical pickets 20x20mm with diamond crimped on top.
5. Gap in between the pickets is110mm
6. 60x60x2mm thick post - these are 3m long each not 2.6m long as others supply.
7. Normal fence powder coated brackets
8. Security fence brackets (powder coated )
9. Caps for 60x60 posts (powder coated )
10. Phosphate treated before powder coating (Very Important)
11.All panels are fully protected
1) Our panels are made out of thicker material top and bottom rails 40x40x1.6and25x25x1.2 for all verticals
2) Gap in between the verticals is110mm compared to wider gaps with others.
3) We use for all our panels galvanized material only.
4) Very important is that we phosphate wash our panels before powder coating which means a very high quality
powder coating which will long last many years compared to my competitors.
Usages:Widely used in villas, community, gardens, schools, factories and other flower beds, lawns, industrial
and mining enterprises, financial institutions, sports stadiums, convention centers, squares, roads, balconies,
residential use, its flowing lines, simple and beautiful and full of rich modern residential sensual, garden Light,
villas era of high grade. Simple installation, easy maintenance, easy to clean, affordable, eliminating maintenance.
Assembled fence procedure:

1>Cut Shot

2>Punching Holes

3> Acid washing

4>Powder Coat

5>Assembled

Sections come fully assembled or welded.
Custom width or height sections are available.

Welded fence procedure:

1>Cut Shot

2>Punching Holes

3>Profusion welded

4>Acid Washing

5>Powder Coat
Introduction every parts:
Product description of Aluminium Fence Panels for Garden Fencing:
1. Base Material: Hot-dip Galvanized steel
2.Technology Procedure - Four layers surface coating treatment:
1. Hot-dip galvanizing: Extra protection against rust, corrosion;
2 Zinc phosphate: Promote the adhesion between the steel and coating film;
3. Zinc-rich epoxy powder coat: Providing long-lasting, anti-impaction and anti-corrosion;
4. Polyester color coat: With extra anti-UV rays, corrosion and self-cleaning
1. Pickets Detail:
Pickets top is so important. It must sealed very well on the top, or it is easy to rust. We
can insure you sealed very well pickets. Which highly improved the lifetime of the fence:
Another famous kind of pickets is finials (Usually tubular fence need finials):

2. Horizontal Rails:
Type 1: Punch round hole on 20*40mm rail or 40*40mm or 45*45mm rail:
Type2: Punch square hole on 40*40mm rail or 20*40mm or 45*45mm rail:
Type 3: Punch holes on 1-7/16'' * 1-1/2'' "U" Type rail: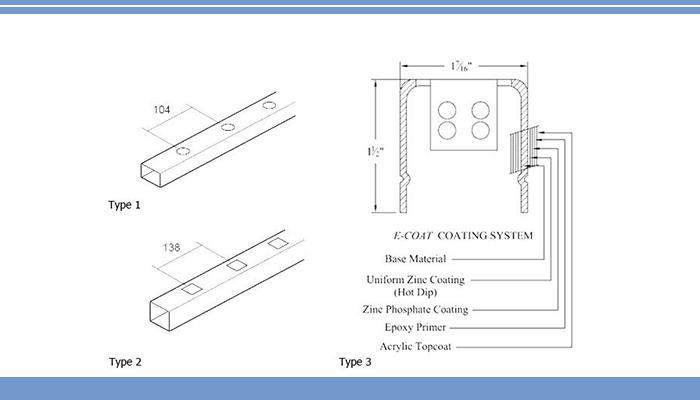 3.Posts:
According to the usage, posts can be divided into 2 kinds. One kind is embeded post (At least 50cm will
be embeded under the ground. The other kind is Post with flanged chasis. According to the direction,
posts including Line post, Corner post & End post.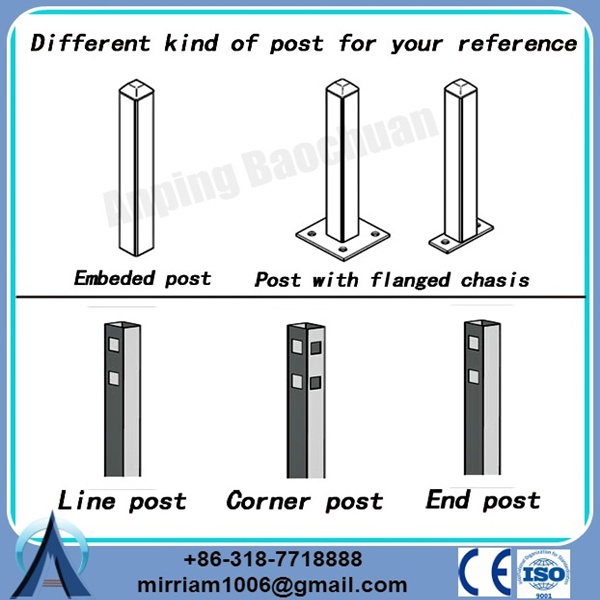 4. Attachments or Connection between the post and the panel:
Above the attachment are made of hot-dip galvanized material, and powder coat the same color with the
Panels.
5. Types of Gates
Single Gates;Double Opening gates;Sliding Gate;Suspended gate
6. Panels which can suit up and down hills or slope terrain.
There are mainly 2 ways to suite the slope, one way is made the fence into slope fence, it can
adjust according to the slope.
The other way is to install the fence like stairs step.
See the 2 ways below the pictures:
7.Aluminium Fence Panels for Garden Fencing,
Available in Residential Series, Residential Series Premium, CommercialSeries, and
Commercial Series Premium. Our company have a reinforced double-wall rail
with hidden fasteners.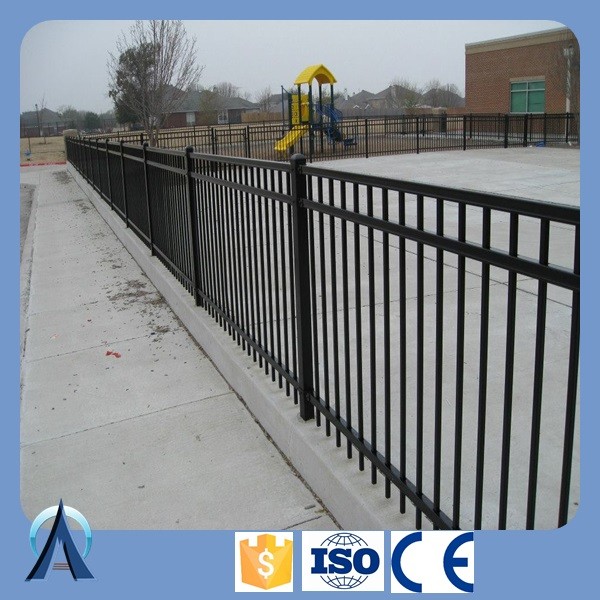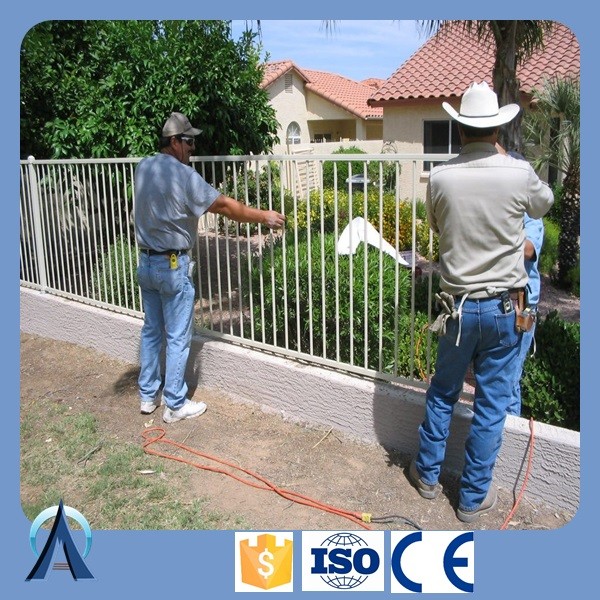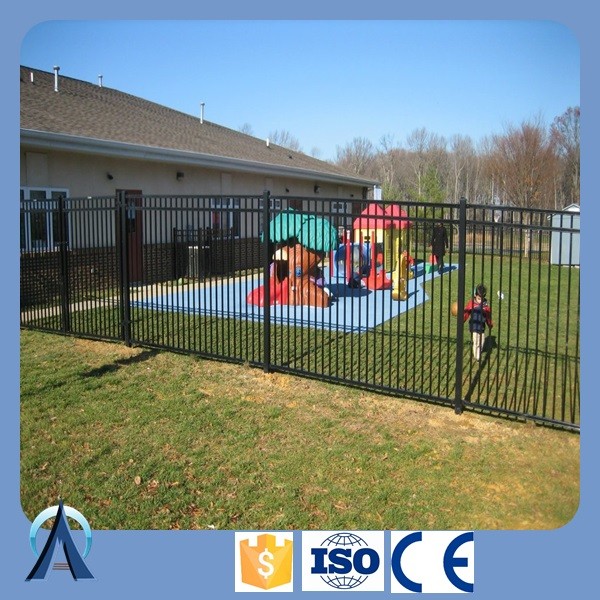 Our Service
1) Our factory is in Anping county, where is the origin of wire mesh in China. So we can share all the professional technology with lowest cost.
2) Because we have our own factory, we can not only assure our quality, but also have competitive price.
3) We can also make according to your own design pictures or drawing at your customized size.
quality guarantee system
model wrought iron fence are under strict quality control.
1. Before the order can be confirmed finally, we would strictly check the material, color, dimension of the sample step by step.
2. Our salesman, also as an order follower, would trace every phase ofproduction from the beginning.
3. After the worker finished the production, our QC will check the overall quality.If not pass our standard will rework.
4. When packing the products, our Packing Department will check the products again.
5.Any small problem happening in our product will be solved at the most prompt time.
Company show Our company is located in Anping, Hengshui and is specialized in manufacturing all kinds of wire mesh products. With an experienced and professional team, we have exported our products to many countries and regions all over the world, especially North America, the Middle East, South America, Africa, and so on. Our products enjoy good popularity among our customers.
We welcome customers, business associations and friends from all parts of the world to contact us and seek cooperation for mutual benefits.