2.0 K Cup Pre-Assembled Coffee Capsules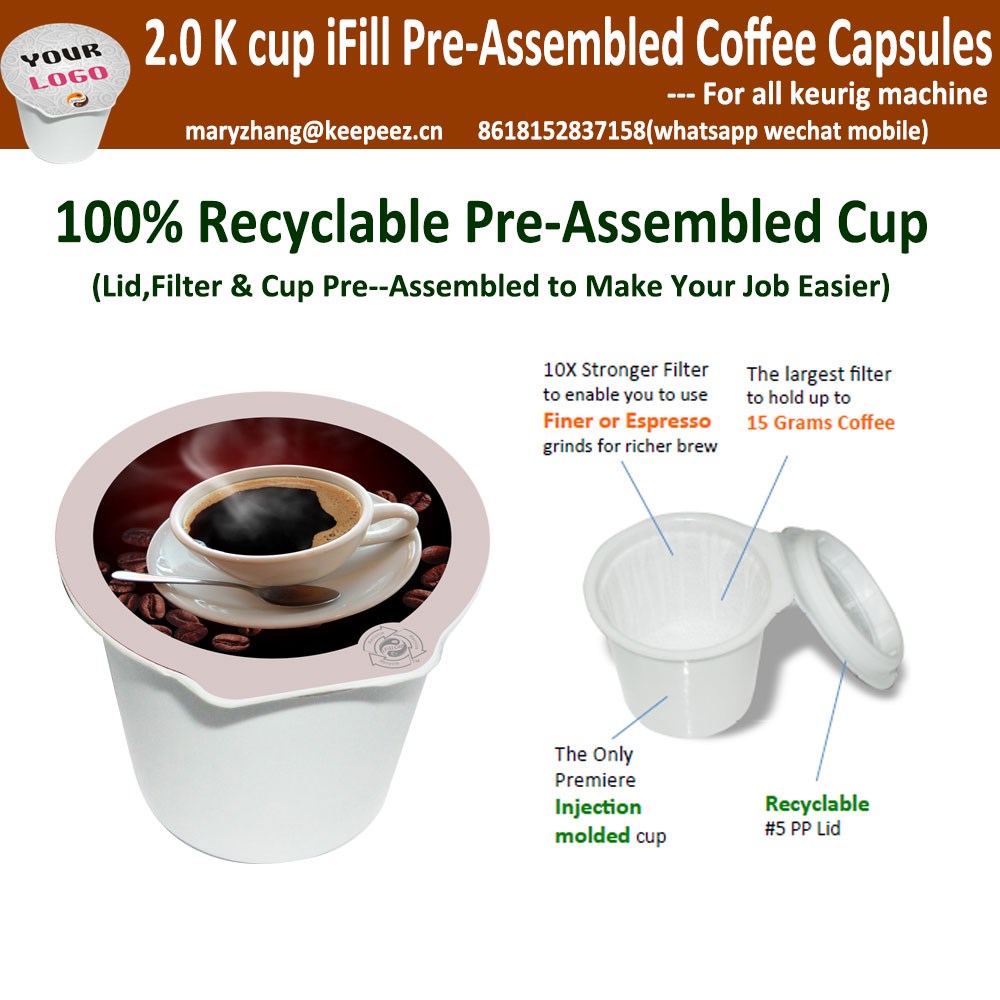 History of Single Serve Cups
•
The
first
k
cups
used a non-
pleated
filter, which does a
poor
job of distributing
water
during the
brew
cycle, resulting a thin, watery coffee
.
•
To resolve the watery coffee
issue
, Keurig replaced their non-pleated filter with
pleated
filter eight years ago.
•
Pleated filters distribute water evenly during the brew cycle in the cup to prevent water from "channeling", which results in watery coffee.
•
As more single serve cups enter the market, frequent recalls occur due to the use of weak paper filters that break during the brew cycle.
•
To prevent such recalls, paper filters are being replaced with pleated polypropylene (PP) filter, which is ten times stronger than paper.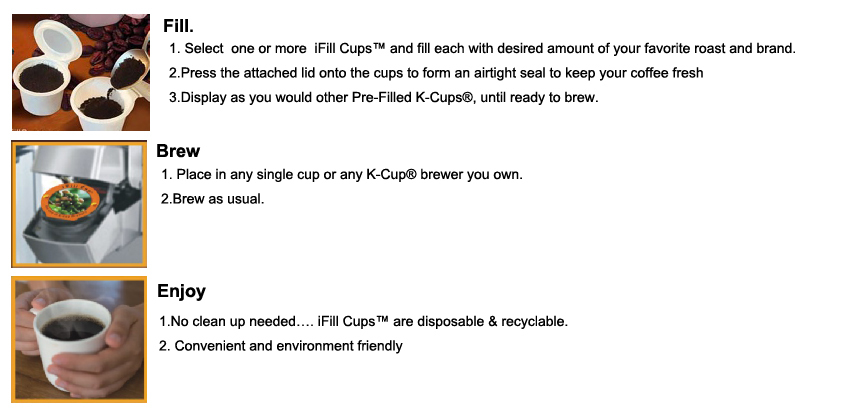 Advantage
1. Save $$$ - Make your own cups at half the cost. Save up to $15 each time you buy 1 lb. of your favorite coffee and fill 48 iFillCups™
2.Convenience – Airtight seal lets you pre-fill cups in advance so they are ready to brew when you are.
3. Control the Strength of Your Coffee…-add more ground coffee for a stronger, larger cup
4. Functional & Collectable Art – Collect images in each of the 4Series for an interesting display in your K-Cup™ holders and designate different images for your different brands, roasts, tea or cocoa. You'll know what's inside….collect all 19 images!
5.Environmentally friendly – Used coffee grounds are great for composting and the iFillCup™ is recyclable.
Choose a different cup top design to indicate type or amount of coffee/tea inside!
So many possibilities…
You may decide to choose one series for your favorite coffee, another series for tea and another for cocoa.
Or, you can mix and match with your favorite images and fill them as you like. It's your choice, have fun with it!
For example, if you select the Coffee Lifecycle Series for your favorite roast and brand, you may decide to put:
• decaf in the iFill Cup™ with the young tree leaf image
• lighter roast in the flowering tree image,
• medium roast in the red fruit image,
• darker French roasts in the whole bean image and finally,
• you could use the steaming coffee image to indicate that you have added extra ground coffee for times when you want to brew a stronger, larger cup.
With iFill Cups™, now you can pre-fill cups with your favorite coffee, tea or cocoa when it's convenient for you and display them as you would any other K-Cup® so they are within easy reach whenever you are ready to brew!