RJ-H80 is a new type of rigid waterproof material for building with good permeability and crystallinity. Crosslinking reaction happens between Si-OH in themolecular structure and Si-OH in silicate materials under the condition of moisture.So-called "anti-capillary effect" occurs to form an excellent waterpoof layer.At the same time, it will have the effect of microdilatancy and increasing the compactness.
Technical Index:
| | |
| --- | --- |
| Appearance | White powder |
| Silicone Content | ≥50% |
| Density(g/cm3) | 0.5~0.6 |
Features:
* Super waterproofing effect, greatly reduce the water absorption rate. For concrete and mortar, the use amount is only 0.2-0.5% of the whole materials,the 48h water absorption is far superior to standard JC 474-2008 demand.
*It is easy to disperse in the cement mortar and water.
*No influence to the final compressive strength of concrete.
Application:
1.The whole waterproofing for cement mortar:
Cement 1000g
Silica sand 2000g
RJ-H80 10g
2.Wall powder coating
Add 1% of the whole powder coating to enhance its water resistance and hydrophobic property.
3.Water based coating
Add 1%~3% of the whole water based coating, it will enhance water resistance after the coating cured film.
Attentions:
This product should be sealed well to prevent from water and exposure.
This product is a generic chemicals.Construction workers should be careful in the storage and use, not to splash to the face, especially not be splashed into eyes.Rinse immediately with plenty clear water or ask the doctor to deal with. Wear gloves, protective glasses, put on clothes when operating.Avoid contacting with skin.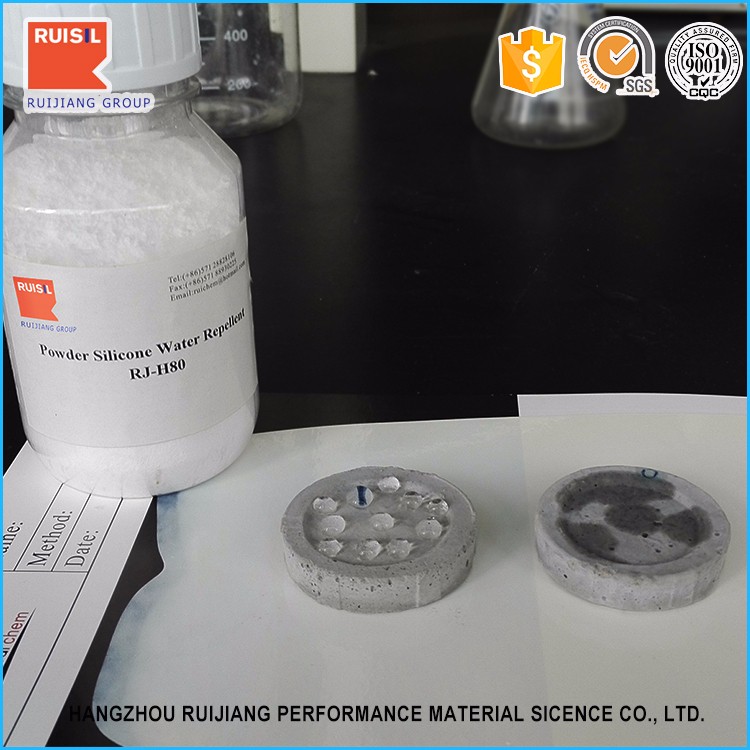 Recommended Application(Click The Model)