USDA Eco-friendly PAOS coconut dish washing liquid soap detergent Refill pouch for kitchen
No.1 brand in dishwashing category in Taiwan.
Botanical Coconut Oil Ingredients - No residue, no harming hands, strong detergency, easy to rinse, clean and water-saving.

The new clean formula and the addition of green tea extract, quickly remove oil and remove sputum, the detergency is upgraded, and the dish does not leave the smell of food.

Pure neutral formula, which better than normal petroleum-based products.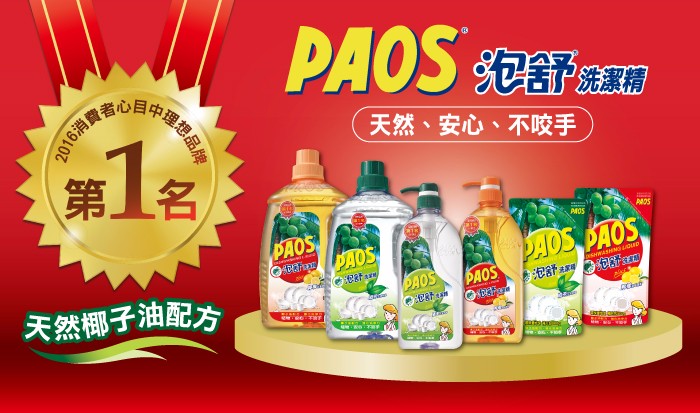 USDA Eco-friendly PAOS coconut dish washing liquid soap detergent Refill pouch for kitchen are free of

1.Optical Brighteners--Brighteners are commonly added to

laundry detergents

to make the clothes appear cleaner.
Some brighteners can cause allergic reactions when in contact with skin, depending on the individual
2.Formaldehyde--The

textile industry

uses formaldehyde-based resins as

finishers

to make fabrics crease-resistant.
Formaldehyde is highly toxic to all animals.

3.Triclosan--Triclosan was used as a hospital scrub in the 1970s. Since then, it has expanded commercially and is now prevalent in soaps,

shampoos

, and cleaning supplies, which is part of consumer products, including kitchen tools.
Triclosan is considered safe but is under ongoing review by the FDA, but can cause harm to the environment when used in significant amounts. 
Studies show that substantial quantities of triclosan (170,000 – 970,000 kg/yr) can break through wastewater treatment plants and damage algae on surface waters.
4.Alkylphenol Ethoxylates--Alkylphenol Ethoxylates (APEs) are synthetic surfactants found in detergents, cleaning products, and other hair care products. The most common APEs are nonylphenol ethoxylates.
Studies have linked APEs in waterways and aquatic sediments to altered reproduction, feminization, hermaphrodism, and lower survival rates in salmon and other fish.
5.Phosphate--Various phosphate salts were once popular ingredients in laundry detergents.
The discharge of these compounds led to significant problems in natural waters. e.g. 

eutrophication

.


About the Factory
We are a manufacturer with the strong advantage on daily use products and abundant experience for over 53 years. Our products include shampoo, hair conditioner, hair treatment, Color Cream, body cleanser, detergent...etc. We possess more than 20 excellent brands that are best sellers in Taiwan.
Visit us now! http://www.nice.com.tw
Founded in 1964, Nice Group's objective is to bring "green, energy and dynamic health and beauty" to people. Over past 50 years, we had been devoted to fulfilling the mission of environmental protection and creating a better and healthier life for consumers!
Nice Enterprise has the largest chemical plant in Taiwan. The whole production process is automatic, from raw materials, mixing, filling to packaging and has already obtained ISO-9001 and ISO-14001 dual certification. It is also a certified cosmetic GMP factory since 2013. Our quality and environmental management meet international standards. At Nice Enterprise we are proud to make our entire line up with natural, trustworthy, environment-friendly, and healthy materials. We introduced many leading brands, such as Nice PON PON Body Wash, 566 Hair Coloring Cream, PAOS Dishwashing Liquid, all these are the No.1 Brand which make Nice Enterprise to stay ahead of the competition in Taiwan Market.
"NICE, have a nice day." Our name from 'nice' means that Nice Enterprise has been dedicated to providing a better life for consumers every day!
Speaking of Nice shampoo powder, was definitely the memories of growing up for baby boomer generation. The slogan "Nice shampoo powder gives you fluffy and good smelling hair" still deeply rooted in the memory of people of Taiwan even after 50 years. The product packaging with long hair flowing was the evidence of Taiwan's economic lift-off period.
In 1964, Nice Enterprise developed and produced the very first "Nice shampoo powder" with 100% natural components. This is a neutral formula and well-known good quality product which introduced Nice Enterprise to the market. And Nice Enterprise started to become a leader in the grooming supplies market.
Our Advantage
OEM Ability
50 years of professional hair, skin care, and household cleaning products manufacturer experience.
Quality
The authoritarian quality control system with scrutiny to guarantee the stability of quality certificated with GMP, ISO, and USDA.
Competitive
Satisfying our customers to build their brand and product with their requirement.
Excellent R&D team
Lead by 5 doctors who has more than 20 years R&D experiences and 20 R&D team members in cosmetics industry.
OEM ability products
Hair care
Hair color dye, hair relaxer, color protect shampoo, hair repair shampoo, hair conditioner, hair treatment, hair oil, hair essence. Hair tonic and so on.
Skin care
Facial cleanser, body cleanser, body lotion, body gel, face mask, hand cream.
House hold product
Detergent, dish wash liquid.
Port: Taiwan Ports
Delivery Detail: 7-45day (45day is for making English Labels)
Production ablility: 800 cartons /days
Min Order: 150 cartons
FOB Price: USD$25-35/Cartons