Anyi Swimming Pool Sauna Leisure Equipment Co.,Ltd.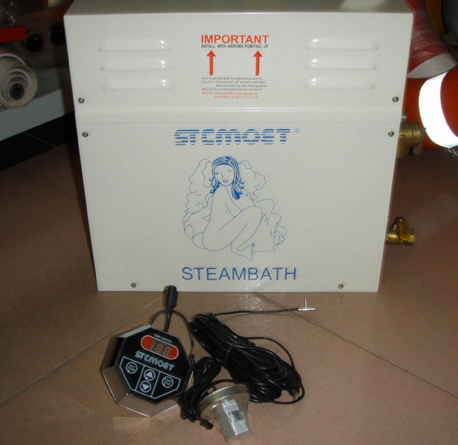 Detail data
Stcmost Steam generator

Color

White

Brand

Stcmost

Item No.

Stc-45

Function

Wet steam

Material

Stainless Steel

Shape

Square

Size

480*350*160mm

Power

4.5KW

Room size

2.5-5m³

Current

13.6 A

Useage

Sauna steam room

Accessories

External control device

Phase

1

Voltage

220V

MOQ

1 sets
Caution of Spa Steam Machine For Sauna
1).Before the steam generator works, make sure its inlet valve is open and there is enough water supplied. Or the steam generator will be damaged due to lack of water.
2).The supplied power voltage must accord with the working voltage of the steam generator. Or the steam generator can not work properly.
2.Observing carefully the working status of the steam generator will be the best way to fine a problem in time and therefore avoid a breakdown. The following are effective measures to make its service life longer:
a. Clean out periodically the scale from the heating element surface and the scale inside the body;
b. Inspect periodically the heating element, contactor and wires for having secure connection, exotherm , color change and good contact or not.
3. Please inform agent or professional technicians at once if the steam generator breaks down or changing change parts is needed.
Installation
Steam generator can be installed in the roof/the closet/the basement/under the washing basin,and it's very easy installation,convinient.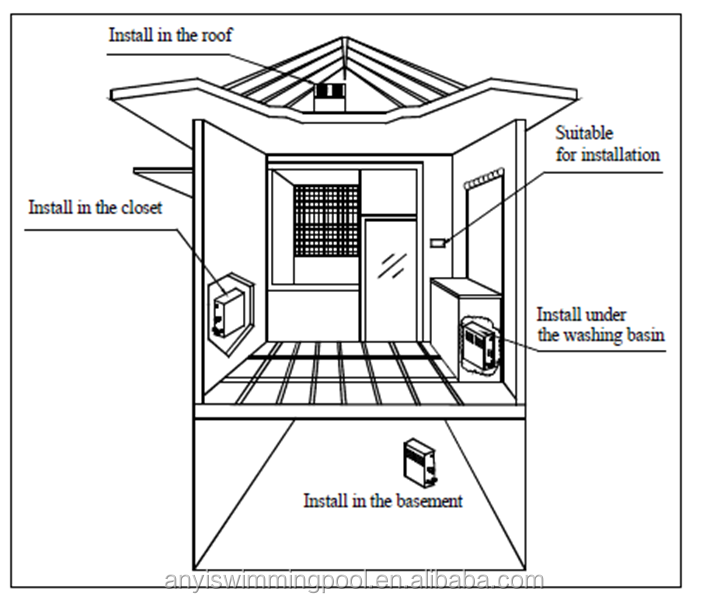 Voltage:220/380V

Frequency:50HZ

Water Quality: Never use low quality water containing scale,high acid or alkaline,it's better to use disposed"soft water" or "running water".

For safety reason,the steam generator must be securely grounded.

Keep inflammable and explosive materials away from installation site.

In orser to keep steam transfer-ring pipe smooth,never install sluide valve in the steam generator outlet pipe.
Packing of steam generator
All kinds of steam generator in our company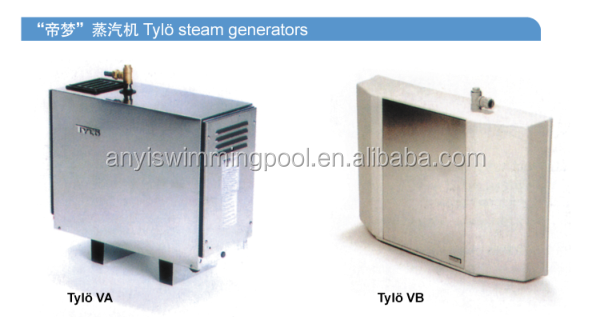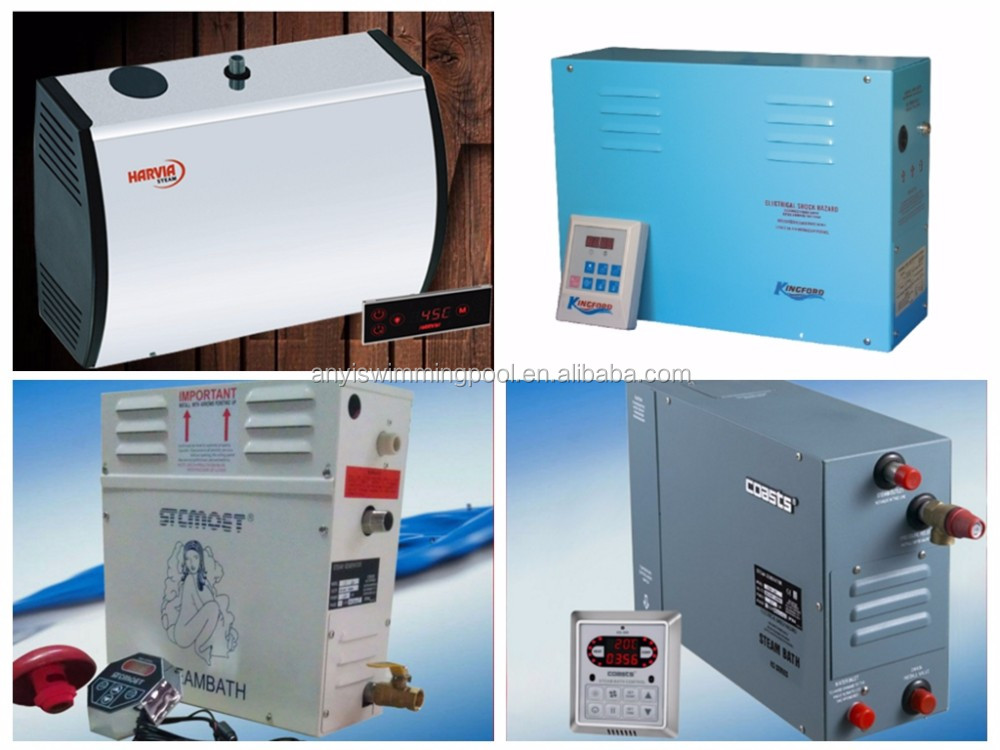 *****ABOUT OUR PRODUCTS
SPA:
1. Massage SPA bathtub;
2. Acrylic bathtub;
SHOWER:
1. Shower room;
2. Shower screen;
SAUNA ROOM:
1. Dry steam sauna room;
2. Wet steam sauna room;
POOL EQUIPMENT:
1, sand filter
2, water pump
3, quartz sand
4, underwater (LED) light (different color: RGB, white, colorful)
5, transformer
6, salt chlorinator
7, chlorine tablets
8, HPAC
9, Green Algaecide
10, dosing pump
11, automatic pool cleaner
12, vacuum head
13, plastic brushes
14, vacuun hose (single layer or double layers; 7.5meters, 9 meters, 15 meters, 30 meters as you want)
15, aluminum telescopic pole (different lenght: 3 meters, 5 meters, 6 meters, 7 meters, 8 meters, 9 meters)
16, leaf skimmer
17, deep bag rake
18, stainless steel handcart
19, heat pump
20, pool liner (PVC mosaic liner and pure color liner: 1.0mm, 1.2mm, 1.5mm thickness)
21, pool cover (different styles: 300 micron, 400 micron, 500 micron, 600 micron)
22, pool overflow grating (different size: 62mm, 110mm, 150mm; Different color: Red, blue, white, yellow)
23, stainless steel ladder (stainless steel 304# or 316# as you need; 2 ~ 5 steps ladder)
All kinds of pool accessories for your reference
Established in 2010, Guangzhou Anyi Swimming Pool Sauna Leisure Equipment Firm is a wholesale and retail company that is gathering all-round professionals to provide comprehensive and professional swimming pool sauna leisure equipment. We specialize in the production and export of swimming pool sauna equipment, sanitary ware, hardware, pool accessories and other leisure equipment. We are located in Guangzhou, with convenient transportation access. All of our products comply with international quality standards and are greatly appreciated in a variety of different markets throughout the world.
Showroom in Guangzhou
Our Factory Details
CERTIFICATIONS
If you are interested in any of our products or would like to discuss a custom order, please don't hesitate and feel free to contact us.