| | |
| --- | --- |
| Battery Model | BL-5B |
| Compatible Cellphone Model | For Nokia 7260 7360 N80 3220 5140 5300XM 5320XM 5500 5200 |
| Capacity | 890mah |
| Battery Type | Lithium |
| Cell Type | Double IC Protection Lithium |
| Charging Time | 4-6 hours |
| Standby Time | 72 hours-120 hours |
| Battery Life Cycle | More than 550 times |
| Stand Voltage | 3.7V |
| Maximum Voltage | 4.2V |
| Working Temperature | -25deg-55deg |
| Quality Grade | Best Quality |
| Capacity | 10000pcs per day |
| Warranty | 1 Year |
About our battery:
1.High capacity battery extends the standby time and talk time.
2. Dual IC protection design ensure the safety and extends the battery's life cycle.
3.Smart battery.
4.Power control chip.
5.FET.(field-effect transistor).
6.Protection board PCB.
7.Current protection PTC.
8.Strong battery.
9.Original electronic circuit optimization.
10.Ture capacity,no trick.
11.Advanced protection devices.
12.Original Manufacturing process.
13.Charge-discharge management platform.
14.Safe battery.
15.Anti-overcharge protection .
17.Against over-current protection.
18.Protection against short circuit.
19.Anti-explosion protection.
20.Green battery,enviromental materials pass ROSH certificate,lead-free technology,recyclable.
21.Low resistance and energy saving,circulation increased by 30%.
we can print your logo on battery ,it is free
They are mobile phone battery list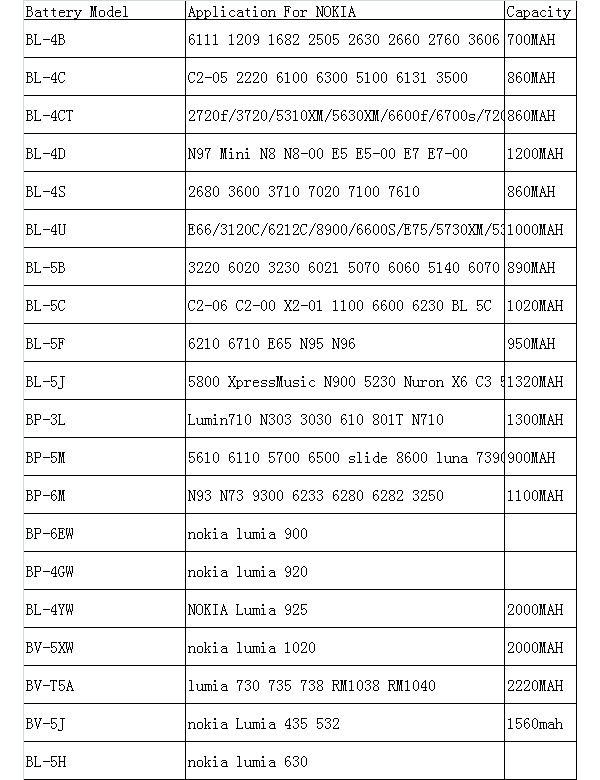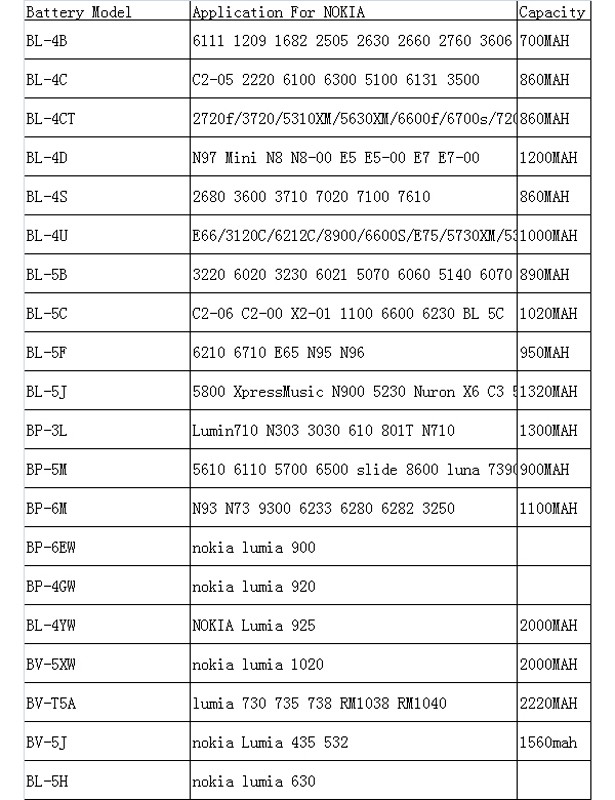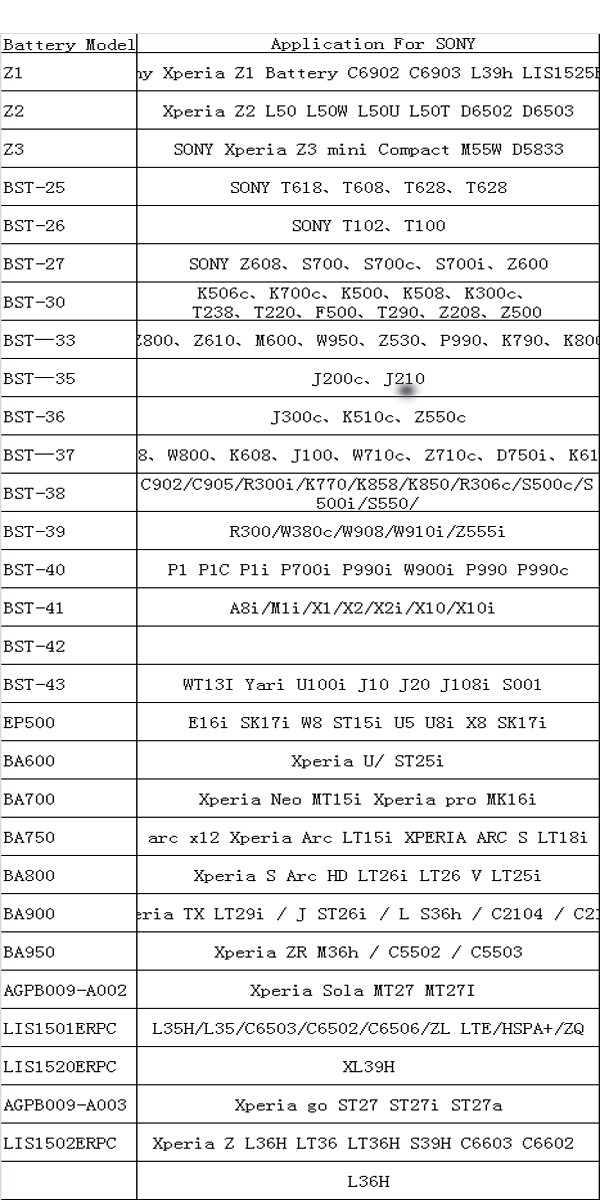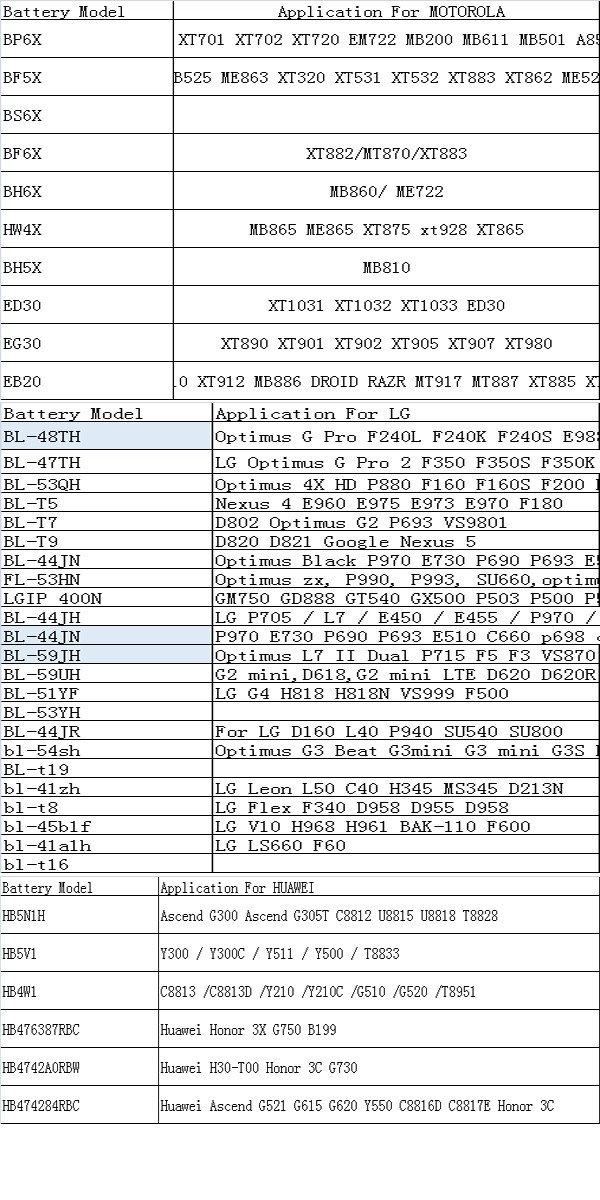 What Applications of our Lithium ion battery packs?
1. Emergency power supply, LED light & flashlight: headlamp, emergency light, solar flashlight, searchlight, lantern, bicycle light, bright flashlight, high-end lamp, military flashlight and so on.
2. Home appliance products: electric vacuum cleaner, eletric sweeper, water meter, gas meter, electrinc children toys, electric warm shoes, electric blancket, TV remote control (RC) and so forth.
3. Consumer applications, communicate & telephone equipment: MPS, tablet PC, laptop, Bluetooth earphone, power bank, portable DVD player, speaker, microphone, sound equipment, audio, digital camera and others
4. Outdoor sports products: camping light, mountain bike light, solar emergency light, self-defense flashlight and that .
5. Electronical tools & electric transportation vehicles: electric bike, electric car. e-scooter, electric motor and all that.
6. Solar lawm, remote control
7. Medical device
8. Backup power supply
9. Electrical and hobby
10. UPS, GPS
How to Maintain Lithium Battery
Lithium batteries are presently the most commonly used energy storage devices on electric bike, electric scooter, golf car, mobile phones, laptops, digital cameras and other electric devices. Learning how to maintain lithium batteries can not only prolong battery lifetime but also protect your device from potential damage.
1. Charge new batteries. It's not necessary to charge over 12 hours when first used. When a device powered by batteries is purchased, sellers will usually tell us the batteries must first be charged 12 hours before using. Actually, this is unnecessary. Unlike common Ni-CD or Ni-MH batteries, most lithium ion batteries are activated before leaving the factory. Due to their low self-discharge, it's unnecessary to charge lithium ion batteries for such a long time when new. Lithium ion batteries are ready for use when the charger indicates so, and they will reach their best capacity after 3 or 5 cycles.
2. Use appropriate chargers. Many people take great care with their electronic gadgets, but often neglect the consequences of bad chargers on their lithium ion batteries. When choosing a charger, the original charger is the best choice. If that's unavailable, a high quality charger that has an overcharge protection function, or a brand name charger will do. A low quality battery charger can lead to shorter run times, premature battery failure, or even fire or explosion.
3. Avoid frequently over charging. Over charging with a low quality charger may let the battery's interior rise to a high temperature, which is bad for the lithium ion battery and charger. Thus, simply fully charging is good enough - overcharging will make your lithium battery into a little bomb if overcharge protection function is missing.
4. Avoid touching metal contacts. All batteries' contacts need to be kept clean for best performance. When carrying batteries around, do not let the contacts touch metal objects such as keys; this could cause a short circuit, damaging the battery or potentially resulting in a fire or an explosion.
5. Avoid using often in high or low temperature environments. Lithium ion batteries have optimal working and storage temperatures. If they're continually used in extreme temperature environments, this will negatively affect battery use time and useful cycles.
6. Avoid long periods without using or recharging. If batteries will be left unused for 3 months or more, partially recharge them (to around 30-70% of capacity, depending on planned storage time), then store the device to prevent battery damage. You may need to take the device out of storage and charge again after a few months.
What 10 Tips should be note when using Lithium ion battery?
Warnings:
Do not immerse the battery in water or seawater, and keep the battery in a cool dry surrounding if it stands by.
Does not use or leave the battery near a heat source as fire or heater
Use the battery charger specifically for that purpose when recharging.
Do not reverse the position and negative terminals.
Do not connect the battery electrodes to an electrical outlet.
Do not discard the battery in fire or a heater.
Do not short-circuit the battery by directly connecting the positive and negative terminals with metal objects.
Do not transport or store the battery together with metal objects such as hairpins, necklaces, etc.
Do not strike, trample or throw the battery.
Do not directly solder the battery and pierce the battery with a nail or other sharp objects.
Why choose us?
1. Quick response to clients' enquiries within 24hours.
2. Best solution provided by our experienced team and professional engineers.
3. More than 10 years experience in producing battery products for various application.
4. Value quality and long-term cooperation to reach win-win relationship.
5. Our Partneers thoughout 103 countries.
6. 365 companies used our products which are very satisfied.
What is the Payment method and Shipping?
1. Payment: T/T, Western Union, Paypal, Trade Assurance, L/C Webmoney and so on.
2. FedEx/DHL/UPS/TNT for samples

, Door-to-Door;
3. By Air or by Sea for batch goods

, for FCL; Airport/ Sea Port receiving;
4. Customers specifying freight forwarders or negotiable shipping methods!
5. Delivery Time

: 1-4 days upon payment receipt
6. OEM & ODM are welcome.
How to contact us?
1. Skyepe: lamye.david
2. MSN: david_lif*hotmail.com
3, Trademanager: herculesi
4, E-mail: david*herculesi.com
5, Tel: 0086-755-86327286
6, Fax: 0086-755-86327276
7, Please use @ instead of *