USB Rechargeable Touch Sensor Cordless LED Light Desk Table Reading Lamp
DESIGNED TO LAST: Advanced LED technology lets the Sunshine above lamps that depend on standard, ordinary, short-lived CFL and incandescent bulbs. LED lighting will endure for more than 20 years: without burning out, without overheating. With Sunshine, you save money & energy over the long haul.
DIMMABLE BRIGHT LIGHT ON TAP: At 3,000 Kelvin color temperature, the SKY LED Torchiere blazes brightly enough to be the only lighting source in bedrooms or living rooms with no ceiling light; powers on & off at the tap of a button. (Not Compatible with Wall Switches.) It replaces & improves on power-guzzling halogen fixtures by producing a very bright light using only 20 watts; 4-step dimmer lets you alter the mood with a simple touch.
WARM, BUT NEVER HOT: Bask in Sunshine warm white color, as the lamp itself stays cool. LED never overheats. SKY Torchiere provides stylish indirect lighting as it reduces your energy bill. Say farewell to high-heat lamps that make rooms uncomfortable. With our LED-integrated fixture, you never have to replace a bulb. Available in sleek silver, black, or white finishes that blend well with any home décor.
SLENDER DESIGN plus STURDY BASE: Flat glass top makes cleaning easy and prevents dust from gathering around light source. Slender design stands 5'9" tall and positions easily by a desk or crafts table; the cord extends just over 7 1/2 feet. Sturdy, felt-covered base bottom won't scuff floors; stable 13-pound weight averts tipping over.
All Brightech LED DESK LAMP,LED TABLE LAMP,LED READING LAMP,LED FLOOR LAMPS have3 years warranty.
The Features of USB Rechargeable Touch Sensor Cordless LED Light Desk Table Reading Lamp:
1.With 24 long life,high brightness and energy saving led bulbs
2.Brilliant design with combination of simplicity and beauty
3.Adjustable(body directions,tube angles and light directions)
4.Stable and Toughened glass base.
5.Space-saving,suitable for home,office,etc.
6.Simple,Bright,Minimalistic,Elegant,Fashionable.
7.Natural light,evenly distributed,eye friendly
8.3-level dimmable lights clip-on degree rotation bed silde light.learn and read desk lamps small table lamp with clip,bedroom wiring USD plug lamp/
9.Anti-glare LED Reading light,No flickering,no flashing LED Light source.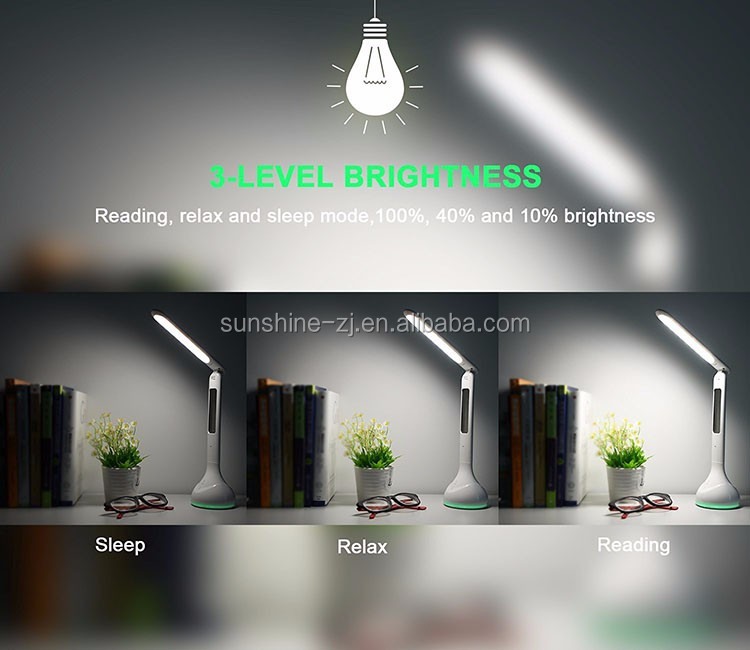 Multiple Power Sources, powered by USB power cord or 3AA Batteries, very convenient.
Fully adjustable, and lightweight, Powerful LED Lights.
Durable LEDs last 100,000 hours - no replacement necessary.
Durable construction, Infrared sensors switch controls three brightness settings
Large Area of Lighting: With a large area of illumination, spreads light evenly on the your music sheets.
Great Malleability
Fully adjustable arm can be bent randomly, free to choose the area to be illuminated.
Energy and cost efficient
Low power consumption, low heat generation, durable LEDs last 100,000 hours - no replacement necessary.USB Rechargeable Touch Sensor Cordless LED Light Desk Table Reading Lamp
The function of USB Rechargeable Touch Sensor Cordless LED Light Desk Table Reading Lamp:
1.Touch-operated Switches
Independent switches for desk lamp and night light
2. Colorful Life
3 brightness levels desk lamp, 7 colors night light
3. Digital Screen - Small Gadgets
Digital screen displays time, calendar and temperature
4. Rechargeable
Built-in 1200mAh lithium polymer battery, with charging indicator
5. Foldable
Foldable lamp body, 180 degree rotation
6. Eye-Protective
Utilizes 18pcs energy-efficient LEDs, no radiation and flicker
7. Illuminance (30cm): max 400-800LUX , min 80-150LUX
With its elegant and unique design, this lamp is ideal for both home and office use.
Features:
Special touch switch, 3-Level touch dimming.
Protect eyes, natural and non-flickering light.
The emitted light won't strain your eyes, which is essential for those who used to spending hours reading novels, comic books and magazines or watching photo albums.
Press switch for a while, the red indicator light on and the lamp will be off after 10 seconds.
Ultra thin lamp and high-quality aluminum metal rod, visually elegant.
Lightweight, space-saving and environment-friendly, easy to handle.
Wide application, served as desktop lamp, reading lamp, laptop lamp, etc.
An ideal companion for students, office workers, etc.

Folding Dimmable Touch Control LED Desk Lamp for the Modern Folding Rechargeable Touch Sensor LED Desk Table Lamp Reading Light:
l LED side light source: soft, energy saving & environmentally friendly;
l Touch control and dimmable: a main key for switch-on/off and 7 keys for slide dimmer adjusting to the brightness you need;
l Features 8W side-emitting light guide plate that is perfect for reading at home, office and bedroom;
l Folding: adjustable to the angle you need and easy to carry.
Silently protection, always under illumination:
Flicker-free pleasant lighting
Patented optical design, let the natural light cover your desk
4 lighting modes for your choice
Focus mode, read mode, PC mode and kid mode fulfill every need of yours
Not too dark, not too bright, just as you like
Brightness and color temperature stepless adjustment (an accuracy of 1K or 1pct)
App remote control
Download Mi Smart Home App and connect your device, then start your Mi smart life
Minimalist design with long-term durability
Clean and sleek appearance, precise spindle, efficient heat dissipation, never stop discovery
Focus mode
In focus mode, users can set up a "focus time" and "rest period", each completed a "focus time" lamp, the lamp will remind the users to take a rest via "breathing light", which helps users improve work efficiency, reduce eye fatigue
Read mode
Mi smart LED lamp provides users with a more neutral color temperature (4000K) and 100pct brightness, which improves readers' attention as well as prolong reading time without tiring
PC mode
Blue light from computers can be damaging to your eyes. 2700K color temperature pleasant light is designed to reduce the proportion of blue light when using computers, protecting users eyes
Kid mode
Since the eyes of children haven't developed completely and can be easily hurt, Mi Smart LED lamp, designed for children, has passed the Biosafety certified to meet the latest safety standards, silently protect the children from damaging eyesight USB Rechargeable Touch Sensor Cordless LED Light Desk Table Reading Lamp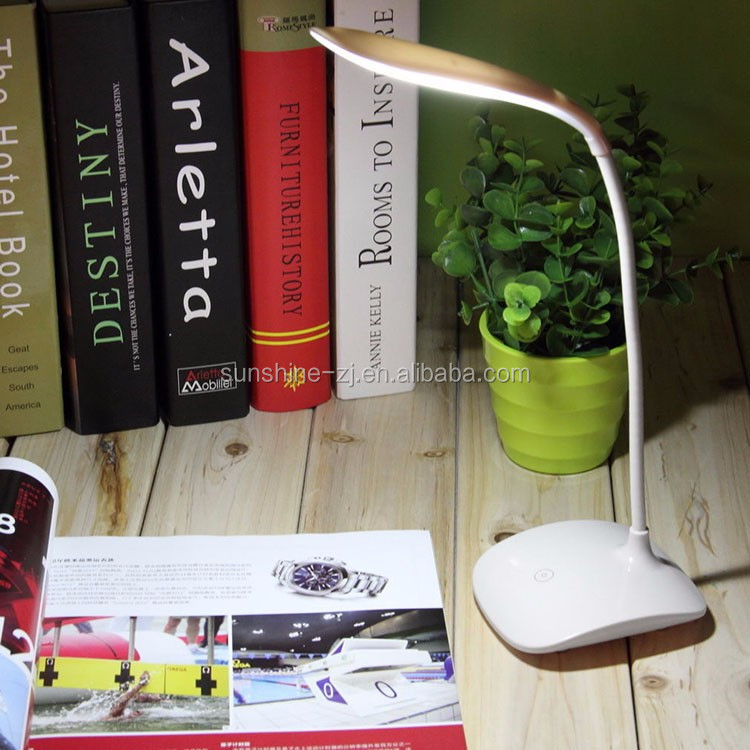 Package List for the Modern Folding Rechargeable Touch Sensor LED Desk Table Lamp Reading Light:
1 X Pc
Dimmable USB Rechargeable Touch Sensor LED Clip-On Desk Table Light Reading Lamp
Description:
100% brand new and high quality
Color:White
Short Description:
Touch sensor switch is applied to this lamp, and it has 3-levels different brightness. Adjustable brightness can meet various demands of different environments. Full range light angle, free twisted tube, 360 degree rotating design. A perfect lamp.
Item Description:
Feature:
- High shinning finishing surface, smooth finishing light cover
- Optional color temperature, makes comforatble lighting environment
- Saving power, eco-friendly, free mercury & lead, green lighting Radiationless, dizzy-proof light filter, eye-protection LED desk lamp
- Full range light angle, free twisted tube, 360 degree rotating design
- With touch sensor switch, 3 levels of different brightness
Power Source: 14 LED
Brightness: 600LX
Input: 5V 0.5A
Life: After fully charged, the lamp will last 12 hours consecutively in the dimmest light; 10 hours in medium light and 8 hours in brightest.
Material: ABS + LAS
Note:
- The battery is discharged when lamp is dimming. Please stop using the lamp and recharge it in time, lest it damage the performance of the battery and reduce its lifetime.
Note:Due to the difference between different monitors, the picture may not reflect the actual color of the item. Thank you!
Professional Lighting Canton Fair Show:
Maintenance:
Please charge this lamp over 8 hours before initial use.
It takes 12 hours to reach a full charge.
If this lamp is not used for a long time,please charger it at least once in two months
(over 8 hours)to protect the battery from aging.
More picture from Sunshine LED Table Lamp, Eye-protection, LED Desk Lamp,LED Reading Lights for your choose.