2017 Hot sale low price uv coating flexible magnetic roll / sheet
Specifications
Strong magnet roll Flexible Magnet Roll. All of our produce has obtained ISO9001:2000 quality system approval, EN-71, ASTM, EPA
Strong magnet roll Flexible Magnet Roll
Products:
(1) Isotropic and anisotropic flexible magnet sheets and rolls with their width from 10mm to 1000mm and thickness from 0.3mm to 10mm.
(2) Magnetic strips widely used in different areas such as refrigerator, bath room, and exhibition etc.
(3) Iron-powder rubber sheets/rolls with their width from 10mm to 800mm and thickness from 0.3mm to 1.2mm.
Features:
(1) Products above mentioned can be pasted with printed paper, PVC, double-side adhesive and sheet metal.
(2) They can be customized to meet clients requirements.
(3) They are environment and recycle friendly.
Details :
1.Material:

Soft PVC + soft magnet

2.Color:

Any color on Pantone card is available

3.Size:

Customized size or suggested size by our engineer

4.Design:

Each fridge magnet has its unique design,

we will fulfill your idea into the exact physical fridge magnet

5.Printing:

printing are available on both sizes

6.Multifunctional:

Multifunctional fridge magnet is available

7.ECO:

All material are Eco friendly and safe for children

8.Sample

Sample making time: 3 days

Sample making charge: no more than usd 50.00

Sample making charge will be refundable,when the order qty reach 10000pcs

9.Production and shipment

Hand making

Strict quality controlling process

5-7 days for 1000pcs

10.Packing:

Our standard packing or at your request

Enviroment friendly packing material and Economic packing way will save freight for you

High quality carton packing Suitable for long-distance transport
2.size
American Popular Size
Flexible Magnet

Rubber Magnet

Magnet Thickness

Width

Length

Roll

0.5mm (0.02")

619mm (24.375")

15M (50')

Roll

0.76mm (0.03")

619mm (24.375")

15M (50')

Roll

0.5mm (0.02")

1016mm (40")

15M (50')

Roll

0.76mm (0.03")

1016mm (40")

15M (50')

Cut sheet

0.76mm (0.03")

305mm (12")

457mm (18")

Cut sheet

0.76mm (0.03")

305mm (12")

610mm (24")

Cut sheet

0.76mm (0.03")

610mm (24")

457mm (18")
Other Size Available
Magnet Thickness: 0.3mm~ 10mm, Width: ~1020mm
3.process flow of rubber magnets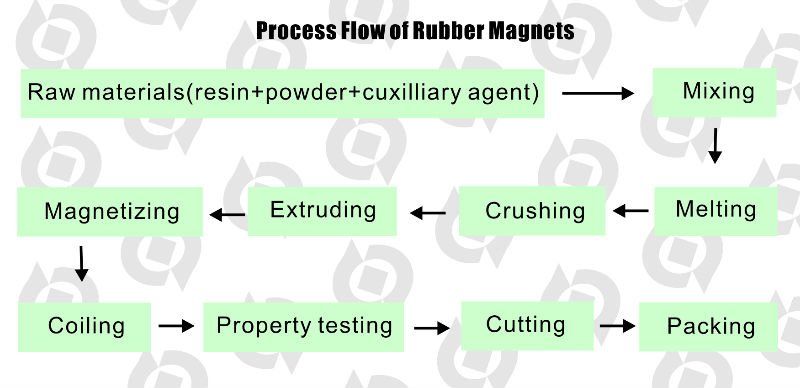 4.packing
5.our factory

With the above information, you are highly welcomed to contact us directly or send us email. We will reply your special request immediately or within 8 hours if we are at night.
we will surely offer our most competitive price with super quality.
Delivery: Since it is heavy goods, we suggest shipping by sea.For small quantities, it can be shipped by courier express or airfreight as it is morefavorable, fast and convenient.We got very favorable price from express companies likeDHL and UPS as well as good rate for air.It can be quoted for your reference and comparison.
Sample leadtime: 4days;
Production leadtime: 7~15days based on specific quantity.
After-sales service:We always offer fast and high quality after-sales service. Pls feel free to contact us if you have any question on the soft PVC fridge magnet
Important Notes: Each product has its unique price. So, pls kindly send us your detailed request (such as size, colors , design).