waste engine oil distillation machine distillation motor oil refineries in China
Application:
1. Widely usage: for all kinds of waste lubricating oils (including gasoline, diesel engine lubricating oil, and ect., almost all waste oil. Black engine oil, motor oil, pyrolysis oil, fuel oil, lubricant oil, heavy oil, bunker oil and so on) into clean diesel.
2. No secondary pollution: No waste gas produced,the oil residue can be used as fuel.
Model No.

Parameter

DDR-1

DDR-2

DDR-3

DDR-4

DDR-5

DDR-6

DDR-7

Working Capacity

2000liters/day

4000liters/day

6000liters/day

8000liters/day

10,000liters/day

16,000liters/day

20,000liters/day

Total Power

55KW

92

127

157

197

274

342

Heating Method

Electricity heating/rotating furnace heating)

Oil Heating Temp.

180℃-430℃

Voltage

380V/50HZ (3PHASE)(customer customized)

Noise

≤60dB

Dimension(L*W*H)

7000*3000*7500

8000*3200*8000

8000*3500*8000

8000*3700*8500

8500*4000*8500

8500*5000*8500

8500*6000*8500

Weight

6000Kg

7500Kg

10000Kg

13000Kg

15000Kg

21000Kg

24000Kg

The weight and the dimension just for your reference. The machine needs to design according to your factory.
Flow chat(electric heating and burner heating system):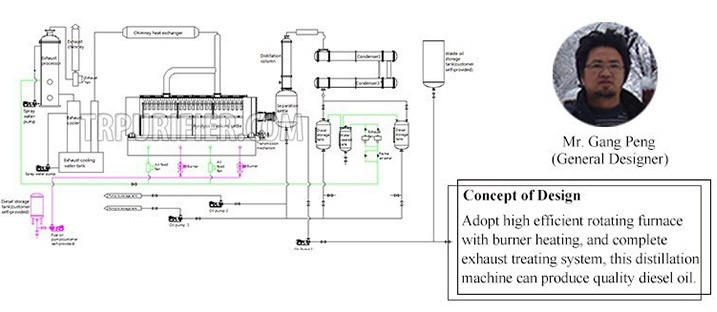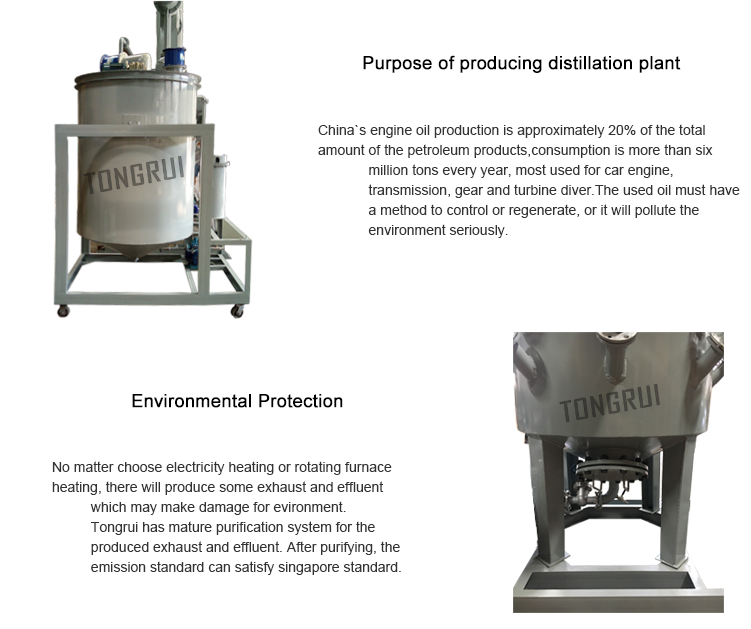 1 withoutsmoke and bad smell in the whole process,protect the enviroment
2) safty,the high temperature is more than 400 degree, but the temperature will be decreased quaickly due to the 3 stages water circulate condenser,be sure all machine is safe
3) good recycled oil quality which can be reused directly
4) recovery rate is more than 90%
5) burner heating method will guarantee safe, keep cooking and enhance heat efficiency
6) particular heating system, it will produce gas when oil is heated to 150 degree, and those gas will be can be sucked to the furnace for burning.this heating system will protect the machine and extend the life-span
7)Dust chamber system in chimney,there are double water spray nozzels to clean the dust,be sure the drain out dust up to international standard.
Particular for waste engine oil distillation machine distillation motor oil refineries in China:
1.why are most of our products with higher price than our competitors?
mature technologies and skillful workmanship (we control every single manufacturing process and make sure it will be done perfectly in our factory with the lowest cost with the best quality assurance) products quality guarantee and about 30 days free train(competitors cant spend much time in you factory,stay long you will find many problems about their machine)
2.what is the byproduct out of waste oil distillation equipments,how do i dispose it?
the byproduct are usually composed by gas , water,oil sludge/residue.the gas is purified for emission or recycled as heating fuel; the water will be purified as cooling water ; and oil sludge can be used for burning or as material for making asphalt
3.what are the consumables of this system?
the only consumable is catalyst which dosage as 1-1.5%. there is 1.5KGS of catalyst needed for processing 1 MT of waste oil
4.why dont we use continue system?
we test many times between continue and batch system,proved that batch system is best way,it is very dangerous to control under high temperature,almost we know distillation kettle temperature will arrive 400 degree,the no one can operate 24hours for you when they demo for you,once discharge with leakage,will fire or explode.
Here are our main categories below:
ZJB Single stage vacuum transformer oil purifier
ZJA Double stage vacuum transformer/insulating oil purifier
ZJA-M Mobile Trailer type transformer oil purifier
IIJ-II Insulating/transformer oil dielectric strength tester
ZJD Lubricant/hydraulic/turbine oil purifier
ZJF Cooking oil purifier
NRY Waste engine oil regeneration system
ZJD Coalescence and separating oil purifier
ZJR Phosphate ester fire-resistant oil purifier
ZJD-K Plate pressure oil purifier, Portable oil purifier
AD Air dryer for drying electric equipments
ZJD-S Oil water separator
DIR Waste engine oil distillation plant
DDR Diesel oil distillation plant
NKEE-36 Oil moisture sensor
BDV Oil tester
Contact Anna Wu for more details. whatsapp/wechat/mobile:008615215080377
We provide many free services:
If you'd like we can provide overseas service Maintenance and replacement service, when it is necessary tracking service for products for 12 months, lifetime service lifetime technical assistant service. old customer has more discount, or the customer introduce others to us, which has more discount.
Contact: