Green power wood pellet electric generator 500kva 400kw meeting the requirements of environmental protection and new mareket environment. The fuel can be natural gas, biogas or LPG. They are widely used in areas of oil fields and regions abundant in natural gas or biogas. The genset is quick to start and easy to operate with complete protection system. Most of its economic parameters are capable of leading this industry. The gensets can be used as power stations for oil fileds and local enterprises.
Technical Advantages:
1. Adopting advanced Hall ignition sensor and Highly capable ignition system, the engine ignition will be more reliable, and easier to start.
2. Main control parts are imported from USA and Italy, to make more stable and reliable running.
3. Several gensets can be parallel connection , which can increase the total power range. In addition,the gensets can take maintenance in different times,which will make little influence to the normal performance of gensets.
4. Low gas pressure is acceptable, no need to set up specified gas storage tank , which will save the investment and enhance the efficient output power .
5. Self-contained parts of gensets needs few accessories
6. Economical and low-cost running.
7.The fuel of gas reduces the accumulated carbon, which lessen the damage to between cylinder and valve, therefore, it will largely prolong lifetime.
8. The installation of high-quality control cabinet set enable multiple protection, which enhance the safety for the running of gensets.
Gas Generator Set working condition:
Normal working conditions:
Atmospheric Pressure: 100kPa, Ambient Temp: 25°C, Relative Humidity: 30%, Altitude: ≤1000m
Gas requirement:
Applied gas type :
Nature Gas, Biogas, LPG, CNG, LNG, oil field gas, Syngas, Coal bed methane, straw gas,wood gas etc.
Gas inlet pressure: 0.8-2.0kPa, higher water pressure must use additional decompression machine.
Gas heat value≥5500kcal/Nm3 (23MJ/Nm3 ).
Genset output power will increase as the gas heat value increase, if use low heat value gas for fuel (Heat value<5500kcal/Nm3, it will lower the power efficiency.)
The gas must be to desulfurize and dehydrate and dust removal.
H2S ≤ 200mg/Nm3
NH3 content≤20mg/Nm3
Impurity granularity ≤ 5 μm
Impurity content ≤ 30 mg/Nm3
No liquid ingredients (not including free water, light hydrocarbon)
CH4 content ≥ 55%
Technical datas for gas generator

Gas generator

Model

WP400GFQ

Prime power(KW/KVA)

400/500

Type

open type, silent type, trailer type

Current(A)

720

Voltage(V)

110/220, 230/400

Frequency(HZ)

50/60

Technical datas for gas engine

Gas Engine

Engine Brand

Jichai

model

12V190

Rated Power(KW)

450

Cylinders

12

Bore

190mm

Stroke

210mm

Rated Speed

1500rpm

Start Method

24V DC starter

Speed Governing

Electrical governor

Cooling Method

closed water cooling

Gas Consumption(m³/h)

Natural gas: 0.3 Biogas: 0.6

Technical datas for alternator

Alternator

Brand

Stamford, Marathon, Leroysomer

Rated Power(kw/kva)

400/500

Rated Frequency(HZ)

50hz

Rated Voltage(V)

230/400V

Power Factor

0.8 (Lag)

Connection Type

3P4W

Excitation Method

Brushless

Voltage regulation

AVR

Protection

IP23

Class

H
Optional automatic control digital system
1) Brand: Deepsea, Harsen, Smartgen, etc.
2) Adopt Genset controller with LCD display, taking microprocessor as the core.
3) The monitor and display on the voltage, current, frequency, active power, apparent power, power factor of the generated electricity /grid electricity.
4) The monitor and display on the genset's water temperature, oil pressure, rotational speed, battery voltage, running hours, accumulative total power and number of starts.
5) Protection alarm and fault automatic storage on high water temperature, low oil pressure, double speeding, over current, over voltage, over frequency and phase failure etc.
Open type gas generator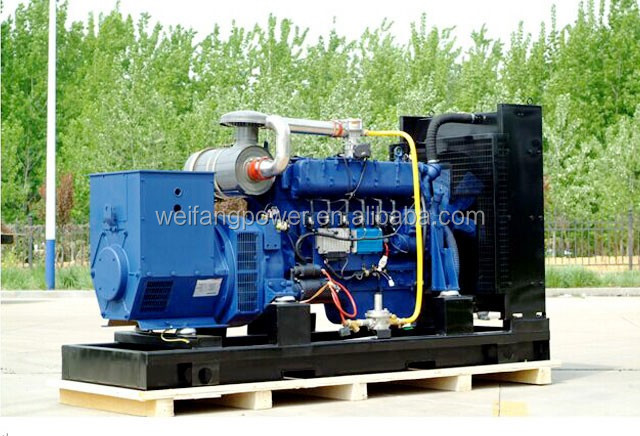 Silent type gas generator with CHP