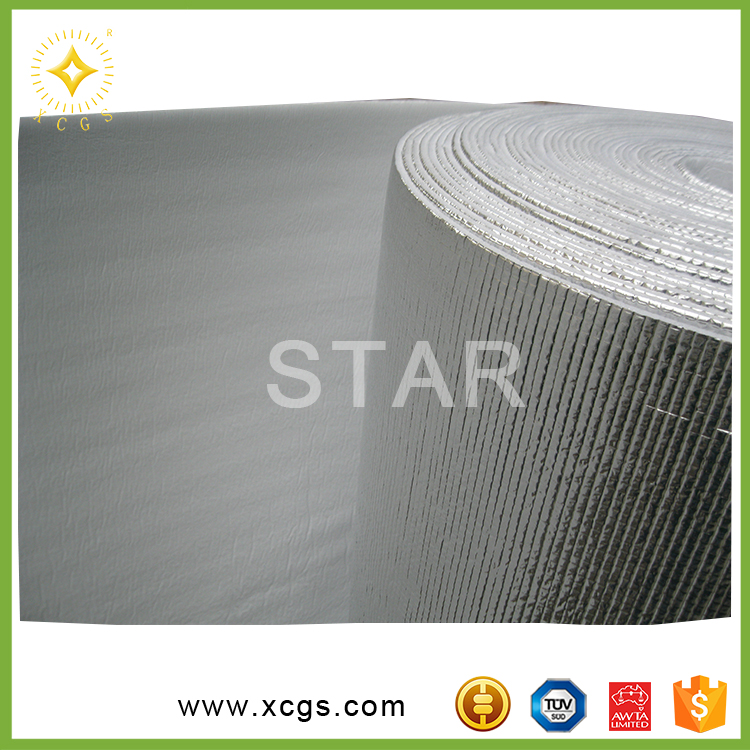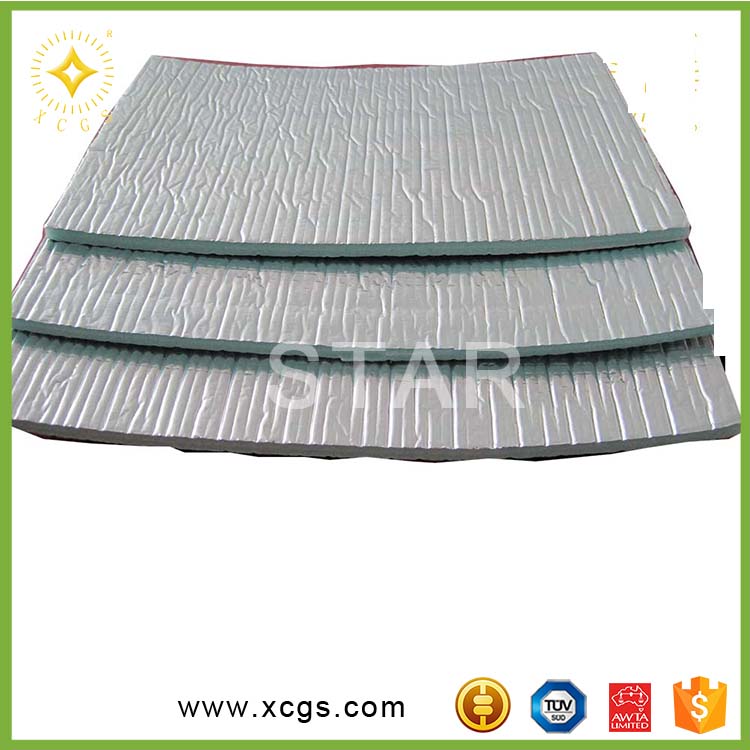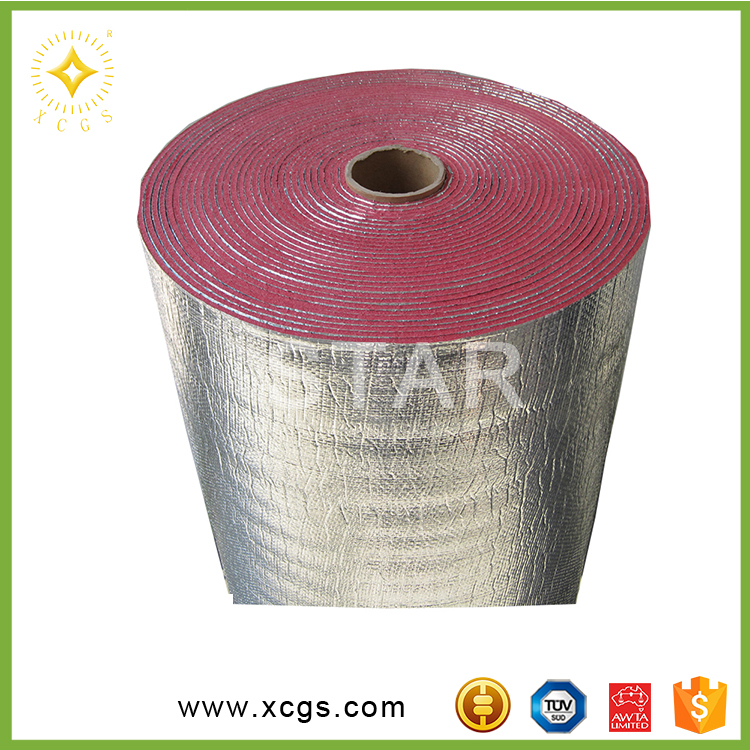 Foil Faced EPE Foam Insulation Material
Our Foil Faced EPE Foam Insulation Material for construction is a brand new heat insulation product manufactured of polyethylene EPE Foam faced with aluminum foil on two sides.It reflects 90 percent of the radiant heat and reduces energy costs used in winter heating and summer cooling.Reflective Foil thermal insulation is 7 micron thick, its two sides of aluminum foil reflects more than 90 percent of the thermal energy that reaches it. In summer, almost all the sunlight and heat is bounced back into the air, keeping the heat out of the air conditioned building.
In winter, almost all the heat generated inside the building is retained. Also, the bubble between the aluminum foil offers thousands of empty air cells, which makes the heat more difficult to pass through.
Regular Specification:
Foil/EPE Foam / Foil
Foil: 2 layers / 3 layers Aluminum Foil or Metallized Foil
EPE Foam:26-28KGS/M3
Color: white, green, orange, blue etc.
Thickness: 3mm-25mm
Size: 1.2(W)*40(L)M size can be customized
Functions:
It can be installed on roof, wall or floor etc. It can resist over 90% heat outside the building and protect
the building from shock and sudden change of the temperature.
We can add woven scrim to make it stronger&more durable according to clients' requirement. It has good function on sound absorption.
Characteristics:
No odor and toxicity, environmentally-friendly

Light, soft, dust free, fire retardant and easy to install

Heat reflection, heat insulation, sound insulation, counter radiation, counter vibration and shielding

During Summer: moisture barrier, sun protection, waterproof, energy saving consumed by cool air conditioning

During Winter: heat protection, remarkable energy saving consumed by warm air conditioning
Usage:
Roof, wall, floor

Shells of air conditioning and water heater

Protective coatings of water pipe and ventilating pipe

each Pads, Moisture-proof Pads, Tents Pads, Car Pad etc.
Product name

Aluminum Foil Foam Insulation,Foam Thermal Insulation, Foam Heat Insulation,Reflective Foil Foam Insulation

Main Material

Aluminum Foil, Meatllic foil, EPE FOAM, Woven cloth

Material Structure

MPET+EPE
MPET+EPE+MPET
Aluminum Foil+EPE
Aluminum Foil+EPE+Aluminum Foil
Colorful Coating+Aluminum Foil+EPE+Aluminum Foil
Colorful Coating+Aluminum Foil+EPE+woven cloth+AL
AL+Woven cloth+EPE+ Woven cloth+AL

EPE

commonly known as Zhen Zhumian to high-density polyethylene (LDPE) as the main raw material, through physical foam generation high-pressure polyethylene foam products

Normal Foam Thickness

4mm,5mm,6mm,6.5mm,8mm,10mm, also can be customized

Foam Color

Blue,Green,Red,Orange,white, black and also can be can be customized

Product thickness

3-20mm

HS Code

76072000

Reflectivity

97%

Normal Roll Size

1.2m*30m/roll,1.2*40m/roll,1.35*22.25m/roll,also can be customized

Packing

1roll/pe bag, pe bag can be printed customized

Original Certificate

such as Form A, Form E ,etc that is available
temperature range

-50 degrees C to 80 degrees C

Security

Non-toxicity,non-corrosiveness

Operation

It is easy to operate and can raise working

efficiency.

Pliability

No cracking.

Durability

It will not degrade over time.

Mold and mildew

No growth

Linear shrinkage

None