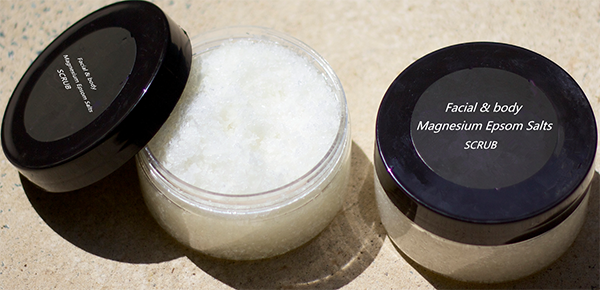 About the product
Description:
Facial & body Magnesium Epsom Salts SCRUB.
Developed to support muscle recovery, target cellulite, reduce stretch marks and calm eczema.
Revive and invigorate fatigued muscles with scientifically proven ingredients such as magnesium epsom salts, coconut oil and other dynamic elements that cleanse, clarify and soothe your tired Bod.
Facial & body Magnesium Epsom Salts SCRUB into tired muscles in the shower.
SOAK in a warm bath of Fit Bod Scrub to relax and soothe your aches and pains.
What makes Facial & body Magnesium Epsom Salts SCRUB so effective?
A unique blend of organic, natural elements all scientifically proven to provide you with amazing benefits and leave you feeling refreshed, cleansed and rejuvenated.
Ingredient:
Magnesium Epsom Salts:
A natural mineral compound, long known for its healing powers. Epsom salt soothes mind, body and soul. Reducing inflammation, relaxing the nervous system, boosting serotonin,improving the absorption of nutrients while flushing toxins and easing migraines are just a few of the effects you can expect. By drawing out the toxins from the body, it relieves congestion, heals cuts, soothes aching limbs and eases muscle strain ensuring you are left feeling renewed and ready to get back to how you choose to move.
Coconut Oil:
Coconut oil hydrates skin ensuring a healthy and rejuvenated glow.
Proven to reduce wrinkles and target stretch marks and cellulite, this is your liquid gold.
Proven to clear up eczema, acne and psoriasis, it is the king of healing skin conditions.
Coconut Flakes:
This rough, natural exfoliant buffer will invigorate tired, dry skin cells revealing soft, supple, glowing skin.
Lemon Myrtle:
While it is known for its fatigue fighting properties, lemon myrtle assists in more ways than just one.
In fact, it has numerous benefits:
Just a few drops can boost serotonin levels supporting those with depression.
The amazing antibacterial properties, support cellulite reduction and strengthen the immune system.
Feature:
.1 Exfoliator
.2 remove dead skin
.3 remove stretch marks
.4 Treatment eczema, acne , psoriasis
.5 pull out the toxins from the body
.6 it relieves congestion, heals cuts, soothes aching limbs and eases muscle stra