Best Quality CTO Active Carbon Filter Block Cartridge Making Machine Production Line
Company Introduction
Wuxi ANGE Environmental Technology Company Limited is found in Year 2000 with 1,000,000 RMB registered capital. We are an ISO and CE cerfiticated manufacturer specializing in PP Spun Filter Cartridge Making Machine for Water Treatment, PP string wound filter making machine, Automatic high quality CTO active Carbon Block Filter Cartridge Making Machine, and PP melt blown nonwoven fabric making machine with 20 years' experience in machine design and filter making. Our clients are full of the world: USA, Japan, Korea, Singapore, Thailand, Russia, Malaysia, Iran, Egypt, Taiwan, Ukraine, Turkey, Brazil, Argentina, and Indonesia...
Welcome to visit our factory and check the excellent machines by yourself. Let's together contribute to build a brilliant environment protection industry!
Machine Introduction
CTO active carbon block water filter cartridge is made by high-quality fruit shell carbon and coal activated carbon as raw material, as well as food grade adhesive, with high technology and special technique. It combines the adsorption, filtration, interception and catalysis functions together. It can effectively remove the organic matter, residual chlorine and other radioactive substances in the water, and it also can decolor and remove the peculiar smell. It is an ideal new generation products in the air purification industry.

2016 Automatic high quality CTO active Carbon Block Filter Cartridge Making Machine includes the folllowing parts:
Parameter
CTO active carbon filter cartridge block making machine/ production line could work 24 hours without stop

Installed power

17kw

Running power

7~8kw

Raw material

80%-90% Active carbon (granule)

10%-20% PE (powder)

(The mesh number of activated carbon determines the proportion of PE powder.)

Inner diameter

10mm-80mm(customized)

Outside diameter

29mm-120mm(customized)

Length

5", 10", 20", 30", any length according to customer's request

Production capacity

250mm-350mm/min

Voltage

three-phase 380V/50HZ

one-phase 220V/50HZ

Note:

One extruder can only make one inner diameter and one outer diameter.

If you want to produce filters with different diameters, you can change some parts of extruder.

Features:

1. ANGE machine can produce high quality very fine carbon. (Mesh number from 30-800)

2. ANGE machine uses high quality brand like Omron and Schnelder.

3. ANGE machine is very power saving due to advanced technology

4. ANGE engineers can speak well English. If you have any technical problems, you can always call them at any time.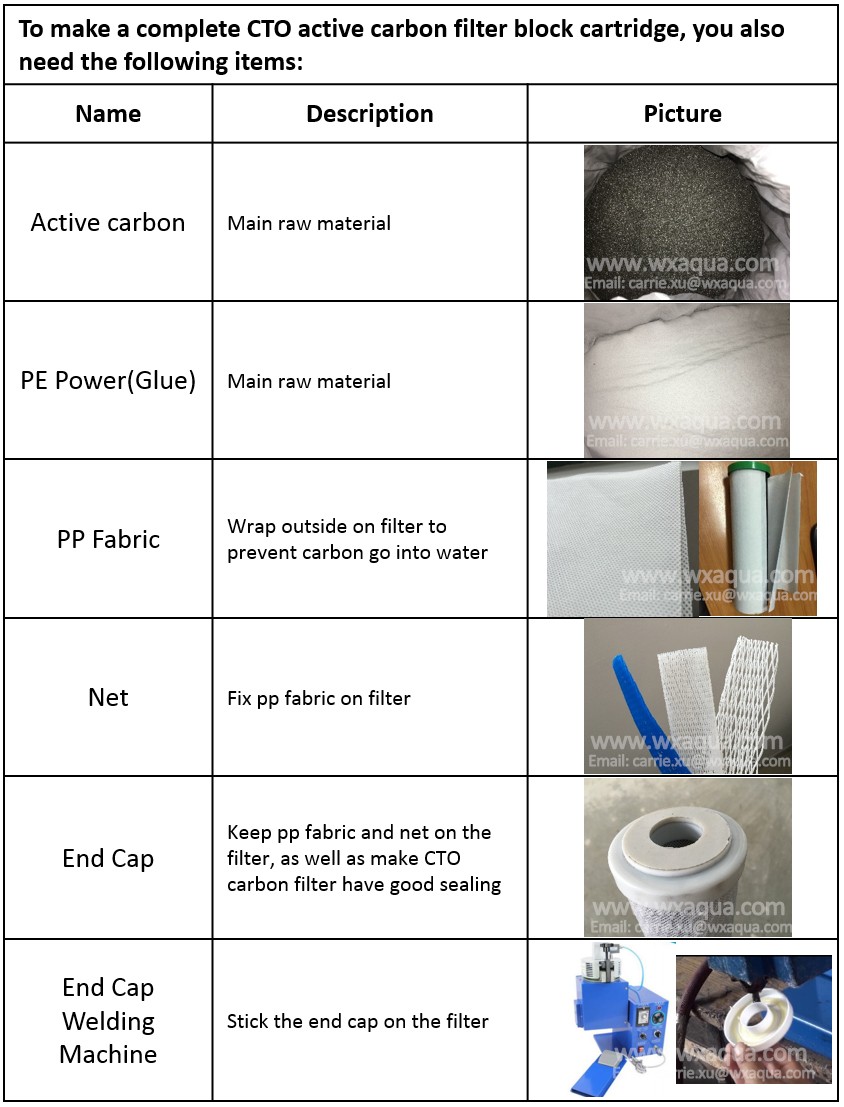 Dust-free auto cutter
If you want to know more information about the raw material you need for CTO Active Carbon Filter Cartridge Block Making Machine/ Production Line, please feel free to let us know.

Application Areas
CTO active carbon filter cartridge is suitable for the purification of water and liquid used in semiconductor, electronics components, printed circuit boards, electroplating industry, food and beverage industry.
Apply to the following industries:
1. Electronics, electric power industry: pure water, gas, electroplating liquid, print line edition and so on.
2. Chemical industry, petrochemical industry: solvents, coating, magnetic pulp, detergent, liquid wax and so on.
3. Pharmaceutical industry: hospital-used water, pharmaceutical injection, traditional Chinese medicine oral liquid and so on.
4. The food industry: food, beverage, drinking water, alcohol and so on.

Certificate
We have passed CE and ISO 9001:2008.


Training: 2 solutions
1. Welcome to stay in our factory for a long-term training 7~14days until you master all the skills.
2. We provide an installing and training service to your factory in 7~14days until you master all the skills and you should take care of the plane ticket, hotel and living cost during this time.

After-sale Services
One-year warranty is ensured. We provide new parts (except easy-wear parts) for free if your machine is broken without human factor.
If you have any questions, our engineers are always available to give a comprehensive answer with their 30-year experience in filter making industry.
Our engineers can speak well English.


Packaging & Shipping
Every part is packed by plastic film, and all are packed in wooden case.
Shanghai Port is our usual choice, but other ports are available due to your requirements.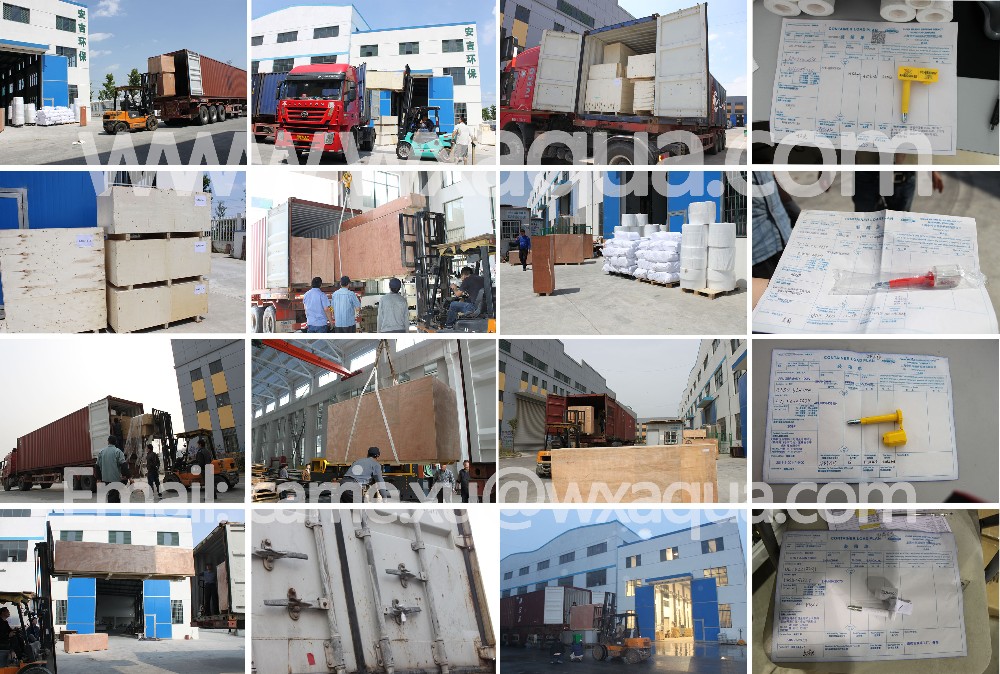 We at AQUATECH CHINA.
We have attended to AQUATECH CHINA for 5 years. You can also visited us at AQUATECH CHINA EXHIBITION.

We also a manufacturer of:
1. PP melt blown/spun filter cartridge making machine/ production line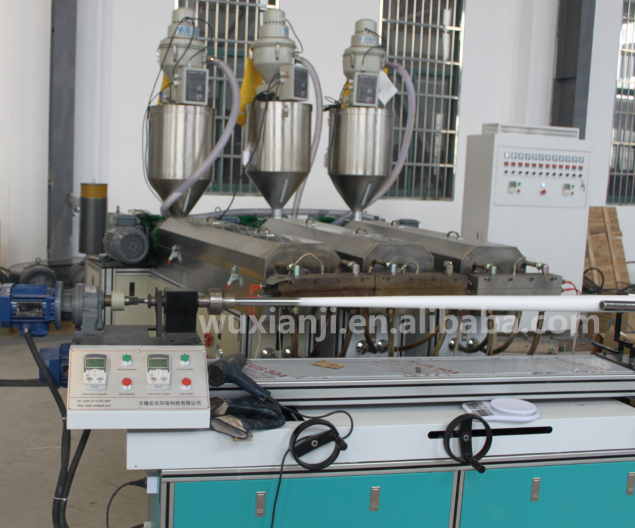 2. PP string wound filter making machine
3. PP non woven fabric making machine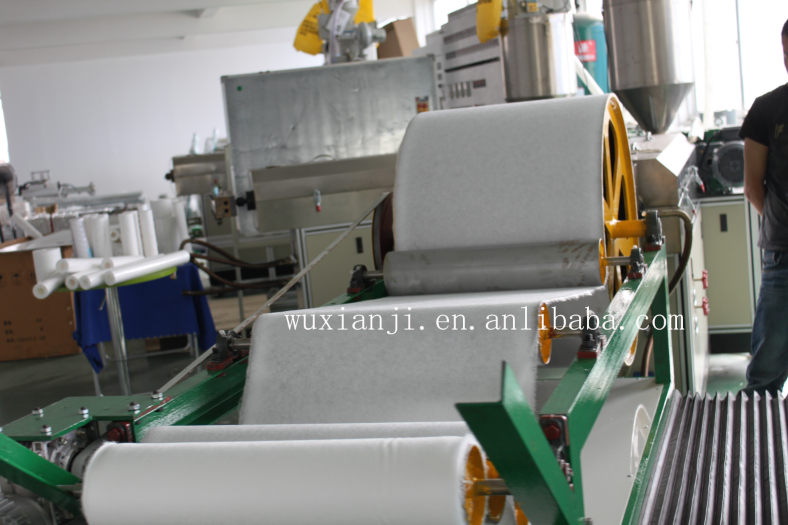 If you are interested in any machine mentioned above, please feel free to let us know.