Hotel electronic door key with master card opening
LCD Screen display lock with room number, battery status, date & time, welcome and self-error detective, very informative, durable and attractive
SUPERIOR BENEFITS
1. Modern Ideal Fashion And Reliable Electronic card hotel door lock, LCD Screen display with room number, battery status, date & time, welcome and self-error detective, very informative, durable and attractive
2. Integrated with wireless iMaid system to realize hotel wireless online status functions & Fidelio/Opera
3. One card system to be integrated with lift reader, parking reader, common door, swimming reader, club reader, restuarant reader, POS..etc
4. CE, FCC, SASO, ISO certified
5. Zinc alloy material
6. RF card lock Temic® technology,100,000 times write life for keycard, contactless reading keycard
7. ANSI mortise
8. Free-rotating while locked
9. Powered by AA battery,easy replacement
10. Openings 20,000 times for one new battery pack
11. RF Temic card required
12. Last 992pcs unlocking records can be stored in the chip of door lock, even for the mechanical key openings
13. Low Battery Voltage warning(beep and red light)
14. Passage mode activate by passage card for meeting case
15. Do not disturb(DND)function for hotels:While thumb turn is on from inside,the lock will refuse the keycard outside by show red light
16. ADEL Panic release function: the deadbolt and latch are automatically retracted by inside handle shaking to easy egress when emergency happens
17. 38mm-55mm thickness door
CARD USEAGE
1. Guest card: Issued from reception to open its own room with expiring date
2. Master card: Hold by management or GM or manager to access all rooms of hotel with deadbolt opening
3. Floor card: Hold by clean staff to enter the rooms in one floor.
4. Building card: Hold by manager to enter the rooms in one building
5. Lost card: Used to suspend the lost guest card
6. Emergency card: Enter the all rooms when emergency
SPECIFICATIONS
1. Model: TK-0815
2. Power: (AA)battery x 4pcs
3. Low power alarm voltage: 4.8V
4. Communication: RF 125KHz Temic(with keycard)
5. Card support: RF Temic ®
6. Inductive Distance: 2-5CM
7. Working Tempreature: -30℃~60℃
8. Working Humidity: 15~85%RH
9. Static current: < 10uA
10 Working current: < 150mA
11. Memory: 992 Transactions include Time/Date/Card ID/Card type/Room ID
12. Gross Weight: 3.8KG
13. Package: 10pcs
14. Packing box: Front/Back panel, PCB, mortise, cylinder, keyx2, battery-pack, manual/Strike, screw bag
Touchkey Complete Hotel Card Lock System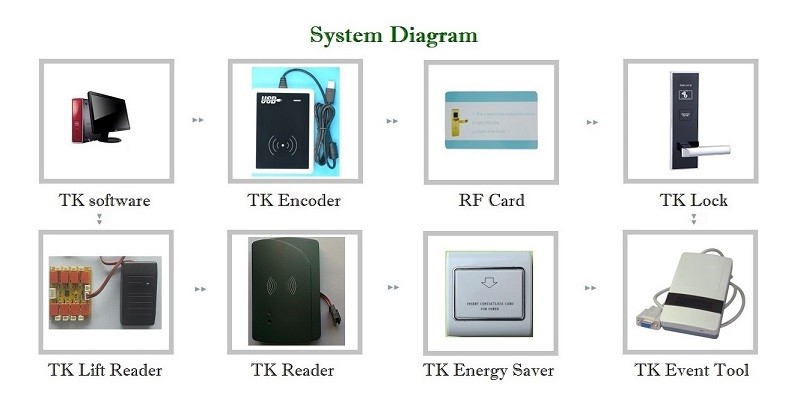 Touchkey One Card System
Touchkey Integrated Wireless Online iMaid System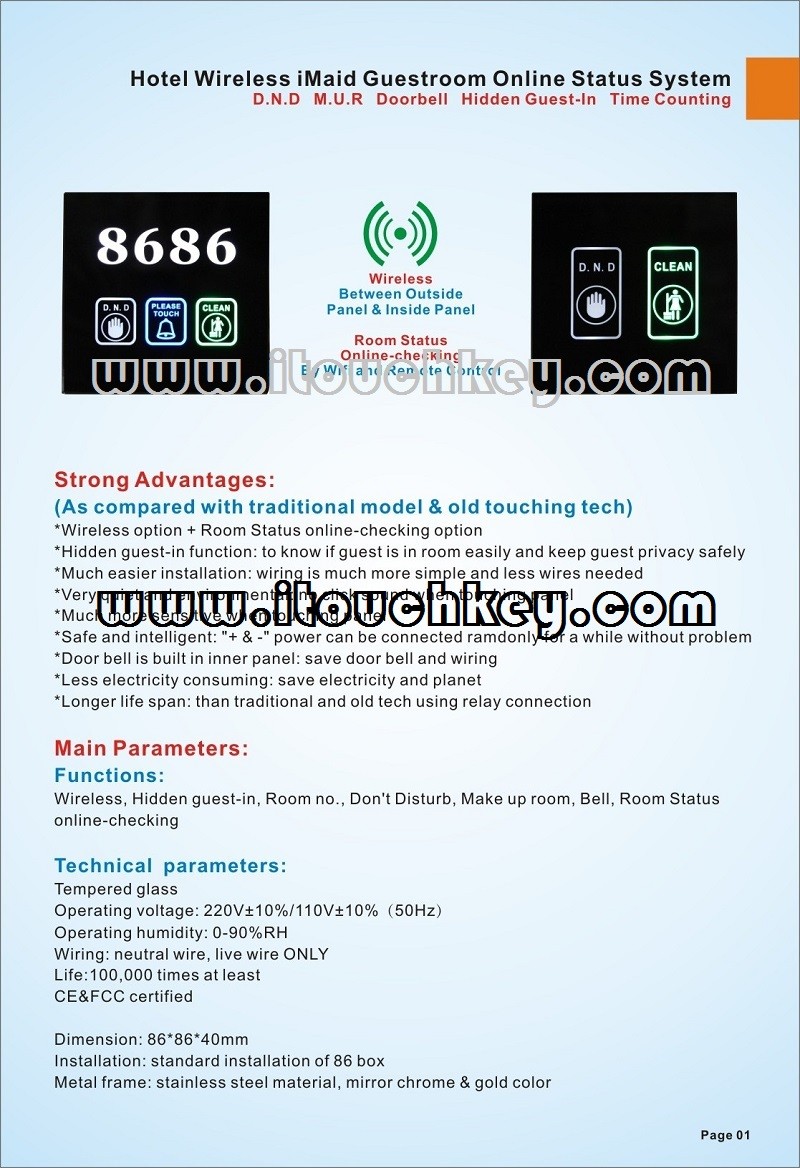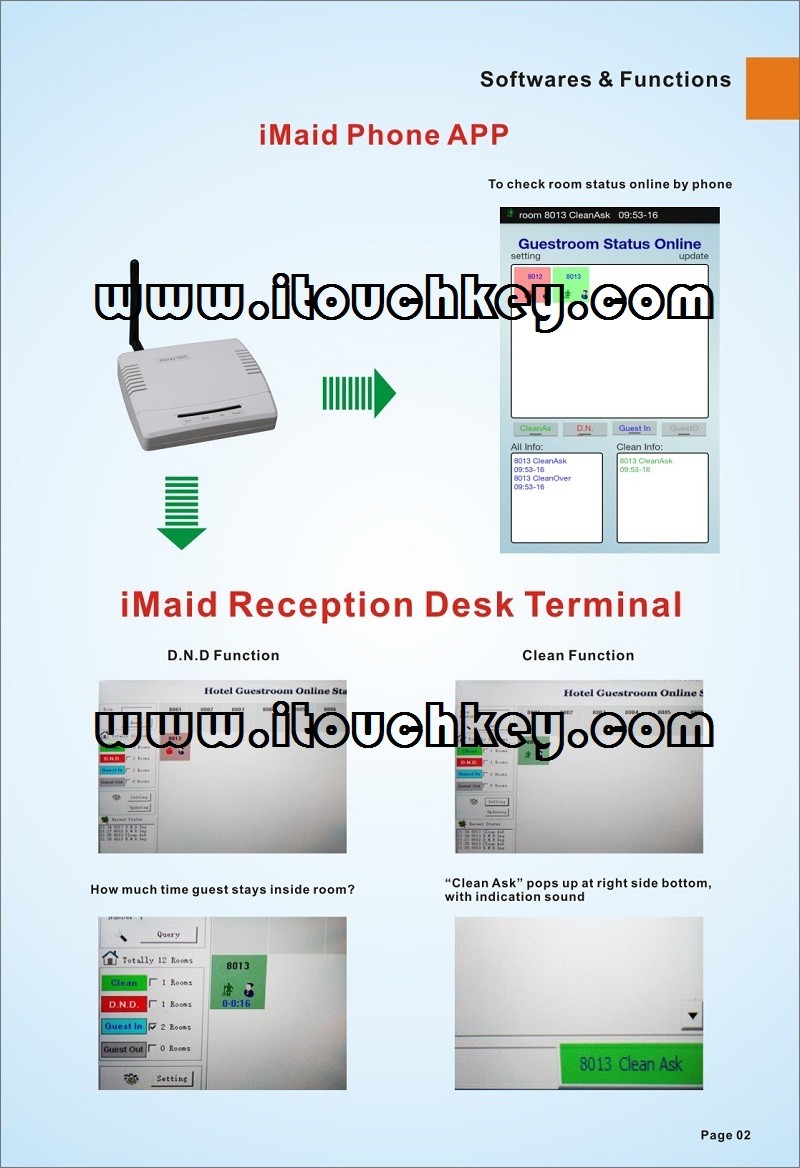 Touchkey Related Models
Touchkey Lock Installation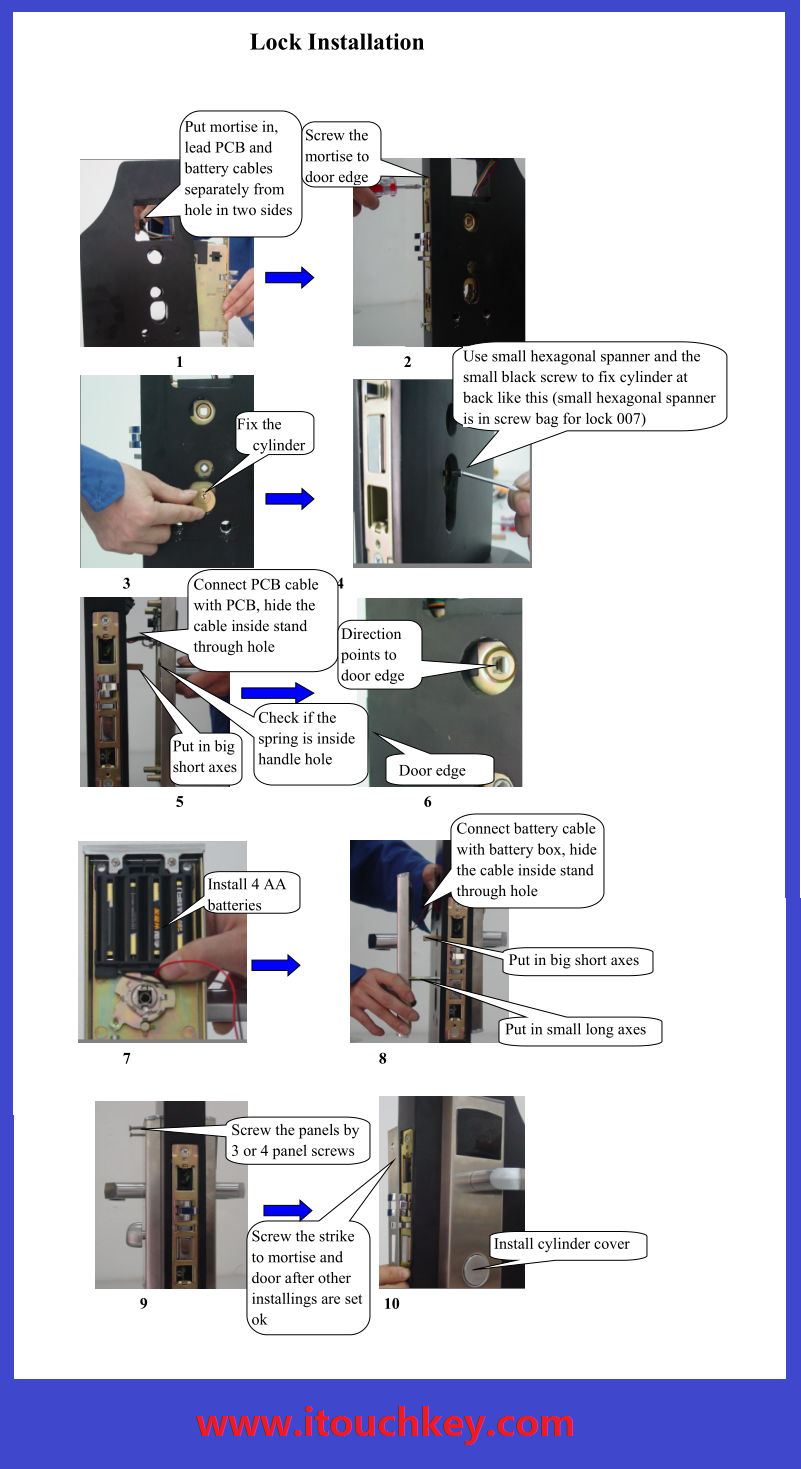 Touchkey Other Products
Touchkey Tech Co., Ltd. is a professional manufacturer, designer, trader for making valuable products for Hotel & Hospitality industry, backup with more than 10 years' experience. We provide our items to Star Hotels, Motels, Apartments, Restaurants & Hospitality/Home hospitality sections, bringing you the quality products with the best after-service and the best prices. Our main products include Hotel RFID(M1 4K S50, Temic) card lock which are integrated with Fidelio/Opera PMS and other PMS systems, Magnetic lock, hotel wireless guestroom iMaid status online system, wireless online/wired DND/MUR/Doorbell touch panel, AC/thermostat touch panel, light touch panel, hotel safe box, hotel minibar, hotel energy saver, hotel bathroom lock, hotel sauna locker.
With stable quality and competitive prices, our products are widely used in more than 50 countries from the Middle East, Europe, North America, Africa, Korea, and Southeast Asian Countries and areas, and get good reputation from oversea customers.
If you find something interesting, please don't hesitate to contact us at any time to initiate a long-term co-operation. We assure you of our quick response, serious treatment, and considerate service. Our superior Customer Service Team standby to provide outstanding service and help you with any of your needs.
Stay with us, we are teamed together to make every customer satisfied with our product and service!
Packaging
Standard Export Quality Inner Box and Carton Packing
Package including: Front/Back panel, PCB, mortise, cylinder, keyx2, battery-pack, manual/Strike, screw bag
Package size: L740*W330*H405mm
Package weight: 3.0-4.2kgs/piece; 30-35/carton
Packging: 1pc/inner box; 10pcs/carton; 0.1cbm/carton
Spare parts coming with your order: 2-3% including lock PCB, lock mortise, lock motor, lock cylinder, screw bag

Shipping
We ship goods by air(including air cargo, DHL, TNT, Fedex, UPS, Aramex...etc) and by sea.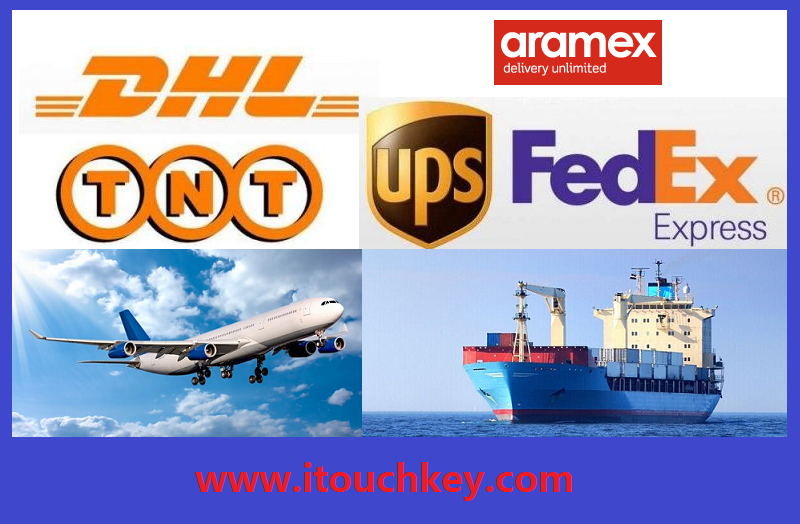 What is the warranty and afterservice terms?


Our warranty for hotel lock is 3~5 years, for hotel safe box is 2 years, for hotel minibar is 2 years, for other products is 1 year.
During the period of warranty, we supply free parts for replacement if the product doesn't work because of quality issue or factory problem.
Spare parts coming with your order for hotel lock: 2-3% including lock PCB, lock mortise, lock motor, lock cylinder, screw bag.
Our service is 7*24 hours standby if you need any online support by Skype or Teamviewer or phone, tell you how to deal with the queries or problems, unless they are solved.
If there are big projects, we can consider coming to your site to give training, guide for installation...etc.
We have been always visiting our overseas agents and clients for hotel show, training, marketing, issues solving...etc and we know what is going on in the real situation.
Our Contact:
Skype: live:sales-touchkey
Whatsapp: +86 17080251391
Mobile: 0086 18938059134