1.2/1.0/0.7L variable-temperature stainless steel tea & coffee kettle

1.Maerial: #304 SS,Thickness:0.8mm
2. Capacity:1.2 L
3.Surface:mirror or matte
4.Electrolyzation inside
ENHANCE THE QUALITY OF YOUR BREW with this brushed stainless steel coffee and tea kettle capable of holding a generous 1200 ml / 40 oz.
Baristas know the design of a goose neck pour-over kettle will PRODUCE A SMOOTH, PRECISE WATER FLOW, drawing the most delicious taste from the brewing source.
Pour over kettle is SUITABLE FOR COMMERCIAL OR RESIDENTIAL USE and will improve your coffee or tea brew.
SAFE FOR USE ON INFRARED HEAT, GAS, OR ELECTRIC RANGES, this attractive bee hive stainless steel pour over kettle will also add a spark of design to your countertop.
PERFECT TEMPERATURE EVERY TIME - The built-in thermometer eliminates guesswork. Never burn your coffee again.
NORMAL KETTLES RUIN POUR OVER COFFEE - The Coffee Drip Coffee Kettle features a gooseneck design which means water flow is PRECISE and SMOOTH. Treat yourself to the best brew possible.
China wholesale barista chemex aeropress coffee maker with thermometer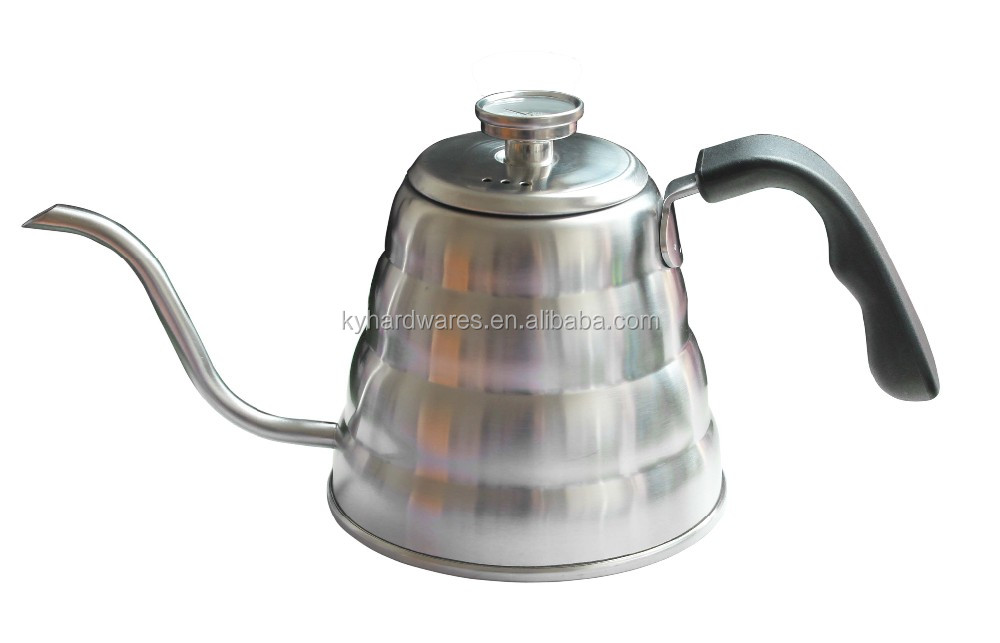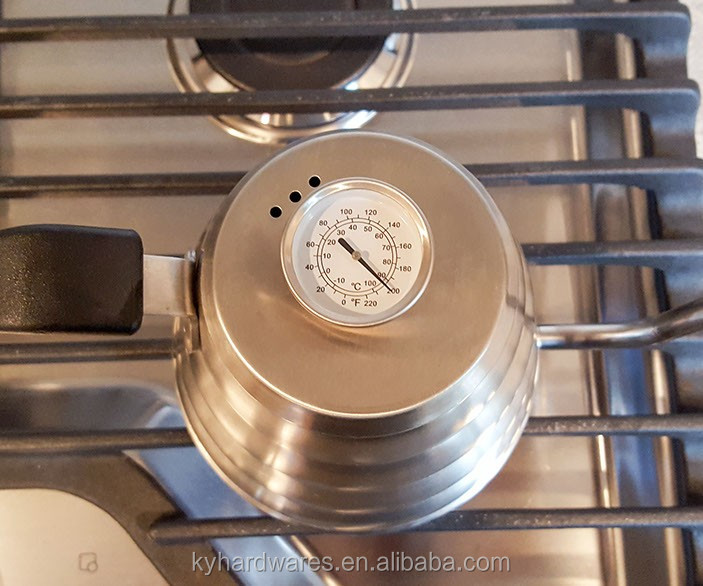 This kettle makes a great gift!
Enjoy your daily brewing experience without the disturbance of a loud whistle.

When maintained properly, your pour over kettle will provide years of satisfaction.

Included product guide (in English) will give insight to care instructions, safe working capacity, & other helpful hints.

Design enhancements include a knob secured to the lid with a screw to replace the weaker weld found in other models.

Why Pour Over Coffee? Pour over coffee enthusiasts argue that pouring water in a long, slow, & steady stream over freshly ground coffee brings out the most of the coffee beans. The use of a pour over kettle enables pouring of one stream of water, rather than dozens of little streams, resulting in a brewing environment that's a few degrees higher, just from reducing the surface temperature loss from those narrow water streams. You can incorporate this important tool - the gooseneck kettle, in your effort to brew the perfect cup of coffee. Well, what are you waiting for? Order your kettle and get brewing!
Q:Sample available before placing order?
A:yes,welcome ask for sample before formal order anytime.
Q:How about the delivery time of my order?
A;Usually it take 30~45 days and depends on the order quantity.
Q:Can the kettle use on fire or induction stove?
A:Yes,both of them are available and it's safe of INFRARED HEAT, GAS, OR ELECTRIC RANGES.