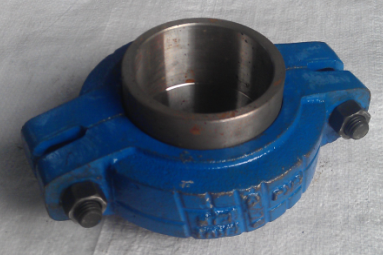 Products technical specification
Housing
Couplings housing are made of ductile cast iron material, standards is the same as American ASTM A 536, grades as 65-45-12.
Ductile cast iron material is not easy to rust, with high tensile, strong ductibility, flexible extension ability as well as strong strong vibration and noise reduction performance.
Coatings
Standard: red painting (Standard epoxy resin)
Optional: blue painting, silver painting, nickel plating
Bolts and Nuts
Colorful Zn plating
Bolts: mechanical performance grade 8.8 (GB/T 3.98.1)
Heavy duty nuts: mechanical performance grade 8.8 (GB/T 3.98.2)
Gaskets:
The sealing gasket can be varied according to the fluid medium with different material, see below chart for gasket material selection:
Material Code

Temperature range (℃)

Color Identification

Components

Usage advice

N

-40-85

White line

Nature rubber (special for extinguishing and protection)

Suitable for cold water, hot water, oil-free air, various low density acid or alkali , not suitable for petrol media

E

-50-140

Green line

ethylene-propylene rubber(EPR)

Suitable for cold water, hot water, oil-free air, various low density acid ,variou chemicals, not suitable for petrol media

T

-30-85

Orange line

acrylonitrile-butadiene rubber(NBR)

Suitable for petrol products, oily air, plant oil, mineral oil, not suitable for hot water or oil over 65 ℃

F

-6-148

Purple line

fluororubber

Suitable for various oxidized acid , petrol, halogenated

hydrocarbon,lubricant,

hydraulic fluid , organic liquid and hydrocarbonair

L

-70-260

Original white line

Silicon rubber

Suitable for drink water, hot water, oil-free air and high temperature steam etc, not suitable for petrol.

V

-32-82

Yellow line

chloroprene rubber

Suitable for lubricant and certain chemicals, with good anti-oxidization performance, non flame retardant ability
For fire extinguish system, standard sealing gasket material is N (Nature rubber), for special requirements please consult us.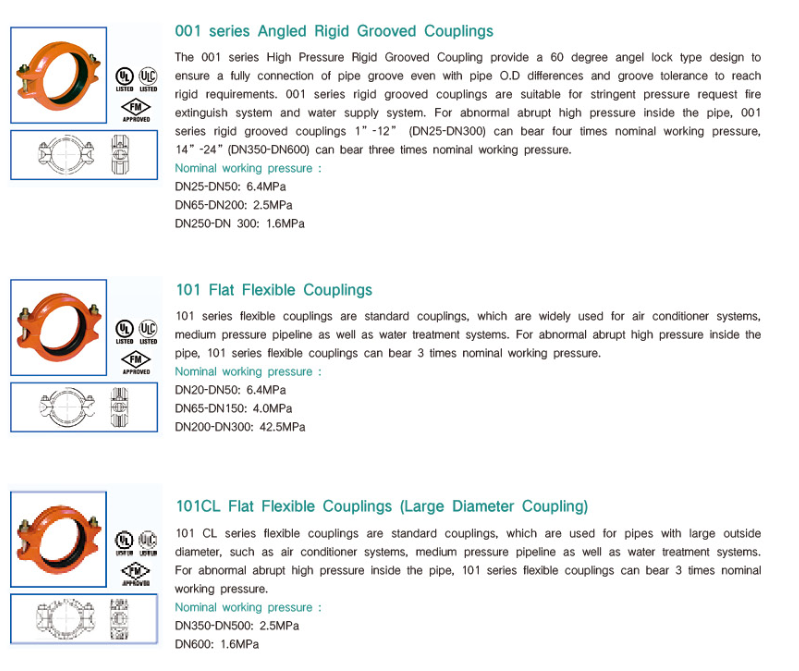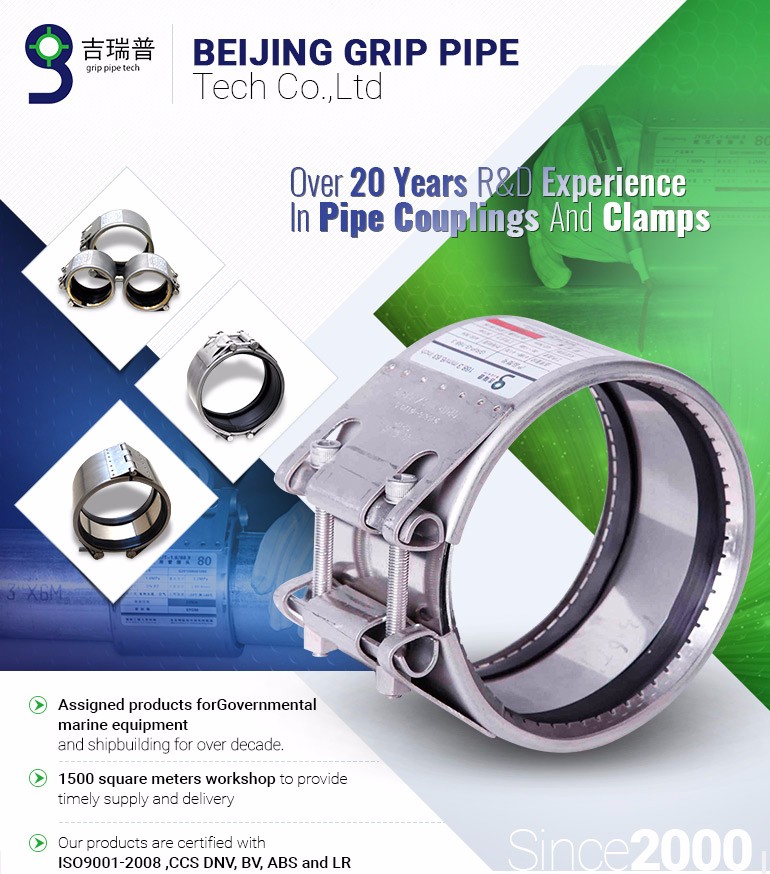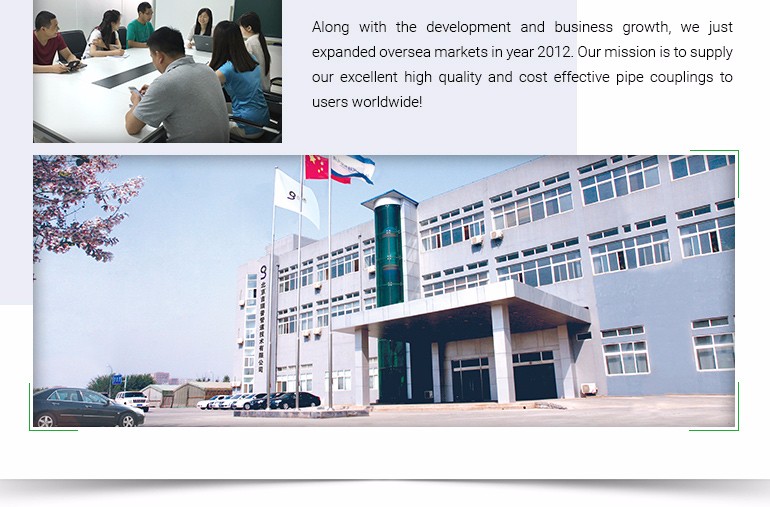 Beijing Grip Pipe Technologies Company Limited is located in Beijing Development Area (BDA), started pipe couplings and clamps R&D in late 1990s and started manufacturing in early 2000. Our patent, reliable and high quality pipe couplings and clamps were popular among military industries soon after they obtained the samples. Our products ideally solved their technical problems. Since then we Beijing Grip was acknowledged as an appointed pipe couplings supplier for marine equipment, shipbuilding, oil & gas in China for over decade. We continue developing and improving our products to meet customers increasingly demands.
Our products are certified with ISO9001-2008 ,CCS (China Classification Society), DNV, which confirm BJGRIP quality and make us the No.1 pipe couplings manufacturer in China. We obtain 2000 square meters manufacturing workshop, two R&D teams and one QC team to ensure timely and qualified production.
Along with the development and business growth, we just expanded oversea markets in year 2012. Our mission is to supply our excellent high quality and cost effective pipe couplings to users worldwide!
Q: How can I buy from you?
A: Please send us an inquiry through alibaba or send emails to us directly. A quotation would be sent to you soon.
Q:How to pay you?
A: We accept L/C, T/T, Western Union as well as Paypal.
Q: What's your working time?
A: Regular opening hours: 8:30-12:00 and 13:00-17:30 from Monday to Friday.
Q: What will be the delivery time?
A: We usually keep small quantity of stock on regular items for immediate delivery.
Please check with us again before ordering in case of any possible changes on stock.
Q: Can I visit you in China?
A: You are welcome to visit us at any time.
Q: What's your address:
A: Office located in 32# Jinghai 1st Rd BDA Beijing China .