Little Pet Dog Puppy Rain Snow Boots Shoes Booties Candy Colors Rubber Waterproof Anti-slip Pet Shoe Socks for Dogs Cats
pet shoes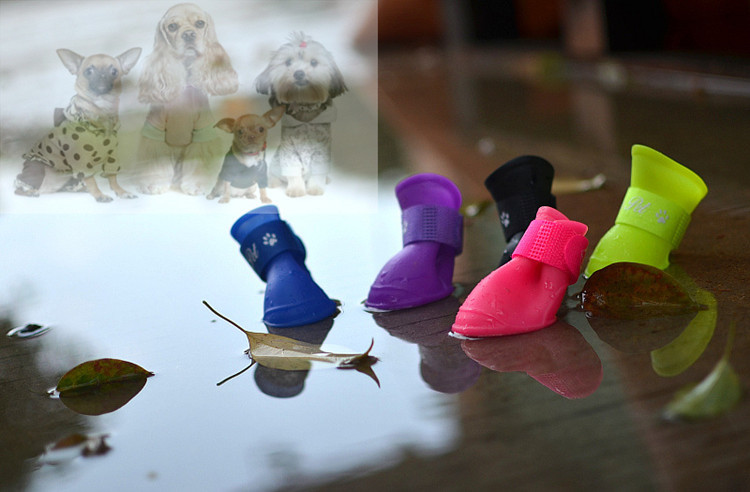 Specification of our Dog shoes-rain proof water-proof
Wholesale Dog rain shoes / dog waterproof shoes

Size:

S:Length: 4cm Width: 3.0cm

M:Length: 5cm Width: 4.0cm

L:Length: 6cm Width: 4.5cm

Colour:

Red / Purple / Pink / Yellow / Black

Material:

Candy-silicone(Eco-environment)

Usage

Waterproof, Anti-slip, anti-dust, anti-salt in the snow place

Package:

4pcs in one zippered bag, 4pcs/set

GrossWeight:

S: 50g/set M:81g/set, L: 110g/set

Description:

This set shoes fashion, simple and completely waterproof ;

Pet walking in the wood floor, deck and sand can wear the socks to prevent wet or insulation or prevent bacteria, and other purposes;

The inspector and professional beautician strongly recommend,

It is environmental protection product with non-toxic harmless.
Why dog need to wear shoes? The benefits of dog rain shoes are as below:
1) Protect little paws of dog and keep clean indoor, get dirty stuff on dog paw outside of the home.
2) Do not need to always wash dog paw. Maybe you think that wash dog paw is not a trouble, but you do not know this will affect dog health. Generally, dogs need to wash paws are long-haired dogs, and that kind of dog has long foot hair, when we wash his feet, feet hair can not be quickly dried, thus the hair root skin will appear dermatitis, long wet toes will arouse dog beriberi, it may develop into a interphalangeal inflammation and itch, then it is a trouble.
3) it is a must for dogs in snow days. Snow day is very long in some places, and people will spread salt to help snow melting, we may not see the salt, but if dogs walk on above, coarse particles of salt will be caught in the middle of its claws, so it will easily hurt its feet, and will cause salt paw inflamed and swollen for dog paws. This is why so many dogs like to chew their claws when lie on the ground. Maybe dogs are not used to wear shoes at beginning, but they will be used to it and feel comfortable gradually.
Please do not forget that dogs will not tell us where is uncomfortable, we only have to understand them through our hearts and eyes.
Advantages of our dog rain shoes:
1 design special, beautiful style, strap design, convenient wearing and good practicality.
2. Adopt senior non slip rubber sole, super abrasion proof, good flexibility, is the most considerate care for dogs who wear shoes in autumn and winter.
3. Measurement methods: use a tape to measure the width of dog, usually consider width as the benchmark, then get a corresponding proportion of length.
Dog rain shoea features:
1.Pet decoration make your dog look beautiful.
2.Protect your dog's paws from lasting damage in the freezing weather.
3.Providing your best friend with a set of durable, comfortable, warming dog boots.
4.Makes walking through a winter wonderland less painful and more enjoyable for you and your pet.
5.Best choice for outdoor exercise,party and holiday