2016 Velashape system body contouring machine with Bipolar Radiofrequancy(RF)+Infrared+Vacuum+Roller massage
Video Introduction >>>

Product Description >>>
Kumashape provides an easy non-invasive, no downtime, comfortable, deep therapeutic treatment that answers the growing patient demand for full body contouring. It combines four different technologies including IR (infrared), Bi-Polar RF(radio-frequency) and mechanical tissue manipulation using pulsed vacuum and massage roller.
Treatment Theory >>>
Body Shaping
By changing the polarity of the electrodes of the organism tissue 10 million times in 1 second, the10Mhz bipolar high-frequency can heat the fat tissues in the layer 0.5-1.5cm under the skin to strengthen the spreading of the oxygen molecule, which can increase the exchange of the material of the cells and speed up the fat metabolism.
By heating up the fat tissue under skin without hurting the epidermis layer, the 500-2000nm wavelength infrared light can decrease the size of fat cell and redistribute the water and glycerin.
By increasing the blood supply of the fat tissue, the rolling vacuum massage can strengthen the release of the enzyme to speed up the fat metabolism.
Before & After Treatment >>>
KumaShape Indications >>>
1. Fat burning and body shaping --- narrow the size of buttocks and thighs and reduce abdominal fat, thus achieve body shaping and firming.
2. Cellulite removal ---the treatment is applicable for all kinds of skin color to remove the undesired fat and cellulite.
Advantages >>>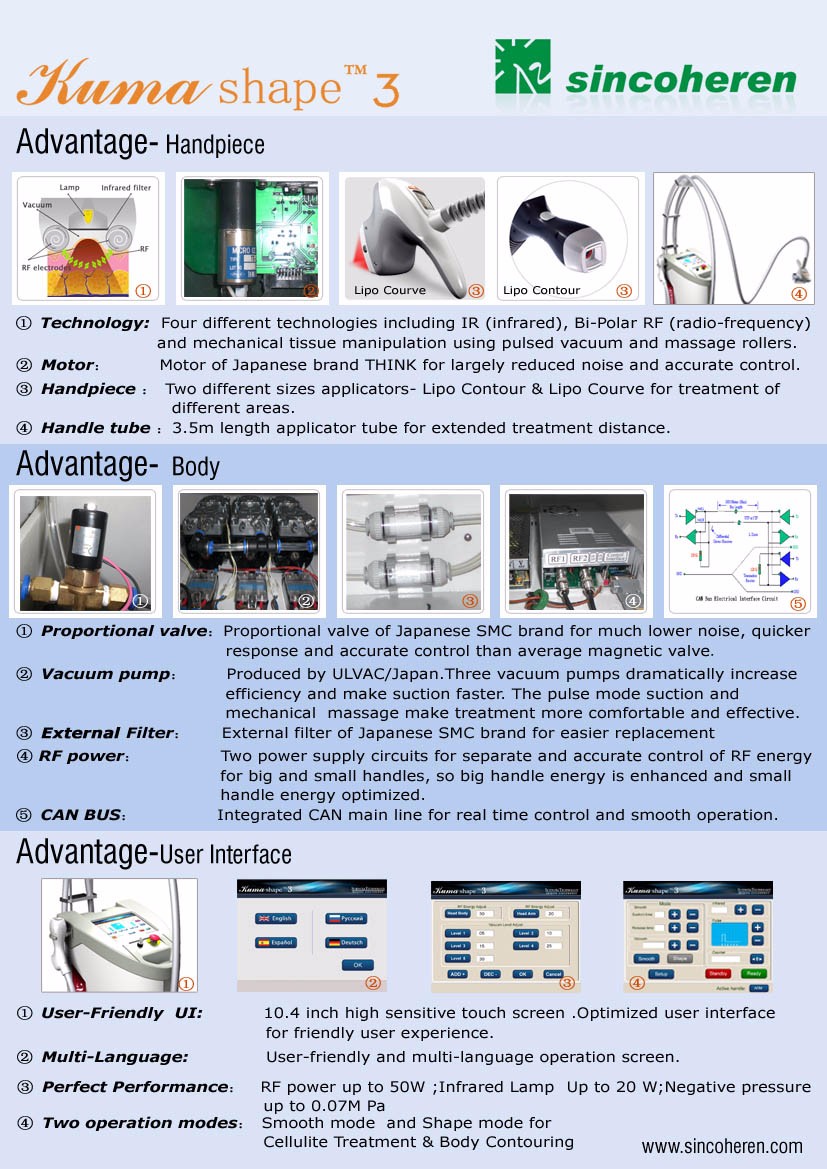 1. TGA, FDA, CE Cleared
2. 10MHZ bipolar radio frequency (RF) with two rollers can penetrate into the layer of 0.5-1.5 cm below the skin to work on the adipose tissue effectively.
3. 700-2000nm infrared light can heat the connective tissue of accelerate the regeneration of collagen and elastic fibers. It can also improve the blood circulation and lymph circulation to promote the metabolism.
4. 0-0.07MPa adjustable vacuum can suck the target area into the space between the two rollers which are actually 2 electrodes. This can make the treatment accurate and effective. It can also make the treatment more comfortable. The auto-rollers can do massages as well.
Technical Parameters >>>
RF power

Up to 50W

RF frequency

10M Hz

Infrared light power

Up to 20W

IR spectrum

700nm-2000nm

Negative pressure

0-0.07M Pa

Treatment area size

(Body): 50mm*55mm

(Arm): 36mm*36mm

Electrical requirement

230VAC 50Hz 1200W

Dimension(W*D*H)

490mm*435mm*1025mm

Weight

40kg
Certifications >>>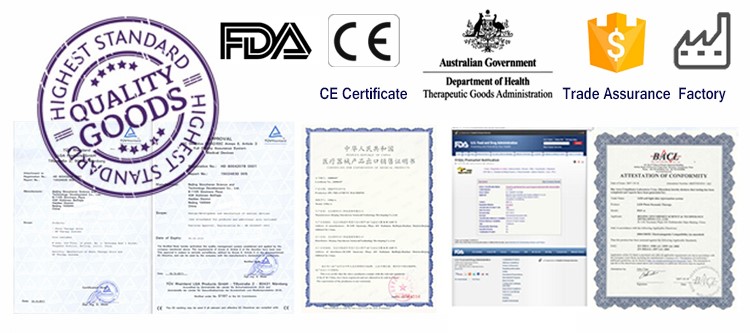 Shipment >>>
DHL/UPS/FedEx/TNT Air Express,
Door to door service,
Fast and convenient,
Sincoheren has a long term relationship with those carrier companies, so best discount offer to customers!
Our Services >>>
Sincoheren has branch offices in Europe, Australia and many distributors worldwide which is capable to provide local after-sale service.
User manual, service manual, instruction DVD provided after purchase
24 hours service hot line, quick response to customers' requirement.
Company Information >>>
OEM/ODM Service >>>
1. Sincoheren has an integrated professional system for products research and development, manufacture, certificates identification and market promotion.
2. Completely and well organized SPDP procedure to develop products.
3. 50 people working for R&D department
4. Successfully provide OEM/ODM service to USA distributor, Germany distributor, Turkey distributor, Australia distributor and so on.
Exhibitions >>>
We participates in many beauty expo and medical seminar every year including Cosmoprof Bologna, AAD, Beauty Salon Melbourne and Dubai Derma.
Welcome to our booth!
Sincoheren ----Your best choice.
For more information, please feel free to contact us, we will serve you wholeheartedly.
Contact >>>